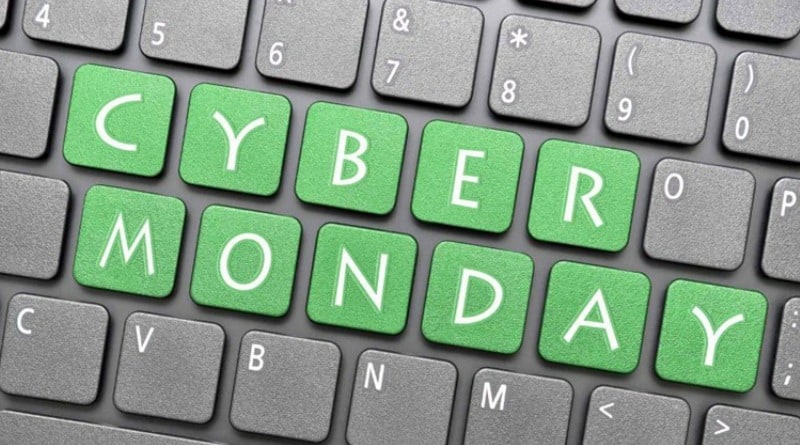 Becky
Wife, mother, grandma, blogger, all wrapped into one person, although…

Put down those Thanksgiving leftovers. When you're gearing up to take advantage of Cyber Monday deals, you can't afford the turkey dulling your reflexes with the mouse. Free from the drowsy pull of tryptophan, you'll be sharp enough to catch the best online offers—but not so fast. Before you can successfully use Cyber Monday to shop for affordable holiday gifts, you need to make sure you're safe from all your digital window shopping. To snag the best deals without endangering your online security, use these tips to guide your Cyber Monday shopping.
Shop from home
Though you may feel at home at a Starbucks with a pumpkin spice latte at your side and the smooth jazz soundtrack playing overhead, you shouldn't let this popular café fool you. The unsecured Wi-Fi offered here and at other public places (including your community's library system) isn't a safe way to shop online. Anyone with a bit of computer know-how can hijack these public connections and look in on what you're doing. They'll be able to see everything — from the sites you visit the credit card numbers input at the checkout.
The next time you get a craving for a latte, get your caffeine fix to go. You should only ever shop online using a trusted computer and a secure network. This way you can make sure no one is spying on your personal information.
Use strong passwords
Whether a new or existing customer, you'll likely make a profile with your chosen shop to make tracking your purchases easier. It doesn't matter if they're a gadget store, clothing shop, or something entirely different, every retailer will ask you to choose a username and a password. Most shoppers don't think twice about entering their pet's name just like they have for the last 10 accounts they've made.
This can be a mistake. Security experts recommend using a mixture of upper- and lower-case letters, along with symbols and characters, in an arrangement that isn't immediately recognizable as an important person, place, or thing in your life. If you aren't sure how to make a password that doesn't rely on someone's name or date of birth, check in with a password manager for help. Whatever you end up using for your password, make sure it's distinct for each profile. Using the same password for multiple accounts weakens it.
Be cautious of the "too good to be true"
While most know not to respond to the Nigerian Prince offering to share his riches, some scams aren't so obviously a trick as this popular con. You need to apply your critical thinking skills during the Thanksgiving weekend to make sure you aren't bamboozled by one. If you think a sale is too good to be true, it probably is.
Scammers know you're on the prowl for the best deals on clothes and electronics around this time, so they'll increase their efforts to entice you to their fraudulent stores. You need to be wary of any unusual emails, texts, or pop-ups that promise unrealistic savings. If you receive something you suspect is a scam, don't click on the link to double check. These URLs usually link to malicious sites that can share viruses. It's better to Google the sender first to see if anything comes under their name.
Protect your finances
Trusted retailers do their best to protect their customers, but they're still the target of cyber attacks. If their security systems aren't robust enough, a hack can expose your private financial information. It's a good idea for you to track your finances carefully whenever you shop online.
To make this task easier, experts suggest you designate a single credit card as the card you use for all your online shopping. This way, if you do shop from an affected retailer, you've already limited the collateral damage to just this one account. You'll only need to cancel that one card. You should also track your credit card statements to make sure they don't show any suspicious activity or charges you didn't make.
You can protect your finances in another way by making sure you don't spend more than you can afford on the holidays. Tracking expenses is an essential activity for good finances, and it can help you stay on a budget when shopping for the holidays.
Last year, Americans spent a record $6.59 billion on Cyber Monday. That figure is up by 16.8% from the year before that. According to the National Retail Federation, the average shopper dropped $251 on gifts over the whole Thanksgiving weekend. These numbers can easily tip your budget into the red, so you need to keep an eye on how much you're spending.
If your shopping habits eat into your paycheck and prevent you from paying off essential bills or repairs later in the season, an online personal loan can work as an urgent stopgap until you get your finances back in order—even if you're on a time crunch. You can find direct payday lenders online that simplify the borrowing experience, so they can deliver cash advances online faster than traditional banks. Some direct lenders like MoneyKey wire the cash you need after just one business day, so you don't have to wait to pay off essential bills. While a convenient and quick way to get to help, this is only meant to be used in case of an emergency. You shouldn't go shopping expecting to rely on loans.
Use protection
Last but not least, you should verify your security software and anti-virus is up to date. These programs will protect your computer from attacks. If you don't have one of these programs already installed, use this list to help you find the right option for your shopping habits.
Now that you know the top five ways to protect your identity this Thanksgivings, there's no excuse for exposing your financial information. Shop wisely, and you'll snag a deal without harming your finances online.
Becky
Wife, mother, grandma, blogger, all wrapped into one person, although it does not define her these are roles that are important to her. From empty nesters to living with our oldest and 2 grandchildren while our house is rebuilt after a house fire in 10/2018 my life is something new each day.