Carport Vs Garage: What's The Best Option For You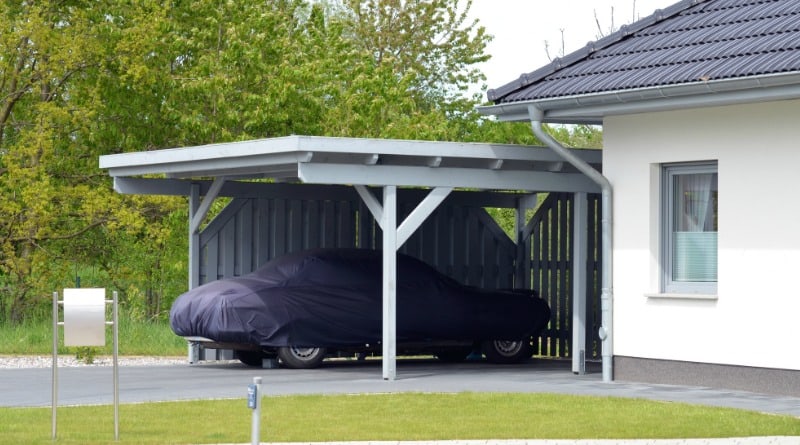 Becky
Newly middle-aged wife of 1, Mom of 3, Grandma of…
Parking your car in a covered spot extends the lifespan of your car. Covered parking spots protect your car against the damage from the elements including damages from dirt, hail and falling tree branches.
But do you really need to invest in a garage or will a carport do?
Read on to learn the differences between a carport vs garage.
What Is a Garage?
A garage is a brick and mortar structure that can be attached to the home. But it can also be built separately on the property.
Garages may have room to park one, two, three or four cars inside. Garages are also used to store tools, seasonal items like bikes, Christmas decorations and sporting equipment.
Typically, garages are wired for lighting. Many garages have automatic door openers to make driving in and out of the garage very convenient.
What Is a Carport?
Carports can be permanent or temporary structures. They can be attached to the walls of a home or be free standing.
Most carports canopies have a roof and posts and no walls. They provide some protection to parked cars against snow, rain, and heat.
Some portable carports are lightweight and can be set up anywhere to cover any vehicle.
When you are deciding between a carport or garage, there are several factors you should consider.
What Will You Use It For?
The first thing to think about when adding a carport or garage is what you plan to use it for. While both carports and garages can be used for multiple purposes, your main use can tip the scale.
For example, if you have bulk storage, equipment protection, and off-season gear can be stored in a portable garage. That way your portable garage can be placed somewhere that is easy to access but out of your way.
Depending on how much stuff you have, you may be able to fit your cars and your stored items in a garage.
Level of Protection
A garage offers protection against environmental elements such as snow, hail, dust and so on. A garage also protects your property from theft and vandalism.
Carports protect your vehicle against some weather such as snow and rain but do not protect your cars against theft or vandalism.
If you live in an area that is prone to theft, you may want the security of a fully closed garage.
Another factor to consider is cost.
Carport Vs Garage Cost
Carports are always less costly than a full garage. The average cost to build a two-car carport is $5000. The maximum price for a carport is $8000.
For a garage, the cost is at least double that price. Garages require walls, insulation, electrical wiring, garage doors, and flooring. All of which add to the cost of the project.
You can buy a carport pre-built and then install it on your property. You can't do that with a garage.
On the other hand, some insurance companies offer lower policies for people who park in a garage.
Consider Local Building Codes
If you plan to build a permanent carport or add on a garage to your home, you will need to find out about building codes in your municipality.
You will likely need to get permits and adhere to local requirements. It's best to find out what the local requirements are before you decide what you will build.
Yet, if you opt for a portable carport, you do not need a building permit.
Style
Another factor to consider is style. You will want your carport or garage to match the style and color scheme of your home.
A modern carport can add class and distinction to your home without blocking the view of your property. There are hundreds of carport ideas online that are trendy and modern. In most cases, a carport is easier to blend into your existing home compared to a garage.
That's because you may not be able to get the same brick color for a garage to match your house. And if your home is dated, you might not want to add a brand new garage in the same style.
If your garage will look very different from the house, it's best to build it as a detached garage to avoid clashing styles.
Now that we've discussed all the factors you need to consider, let's look at the main advantages of adding a carport or garage.
Pros of Adding a Carport
The installation costs for a carport are negligible. A carport can be installed in a couple of hours without much mess. You can even opt for solar carports that harness the sun's power.
Carports provide both storage and protection for your cars and other gear. Carports don't need the same amount of permits and don't have as many city regulations.
Also, carports provide easy entry because they don't have doors or walls. They also get more natural light because there are no walls.
Pros of Adding a Garage
A garage provides full protection to your cars and property from blowing snow, rain, heat as well as vandalism and theft.
A garage is much more secure than a carport. A garage is insulated which means that your property won't get extremely hot or cold.
When your items are stored in a garage, you have privacy. People can't see what is inside your garage.
Garages tend to be large enough to store cars as well as other items. Many people extend their home by converting their garages into additional living areas. You may not need this option now, but it could come in handy in the future.
Final Thoughts
Thanks for reading. We hope this carport vs garage guide has helped you figure out which option is best for you.
Remember, to weigh all the factors before deciding on what option is best for your home.
Next, check out these four safety features your next family car must have.
Becky
Newly middle-aged wife of 1, Mom of 3, Grandma of 2. A professional blogger who has lived in 3 places since losing her home to a house fire in October 2018 with her husband. Becky appreciates being self-employed which has allowed her to work from 'anywhere'. Life is better when you can laugh. As you can tell by her Facebook page where she keeps the humor memes going daily. Becky looks forward to the upcoming new year. It will be fun to see what 2020 holds.