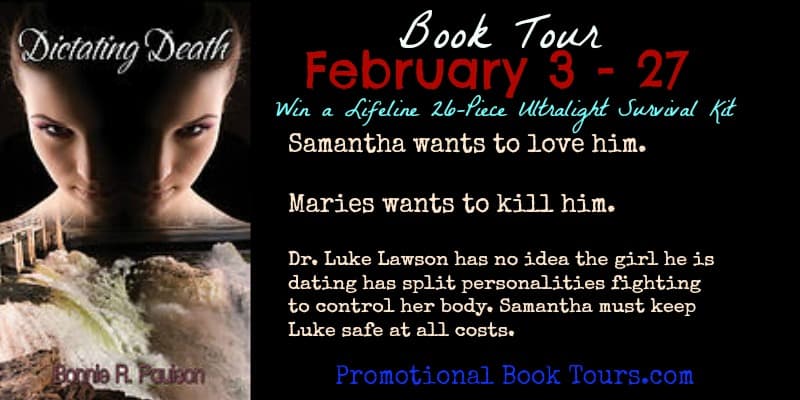 Becky
Wife, mother, grandma, blogger, all wrapped into one person, although…

"Dictating Death" Review
From the moment I started reading this book, actually the first page; I was hooked. I have always enjoyed books that grab you and keep you until the end. This is one of those books.
The original main character would have been Rebecca. She was severely abused as a child so to protect herself, her mind created two other personalities to deal with the pain of what was going on. As she got older, she went into the background of her mind and allowed Samantha and Maria to take over. Maria's personality is one without conscience. She has the rath of one psychotic killer who enjoys the pain she inflicts on their abuser by going on a killing spree. But then Luke comes into the picture and this is one that Samantha wants to protect from Maria. Will she be strong enough to do so?
This book is NOT for the lighthearted reader. Expect some graphic (blood, killing) writing. I compare this to any Stephen King novels, or a movie that I might close my eyes during. (That was something I couldn't do, because well, then I wouldn't be able to read.)
I applaud Bonnie R. Paulson for yet another awesome read. She continues to impress me from book to book. I am hoping she decides to write more like this!
---

This book is not light reading. There are graphic scenes and there is not HEA. NOT intended for teens or young adults. Again, this is not light reading. Violence and craziness. You've been warned.***Samantha wants to love him. Maria wants to kill him.
Dr. Luke Lawson has no idea that the girl he's dating has split personalities fighting to control her body. Samantha must keep Luke safe at all costs.
If Samantha wins, Maria will die and disappear forever – taking Samantha with her.
If Maria wins, Dr. Lawson will die and she and Samantha will move on to the next doctor – the next kill.
But Luke is special.
He could save Samantha from herself… but only if Samantha can save him.
Visit at
Join Bonnie R Paulson's Survivor Newsletter
Enter to win a Lifeline 26-Piece Ultralight Survival Kit. Open to 18+ US addresses. Contest ends Feb 27 @ 11:59PM EST
If you enjoy a non-stop psychological thriller, I hope you enjoy "Dictating Death" review.
Becky
Wife, mother, grandma, blogger, all wrapped into one person, although it does not define her these are roles that are important to her. From empty nesters to living with our oldest and 2 grandchildren while our house is rebuilt after a house fire in 10/2018 my life is something new each day.