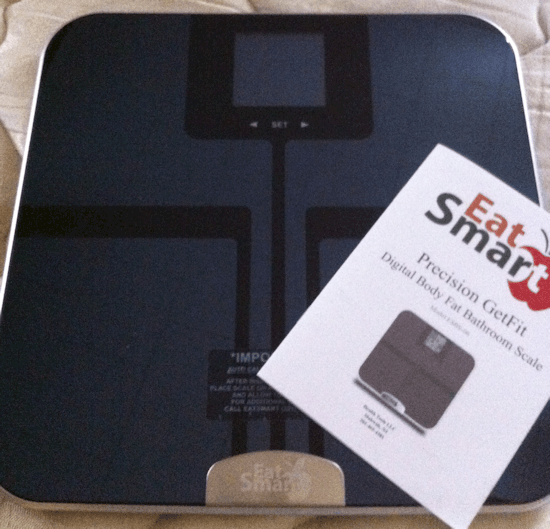 Becky
Wife, mother, grandma, blogger, all wrapped into one person, although…


EatSmart Bathroom Scale Review & Giveaway
*Disclosure* I received this EatSmart Bathroom Scale in exchange for my honest opinion. All opinions are 100% my own.*
I am not sure if you have noticed but the need/want to get fit is happening all over the country. Everywhere you turn someone is posting their weight loss pictures through exercise, healthy eating and the like. My husband started his weight loss journey a year ago in May, you can see his before and after transformation thus far by going here: Overweight? What Will it Take to Inspire you? My Husband's Weight Loss Journey. Now I know that constantly weighing yourself is not what is most important; but it does help to keep you on track for your journey. We have 2 scales in the past 3 years and neither has been able to hold up to our expectations. When I came across this Precision GetFit scale I just had to have it. Why did this scale impress me?
The EatSmart Precision GetFit Bathroom scale is designed and engineered to give you accurate weight measurements.
This bathroom scale will help you monitor your body fat, body water, muscle and bone mass.
The touch screen set up and automatic person identifier make it one of the most user friendly bathroom scales on the market.
You can program up to 8 users so that everyone can keep track of themselves. You program if you are a male or female, height, and age.
Your EatSmart bathroom scale comes with:
Two year EatSmart Guarantee
4 AAA Batteries
Instruction Manual
and of course your EatSmart GetFit Digital Body Fat Scale
The GetFit Bathroom scale uses BIA (bio-electrical impedance analysis) technology to calculate body fitness. With your bare feet, the technology sends a low-level electrical signal through your body and then measures the resistance the signal encounters. This signal is perfectly safe and will not be felt. The lower the body fat, the faster the signal will travel.
Please be aware that people with implanted medical devices, such as pacemakers, metal plates/screws or contraceptive appliances should be not use this device. This is not intended for children under age 10 or pregnant women.
You can purchase this scale on Amazon: EatSmart Precision GetFit Digital Body Fat Scale w/ 400 lb. Capacity & Auto Recognition Technology
. Currently this scale is on sale for $54.95, normally $99.95 (you save $45).
You can follow EatSmart:
LIKE EatSmart Products on Facebook (link: http://on.fb.me/d3MFHO)
Twitter @EatSmartScales (link: http://www.twitter.com/eatsmartscales)
Pinterest http://pinterest.com/eatsmartscales/
Google Plus https://plus.google.com/b/ 104341333849696827089/ 104341333849696827089/posts
Follow the EatSmart Blog: http://eatsmartblog.com/
Not only am I excited to have been given the opportunity to review this awesome scale, I get to give one away!!! Is that exciting or what? You can enter at this link: EatSmart Precision GetFit Digital Body Fat Scale Giveaway.
Becky
Wife, mother, grandma, blogger, all wrapped into one person, although it does not define her these are roles that are important to her. From empty nesters to living with our oldest and 2 grandchildren while our house is rebuilt after a house fire in 10/2018 my life is something new each day.