Becky
Newly middle-aged wife of 1, Mom of 3, Grandma of…
Where did the years go? Today I realized that while my 15 year old daughter carved her pumpkin that we hadn't carved pumpkins since we moved here 3 years ago. We used to always get each of the kids a pumpkin; it was at one time a big deal. We used to decorate for Halloween; now the only decorations we have are the ones the spiders leave and I don't catch in time. I see adults that are really into Halloween. My Aunt LOVES Halloween; and I see that others really enjoy it .It just hasn't been 'my kind-of-thing' since I became an adult.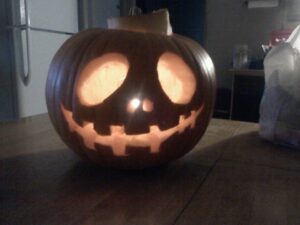 When I was a kid I really enjoyed Halloween, but as I became an adult; more a parent; I found I dreaded it. Either we couldn't afford the right costumes or we couldn't figure out something fun that the kids could be. Each year it has gotten easier-as they have gotten older and I felt at a certain age, they were too old to go out trick-or-treating as really it is for the younger kids. But looking back I don't really know why I was so anti-Halloween… I mean my parents always took us out house-to-house, always either made us or got us costumes, and my Dad was always a part of the pumpkin carving. So as silly as it sounds I will make sure we have pumpkins until Abbey graduates and even after, (maybe even some day when we have Grandchildren).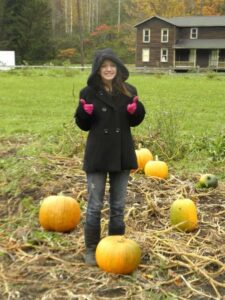 But one thing that I will also continue with the continuation of pumpkin carving is FINALLY making delicious Pumpkin Seeds thanks to a great blogger with tons of ideas. You can click here for the Best Ever Pumpkin Seeds Recipe.
MWPKFY4TSN9D
Becky
Newly middle-aged wife of 1, Mom of 3, Grandma of 2. A professional blogger who has lived in 3 places since losing her home to a house fire in October 2018 with her husband. Becky appreciates being self-employed which has allowed her to work from 'anywhere'. Life is better when you can laugh. As you can tell by her Facebook page where she keeps the humor memes going daily. Becky looks forward to the upcoming new year. It will be fun to see what 2020 holds.