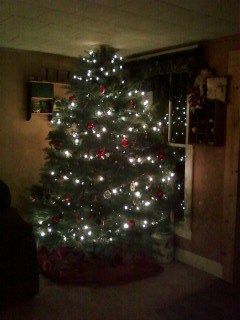 Becky
Newly middle-aged wife of 1, Mom of 3, Grandma of…
Holiday Tradition
Our family holiday tradition that has grown through the years started when I was growing up. Our family would drive each year to McDonald's Tree farm just outside of Campbell/Savona NY area. We would put on our snowmobile suits, load up in whatever vehicle my Dad & Mom had at the time and off we would go. Mom would make homemade Christmas cookies, and hot cocoa in a thermos for a treat, and it was a treat. We always bought a Concolor (long needles, smelled like oranges). These also didn't get stuck in your socks are embed themselves in your carpet. I have to say the orange smell was the best part though or maybe it is more 'citrus'.
On our way there we might talk about how tall, or fat of a tree we would get and enjoy our time together. Usually we didn't go until the 2nd weekend in December. For about 4 years we had to 'purchase' our tree at a Tree place as we lived in Buffalo and didn't know where to go. The Concolors were expensive in Buffalo; I almost remember my Mom saying they were $56 there; weren't guaranteed fresh and we didn't experience the fun in picking one out as they were all baled up.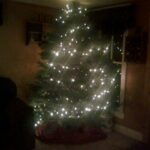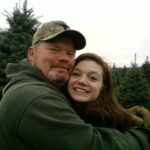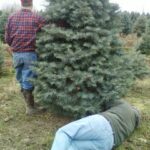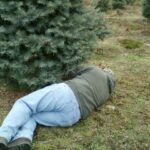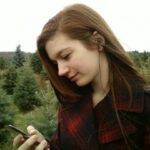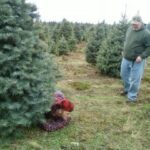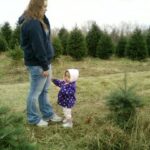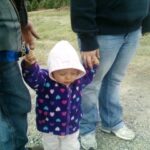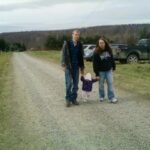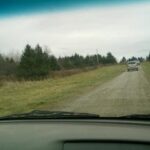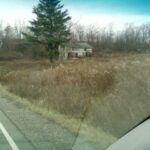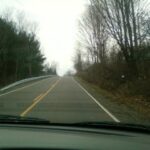 Fast forward a few years later we moved back to the area we live now. Therefore we were able to go back to McDonald's Tree Farm. This tradition has carried on as each one of us has gotten married, and had kids.
First it was 1 car, then 2, a few years later 3, then 4 cars…this year 5 cars convoyed up to McDonald's Tree Farm. In total this year there was 16 of us ( 2 were missing-1 who is stationed in Hawaii in the USMC, and my nephew who had to work at his new job). The oldest was 64 and the youngest 1 year old. We always meet at the Cozy Corner now for breakfast, quite different than cookies & cocoa but great fellowship just the same. I look around at all that was started with my parents who have now been married since September of 1966; 45 years, 3 children, 3 children-in-laws, 8 grandchildren, 1 grandchild-spouse, and 1 great grandchild. We are a close & blessed family.
I am Thankful for this Christmas tradition. I missed my oldest this year and last year; but that is part of the growing up. I hope to continue this tradition with my own children and their children as the years go on. I hope you enjoy my pictures. Notice: no snow..lol and this was the Sunday after Thanksgiving.
Becky
Newly middle-aged wife of 1, Mom of 3, Grandma of 2. A professional blogger who has lived in 3 places since losing her home to a house fire in October 2018 with her husband. Becky appreciates being self-employed which has allowed her to work from 'anywhere'. Life is better when you can laugh. As you can tell by her Facebook page where she keeps the humor memes going daily. Becky looks forward to the upcoming new year. It will be fun to see what 2020 holds.