Home Is Where the Pool Is: Your Guide to Pool Decking Options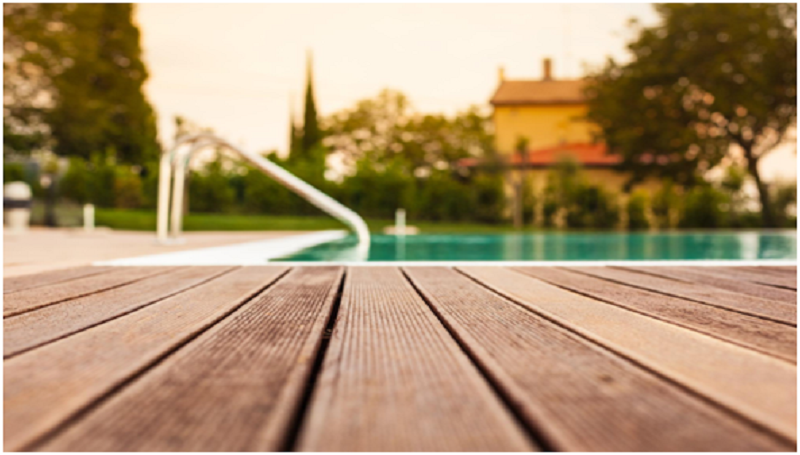 Home is where the pool is, which is why you need the pool deck looking as nice as the blue water. Here's your guide to pool decking options.
You've got the pool, deck chairs, and BBQ. Now, what about the deck?
Owning a pool not only increases your home's value by an average of 5%, but it also boosts your physical and emotional health. And need we mention, its a lot of fun?
Just like your favorite toys, pool decks are sold separately. And with all of the pool decking options out there it can be a pain to wrap your head around.
That's why we aim to make your pool deck choice easy.
Read on so you can spend less time thinking about decking and more time splashing in the water.
Wood Is Good
Wood is a wonderful choice for pool decking as it feels great and maintains a cool temperature under the hot sun.
Wood is the pool decking material of choice for above-ground pools. Wood is lightweight and requires a floor joist system for installation.
If you have carpentry skills and are taking a DIY approach, wood will be your best bet.
Wood does have a few drawbacks, however.
Even high-quality exterior decking woods like teak, redwood, or cedar, will require annual maintenance.
Usually applying a sealant will continue to help protect the wood from the elements.
Synthetic Pool Decking Options
Synthetic decking has become a popular alternative to wood. The composite boards look similar to wood, but not exactly. It can have a "fake" look to it and may not be the most attractive.
The reason for its popularity is because of its durability and weather resistance. It does not need regular re-finishing as wood does. However, some brands are not mold or mildew resistant and this material can become slippery when wet. Darker colors can also become quite hot in the sun.
Poured Concrete
Poured concrete has been a go-to pool decking choice for decades. It is durable, water-resistant, and low maintenance. The surface of the concrete can be finished in a way to provide maximum grip underfoot.
Concrete can be poured in any shape. So curvy and round deck designs are a possibility with this. Installation of poured concrete is best left to professionals, as it can be tricky to cover a large area in time before it dries.
Travertine Trumps All
Travertine pavers are a great choice if you are looking for something that maintains a cool temperature, provides grip underfoot when wet, and is virtually maintenance-free.
According to this post, travertine stays about 20%-30% cooler than concrete. That makes a huge difference during the summer months in warmer climates such as those of Florida, Texas, and California.
Travertine's porous nature absorbs water keeping the surface free from puddles which helps prevent slips and falls.
Tile
Tile is attractive as far as pool deck surfaces go. With endless patterns and mosaic options available, you could create a pool deck that is beautiful and uniquely your own.
But when it comes to pool decking, aesthetics are not everything.
Tile can become extremely slippery when wet, so check the grade of your tile and make sure it's rated for slip resistance.
Take the Plunge
Now that you've got a few pool decking options in mind, you are one step closer to kicking back and staying cool by the pool.
Consider the aesthetics of your backyard, ease of maintenance, and safety.
Installing your own pool decking is a big job, so reach out to the professionals in your area for a quote on your new pool deck.