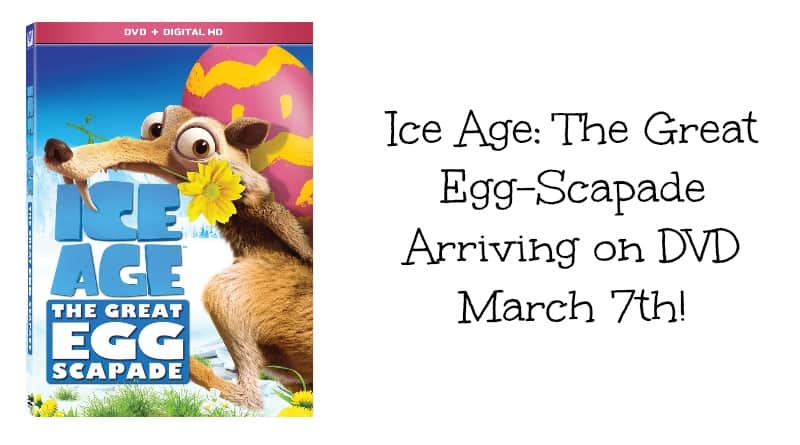 ICE AGE: THE GREAT EGG-SCAPADE
Disclosure: I was given a copy of this movie in order to facilitate my review. All opinions are my own.
The Ice Age movie series is one of my favorites to watch with my son, and ICE AGE: THE GREAT EGG-SCAPADE has quickly become one of our favorites. Not only does this movie have some of our favorite characters such as Sid, Diego, and Manny, it also introduces new characters and a new adventure. Here's what we loved so much about ICE AGE: THE GREAT EGG-SCAPADE.
The Egg Hunt
In this movie, a pirate bunny steals all of the eggs that Sid is egg-sitting. The best friends then get to embark on the very first egg hunt in history! My son and I loved this adventure since an egg hunt is one of our favorite Easter traditions.
The Friendships
My son and I also loved the friendships in this movie. Even though the characters sometimes fight like brothers, they are also loyal to each other like family. It's always fun to watch this dynamic trio in action as their friendship grows stronger and stronger with each movie.
ICE AGE: THE GREAT EGG-SCAPADE is a great movie to watch with the whole family. This movie should be a part of any movie collection.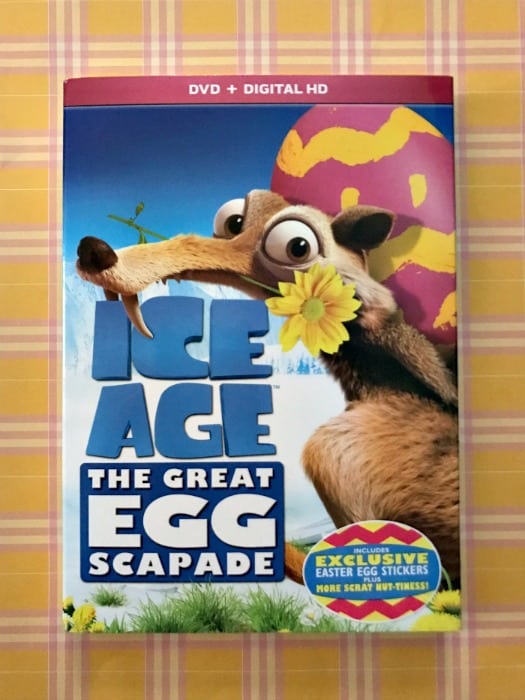 Scrat, Manny, Sid, Diego and the rest of your prehistoric pals from Ice Age are back in an all-new hilarious animated adventure! Business is booming at Sid's new egg-sitting service but when the dastardly private bunny Squint steals the eggs, Manny, Diego and the rest of the gang take off on a daring rescue mission that turns into the world's first egg hunt. Enjoy even morenut-tiness with tons of Scrat extras!
The original herd Ray Romano, John Leguizamo, Denis Leary, Seann William Scott, Josh Peck, Keke Palmer and Queen Latifah are back. Featured guest voices include Taraji P. Henson, Seth Green, Wendy Williams, Gabriel Iglesias, Lili Estefan and Blake Anderson.
ICE AGE: THE GREAT EGG-SCAPADE DVD Special Features Includes:
Ice Age: Collision Course Cosmic Scrat-tastrophe
Ice Age – The Story So Far
6 Scrat Shorts
Lost Footage
Digital HD
ICE AGE: THE GREAT EGG-SCAPADE DVD
Street Date: March 7, 2017
Promo Type: TV-NEW
Screen Format: Widescreen 1.78:1
Audio: English Dolby Digital 5.1, Spanish Surround Dolby Digital 2.0,
French Surround Dolby Digital 2.0
Subtitles: English SDH, French, Spanish
Total Run Time: 21 minutes
Genre: Family
U.S. Rating: NR (Not Rated)
Closed Captioned: Yes
About Twentieth Century Fox Home Entertainment
Twentieth Century Fox Home Entertainment, LLC (TCFHE) is a recognized global industry leader and a subsidiary of Twentieth Century Fox Film. TCFHE is the worldwide marketing, sales and distribution company for all Fox film and television programming, acquisitions and original productions as well as all third party distribution partners on DVD, Blu-ray™, 4K Ultra HD, Digital HD, and VOD (video-on-demand). Each year TCFHE introduces hundreds of new and newly enhanced products, which it services to retail outlets and digital stores throughout the world.