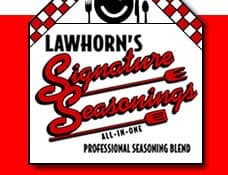 Becky
Wife, mother, grandma, blogger, all wrapped into one person, although…

Lawhorn's Signature Seasonings
When I was first offered the opportunity to review Lawhorn's Signature Seasonings I thought what a great opportunity as I live in a household where my 16 year old son & my husband LOVE new ideas for seasoning their dishes.
Well the very day it arrived I used it to season ground venison that we have with onions on mashed potatoes and it was a HIT….My son said-did you use that new seasoning? Cause this tastes a little different-but in a good way. We have used Lawhorn's on pork, hamburger, roast, and seasoned our vegetables. It gives each meat its own flavor; like a new version of an old favorite.
Although Lawhorn's is a small company, they are slowly but surely going to become a household name! Their "small-town" seasoning is simply remarkable-as stated in the letter I received from them-and they are right!
Currently Lawhorn's Seasoning has been featured in several news articles over the last year in The Lakeland Ledger, Orlando Sentinel, St. Pete Times, and Winter Haven News Chiefs in Florida. They are also currently getting national distribution in Wal-Mart Neighborhood Markets, Chamberlain's/Akins Natural Foods, and Southeastern distribution in Publix, Winn-Dixie, Whole Foods Markets and Sweet Bay. Recently they also gained placement in Bi-Lo Supermarkets in the Carolinas-notice they are getting closer and closer to New York?
Tim Lawhorn is a chef by trade who never expected his seasoning to become as popular as it already has proven to.
It contains 65-70% less sodium than most regular "season-salts" and all-purpose seasonings. It is made with 100% All-Natural ingredients, and its certified kosher too.
So please take time to visit Lawhorn's, follow Tim on Twitter: http://www.twitter.com/GreatSeasonings
Let Tim know you found him via Becky Willis-I am proud to be able to have been one of the testers of his awesome spice seasonings!
Becky
Wife, mother, grandma, blogger, all wrapped into one person, although it does not define her these are roles that are important to her. From empty nesters to living with our oldest and 2 grandchildren while our house is rebuilt after a house fire in 10/2018 my life is something new each day.