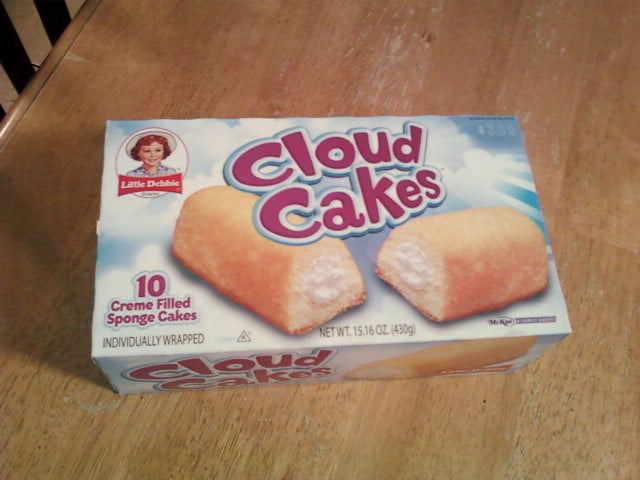 Becky
Wife, mother, grandma, blogger, all wrapped into one person, although…

Little Debbie Cloud Cakes
Little Debbie has done it again. By introducing Cloud Cakes they have taken the snack cakes up a notch to a new level.
When our Little Debbie Cloud Cakes showed up they were cold from being in the Fed-Ex Truck-which I think made them even yummier (if that is a word). Just as the ad says; Cloud Cakes are light and fresh and filled with smooth vanilla creme. What makes these different from their competitors? They are priced to move at $3.09 for a box of 10. When I happened to stop by our local Tops I saw they were on sale for $2.50 a box-which is an even better savings. Our local Walmart does not seem to have them in stock yet.
Keep in mind these interesting "food for thoughts"
There were 200 different recipe variations in test kitchens before Little Debbie decided on coming up with the new Cloud Cakes.
In taste tests, many consumers prefer these delicious, new light, creme-filled golden sponge cakes.
"During their blind taste tests, consumers described Little Debbie Cloud Cakes as delicious, soft, light, moist and fresh tasting, " said Product Manager Chip Stenberg.
I would recommend Little Debbie Cloud Cakes based on their taste, freshness & price! If you would like to try them go to http://www.facebook.com/littledebbie and become a fan. You can also get exclusive coupons and discounts! Also watch for updates at their website: http://www.littledebbie.com
While you are there; share your smile! Little Debbie is on a mission- the Little Debbie Million Smile Mission
Disclaimer: I was not paid by Little Debbie to endorse their product. I was however given a box to taste test and give my honest opinion.
Becky
Wife, mother, grandma, blogger, all wrapped into one person, although it does not define her these are roles that are important to her. From empty nesters to living with our oldest and 2 grandchildren while our house is rebuilt after a house fire in 10/2018 my life is something new each day.