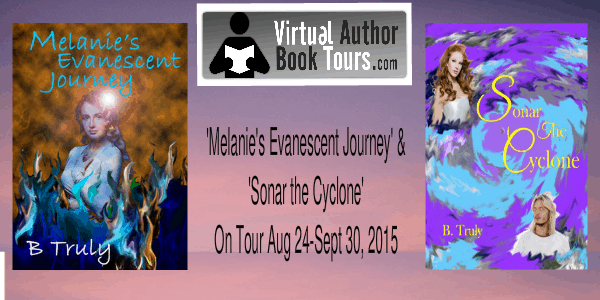 Becky
Newly middle-aged wife of 1, Mom of 3, Grandma of…

Melanie Excerpt (Chapter 7)
True love may cost a price
The following Friday night Jason and I were in the family room eating pizza. After we finished eating, we decided to watch a movie. I had never seen the Underworld series before, and now he had me hooked. We were on the sofa, watching the fourth movie. He had me lying across his chest. Jaden came into the room and seemed surprised to see us.
"Hey, Jaden."
"What's up?" Jason said to him. Jaden rolled his eyes, didn't reply, and walked away. Jason lifted us up on the sofa. "I will be back in a second."
"Okay."
He followed Jaden. I was going to stay put until I heard Jason's voice rise. I bolted up and went into the kitchen. Harmony was in there also. Jason was in his face and looked pissed. Jaden appeared concerned, like he was trying to convince him to do something. None of them saw me.
"What's your problem?" Jason asked, gritting his teeth.
"I don't think you should have her around with everything that's going on," Jaden replied.
Were they talking about me?
"She doesn't have anything to do with this," Jason said.
"I think you are taking it too personal. He doesn't mean any harm," Harmony said to Jason.
"It's not right to involve her further, and you know it," Jaden interrupted.
"We don't even have all of the facts," Jason countered.
"We know enough. You are just too blind to see it." Jaden threw in his face.
They were talking about me, but why? None of it made sense. The last statement Jaden said pushed Jason over the edge. He shoved Jaden in his chest so hard he flew back into the refrigerator and slipped to the ground. He got up fast and pushed Jason back.
"Guys, stop!" I yelled, frantic. Jason pushed him again and tried to get him in a wrestler hold. Thank goodness Harmony rushed into the crossfire and somehow managed to separate them. She had both of her arms extended, one hand on each of their chests.
"You guys better cut it out right now! Don't make me tell you twice!" She commanded.
They stopped struggling against her. Did she have a black belt in karate that they obeyed her so readily? Jason looked at me, frowned, and bit his lip. He seemed embarrassed by his actions. He walked toward me and pulled me from the kitchen quickly. In the hallway he said, "I'm sorry about that. Do you mind if we go back to your place?"
"Sure, but what's going on?"
"Let's talk about it in the car."
Jason gathered my things and had me out of the house before I could blink. He didn't want me around his siblings; that was clear. He had picked me up from my house so we were in his car. He blew out his breath, and his forehead was furrowed. He was deep in thought and didn't seem like he wanted to talk.
"Are you going to tell me what that was about?"
"We are having some family problems."
"Yeah, that's obvious. What does it have to do with me?"
"Nothing."
"That's not what your brother thinks."
"My brother doesn't know what he's talking about."
"Well, your sister seemed to agree." He didn't answer. "Why does your brother dislike me?"
He looked at me apologetically. "Mel, my brother and sister like you just fine."
"Why did you push your brother then?"
"We have been bumping heads for a while. Things just added up."
"I don't buy it."
"Mel, you're being paranoid. You are reading too much into this. My brother and I have argued before. We are both hotheaded, so sometimes things get heated."
"I think there's more going on than you are telling me. It's clear you don't want to share. Just drop me off. I don't want to talk about it anymore." I crossed my arms against my chest and looked out the window.
"Mel," he said, pouting. I ignored him, and he sighed.
At the next stoplight, he put the car in park. What was he doing? He undid his seatbelt and lunged at me. I was shocked at his aggressiveness. I was worried, irritated, and scared, but all of my emotions unraveled in the kiss. It was explosive. He pushed his tongue into my mouth and the watermelon substance expelled. He kissed me like his mouth was made for mine. Within seconds desire pulsed inside every vein in my body. I kissed him back fiercely and pulled his hair. He moaned, and then several people started to blow their horns. The light was green. He pulled back, breathing heavily, and drove on through the intersection.
"Are you talking to me now?" he asked.
I still felt high from his tongue of ecstasy. Why was I mad again? "I'm talking, but I don't like you keeping me in the dark."
"My family and I will get it sorted out, okay. But I don't want you to think you are the cause of the problem. That's not the case. Are you really not going to let me come in?" he asked, pulling into my driveway. A few minutes ago I would have said no, but after the way he kissed me, I couldn't. He kissed me that way on purpose just so he could have his way with me.
---
Melanie's Evanescent Journey by B Truly:
Publisher: Create Space (April 23, 2014)
Category: New Adult, Paranormal/Romance, Fantasy
Tour Date: August & September, 2015
ISBN: 978-1497319622
ASIN: B00K1NHOPU
Available in: Print & ebook, 240 Pages
New Adult, Paranormal-Romance Companion novel for The Sonar Series (1.5)
True Love may cost a price, if the greater good preordains that you are the sacrifice.
There are always two sides to a story. Melanie Wilhelm's begins after she moves from Australia and starts her senior year at Cashmere High. On her first day, she bumps into a mysterious guy, and they form an instant connection. They become friends and he shares his deepest secret with her. As they grow closer, their relationship amplifies and becomes binding. Strange things occur, but instead of worrying, Melanie's feelings intensify.
The excitement of New Year's Eve approaches, and so does Jason's most devastating revelation of all. She learns his ultimate truth and is now spun into his chaotic web. The danger rises and hard choices must be made. By being with Jason, Melanie may have to sacrifice more than her heart. It may cost her life.
Melanie's Evanescent Journey ties into books one and two of The Sonar Trilogy. From spiraling twists to devastating plots, her journey will make you question fate and true love.
Is fate something you can control? Some believe it's in the hands of what you behold.
Sonar the Cyclone by B Truly:
Publisher: Kindle Publishing (July 17, 2015)
Category: New Adult, Fantasy,Sci-fi/Romance, Space Opera
Tour Date: August & September, 2015
Available on: ebook, 271 Pages
Is your destiny determined by what the future has foretold? Or is fate deemed in the hands of what you behold?
The Royal 4 are now back on their home territory of Nazari, determined to get things back to normal. Syira's forbidden love is being held captive. She is hell-bent on fighting for him despite the immense obstacles. She must find a way to convince her race that Kadeem is not dangerous. Their threat lies from deeper within.
Shiray has accepted her past and is moving forward with her life, but it comes back to haunt her tenfold. That all changes when she stumbles across the truth. Now, she must pick up the pieces of her shattered life.
They are in the calm but know when they approach the dirty side of the Cyclone storm, terrible things will unravel. The future is revealed and they get a glimpse of Fate's course. Time is not on their side. They must attempt to change their destiny or their world will be doomed.
Praise for Melanie's Evanescent Journey by B Truly:
"This was an awesome story. I felt so bad for Mel when Bryan kept putting her off. She definitely had an eventful life. I'm so glad everything worked out in the end. She found the love of her life and got to live her life and accomplish her dreams. I recommend this book!"-Kathy, Goodreads Reviewer
"Melanie's Evanescent Journey is a novella a part of The Sonar Trilogy. Each book is told from a different point of view and this book was of course, told from Melanie's. I have never read any book from this author and I was very pleased by her writing. She made me engrossed in this book and had my emotions running wild. You know it's a great read when your emotions are so invested that you can't help but think about what you read for a few days after. I commend B. Truly for getting her readers so involved, and for that this book gets 5 fangs! I recommend this to the paranormal, romance, and adult genre readers who love plot twists and going on an emotional ride."-Leslie Williams, Goodreads Reviewer
" There are quite a surprising number of twists and turns that I wasn't expecting, each one adding to the suspense of the plot. There's a whole lot of romance in this book, mixed in with some paranormal and science fiction. I excited to see where B Truly goes with Sonar The Cyclone."-Carrie January, Amazon Reviewer
Praise for Sonar The Crashing by B Truly:
"Oh my gosh! This book is definitely a must-read. I loved the whole story. The whole plot was completely interesting and kept me on the edge of my seat and biting my nails. The guys in this book were completely and utterly swoon-worthy and the romance was satisfying!"- Robin Hartloff , Where Books Lead Us
"This was a wonderful book full of action and romance. I couldn't seem to read it fast enough. This is one of those books that the rare moments you put it down, you are wondering what's next. I am so excited for the second book. This being the author's debut novel was shocking. I am not only looking forward to the next book in this series, but the many other books this author should (and will) undoubtedly write."-Melissa, Amazon Reviewer
"This is a great book! If you love Sci-fi and romance I highly recommend. It is an easy read once you get into the story I was done with the book in 3 sittings. At the end of the day it's a great story and I cannot wait until the sequel to find out what happens. The author is a wonderful storyteller with a lot of potential and I cannot wait to see what else she has in store for her readers and fans."- Deana Simpson, Goodreads Reviewer
About B Truly:
B Truly has wanted to be an author since she was fifteen years old and grateful to have accomplished this dream. She has very vivid dreams and a wild imagination. She likes to read, watch tons of TV shows, and movies. She is addicted to romance and get a thrill out of action and suspense. She writes New Adult Fantasy, Sci-fi, and Paranormal-Romance.
In the Sonar series, B Truly said "it was fun to explore different elements of Sci-fi romance and create various realms of powers for my characters. I want to show my readers that Sci-fi can be fun, but also traumatic. I hope you guys enjoy the Sonar Series."
B Truly has three wonderful children and a husband who defines the person she is today. She works full-time as an Ultrasound technologist in Sugarland, Texas.
Website |Goodreads |Twitter |Facebook
Buy Melanie's Evanescent Journey by B Truly:
Amazon
Barnes & Noble
Smashwords
Book Depository
Buy Sonar the Cyclone by B Truly:
Follow the Melanie's Evanescent by B. Truly Tour:
Teddy Rose Book Reviews Aug 24 Tour Kick Off
Room With Books Aug 25 Review & Excerpt
Rants N Scribbles Aug 26 Excerpt
The Autistic Gamer Aug 27 Review
Debby Amazon Reviewer Aug 28 Review
Infinite House of Books Sept 1 Interview
What U Talking Bout Willis? Sept 9 Excerpt
Two Kids & a Migraine Sept 11 Review
Alex Amazon Reviewer Sept 10 Review
Deal Sharing Aunt Sept 15 Interview
Loving-Books Sept 16 Review & Excerpt
Tour Wide Giveaway for Melanie's Evanescent by B. Truly:
One winner will receive the ebook, 2 Melanie Book Marks and 1 Dance With Amnesia Photo Magnet.Open to the U.S. only. Entries accepted via Rafflecopter only.
Follow the Sonar the Cyclone by B Truly Tour:
Teddy Rose Book Reviews Sept 14 Tour Kick off
Room With Books Sept 15 Review & Excerpt
Rants N Scribbles Sept 16 Ex cerpt
The Autistic Gamer Sept 17
Inspire To Read Sept 18 Excerpt
Deal Sharing Aunt Sept 22 Interview
What U Talking Bout Willis? Sept 23 Excerpt
Jen S. Amazon Reviewer Sept 24 Review
Two Kids & a Migraine Sept 28 Review
Infinite House of Books Sept 30 Interview
Tour Wide Giveaway for Sonar the Cyclone by B. Truly:
Three winners will receive the ebook, 1 Sonar Cyclone Photo Magnet, 1 Sonar Pen, and 1 Melanie Book Mark. Open to the U.S. only. Entries accepted via Rafflecopter only.
Becky
Newly middle-aged wife of 1, Mom of 3, Grandma of 2. A professional blogger who has lived in 3 places since losing her home to a house fire in October 2018 with her husband. Becky appreciates being self-employed which has allowed her to work from 'anywhere'. Life is better when you can laugh. As you can tell by her Facebook page where she keeps the humor memes going daily. Becky looks forward to the upcoming new year. It will be fun to see what 2020 holds.