My Husband Loves His ALIGNMED Posture Shirt

Disclosure: We received an ALIGNMED Posture Shirt in exchange for our review.  All opinions are our own.
When I first heard about the ALIGNMED Posture Shirt, I just knew I had to request one for my husband to try.  My husband has dealt with upper and lower back pain on and off during our marriage.  He continues to push himself at the gym and at home.  I wasn't sure what to expect, but the moment that the shirt arrived he put it right on.
He has worn it for a couple days and already he says he notices a difference.  He wore it to work out in and said it was amazing what a difference it made while he was working out.  Roger mentioned that he wished they had bottoms too lol.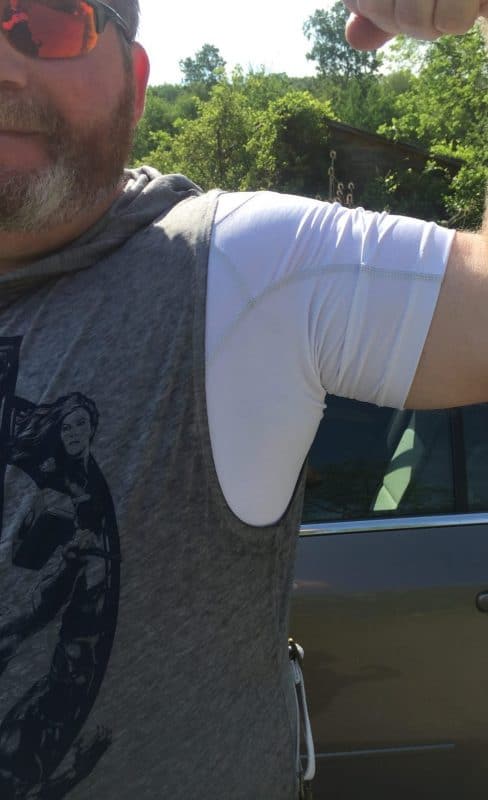 About the ALIGNMED Posture Shirt
With this shirt you will notice these differences right away:
enhanced performance
increased range of motion
injury prevention
pain reduction
faster recovery
It is anatomically made with tension panel Neurobands® that activate and stimulate specific muscle groups and joints to keep you in perfect form.  The controlled resistance will cause your muscles to contract to increase your strength.  You will find that this will keep you performing at your best.  If you are recovering from an injury or surgery the company recommends the zipper version of this shirt.
Some of their items on their site are covered by insurance, but this shirt is not. You can check their website for which garments are covered by insurance.
This ALIGNMED Posture Shirt features:
Vented Powermesh™ panels.
Moisture-wicking
Anti-microbial protection.
Designed with our patented Neuroband® technology.
Benefits of the ALIGNMED Posture Shirt
Increases upper body strength.
Increases oxygen intake.
Improves shoulder mechanics.
Improves core activation.
Decreases wear and tear on joints.
The shirt is made from 83% polyester and 17% spandex.  You will need to wash it in cold, air dry and no iron.
If you are looking for something that works, you need to give ALIGNMED a chance.  Visit them on their Social Media Channels and website below:
Facebook | Twitter | Instagram | Pinterest | YouTube | Website