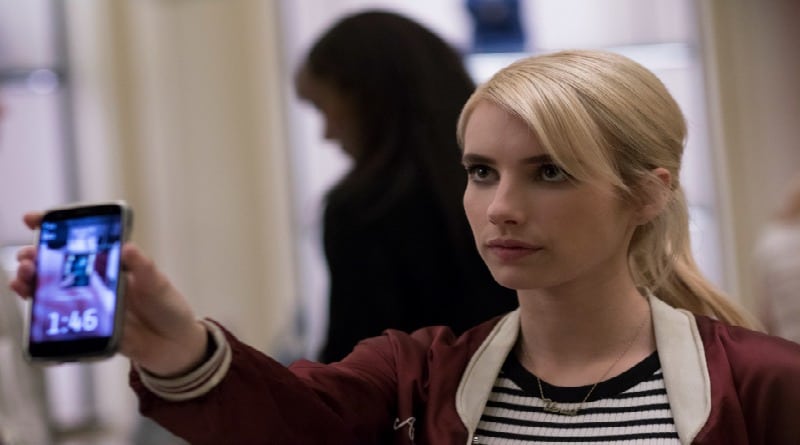 Becky
Wife, mother, grandma, blogger, all wrapped into one person, although…

Do you have Nerve?
My Review:
Just thinking about this movie gets my heart beating. I am not sure if I have seen a movie that keeps you off your seat like this in a long time. Like the WHOLE movie, I felt on edge, anxious and not sure what was going to happen next.
When I first read about this movie I didn't quite get the question 'are you a watcher or a player? I will be totally honest with you after seeing the movie I don't think I could be either. The movie takes just a few minutes to get to the point you want to keep watching and keeps you going until the end.
I thoroughly enjoyed Emma Roberts (TV's "Scream Queens") and Dave Franco (Now You See Me franchise) parts in this movie. If you love unpredictable and thrilling then you won't want to wait any longer than you have to to get this one! The 'dares', and the excitement in them completing the dares are enough to draw you right in like nothing else is happening around you. So don't wait, you can pre-order/purchase it here on Amazon. (This is an affiliate link meaning if you purchase from it I will receive a small commission. This doesn't affect your purchase. I am just mentioning it for your knowledge.)

"The sharpest, wildest and most unpredictable thriller I've seen this year ..." 
–Kyle Smith, New York Post

Are You a Watcher or a Player?

 
Filled with Exhilarating Dares and Electrifying Exploits the Adrenaline-Fueled Thriller Arrives on Digital HD October 11 and Blu-rayTM & DVD October 25 from Lionsgate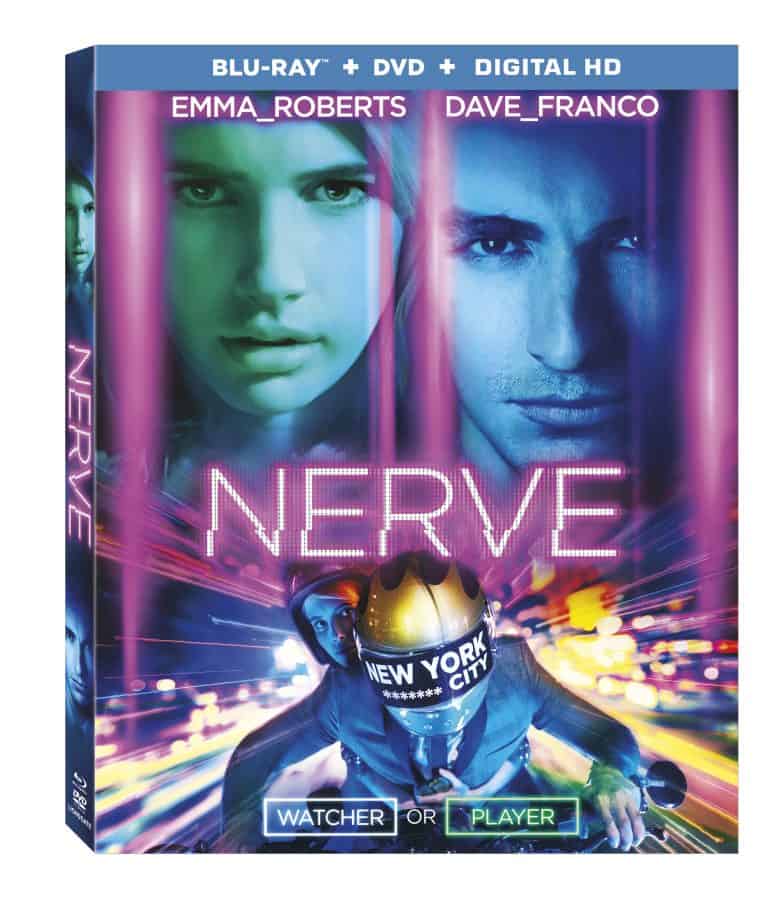 SANTA MONICA, CA (September 7, 2016) – Emma Roberts (TV's "Scream Queens") and Dave Franco (Now You See Me franchise) star in Nerve, the suspense-filled romantic thriller for the Millennial generation, arriving on Digital HD on October 11 and on Blu-ray Combo Pack (plus DVD and Digital HD), DVD (plus Digital) and On Demand October 25 from Lionsgate. Directed by Henry Joost and Ariel Schulman (Catfish) with a screenplay by Jessica Sharzer (TV's "American Horror Story"), This movie captures the phenomenon of today's social media climate where thousands of anonymous voices can determine the future of a few individuals. The film also features cameos from social media sensations The Fat Jewish, Arielle Vandenberg and Casey Neistat.
Industrious high school senior Vee (Emma Roberts) is tired of living life on the sidelines. Pressured by friends to join the popular online game Nerve, Vee teams up with a sly and charming competitor (Dave Franco) for just one dare in what seems like harmless fun. But as Vee is caught up in the thrill of the adrenaline-fueled competition, the game takes a sinister turn with increasingly dangerous acts, leading Vee into a high-stakes finale that will determine her entire future.
The Nerve Blu-ray Combo Pack and Digital HD give viewers the unique opportunity to experience being a WATCHER or a PLAYER. Upon launching the special features, viewers will choose either WATCHER or PLAYER mode. In WATCHER mode go behind the scenes with 15 "Creating Nerve" pods exploring the making of the film, "The Fat Jewish Gets Tattewish" featuring outtakes from Josh Ostrovsky (aka internet personality 'The Fat Jewish') in the tattoo shop, and "The Governor's Ball Takeover" chronicling a game of dare played at the 2016 Governor's Ball in New York.
Additionally, thrill-seeking viewers can choose the interactive PLAYER mode with an "Are You a Watcher or a Player" interactive quiz, the "Do You Have the Nerve?" Game, for viewers looking for more of an adrenaline rush and Player Profiles of the top six Nerve players. The Blu-ray also includes an immersive DTS:X audio track that replicates and conveys the fluid movement of sound to create a richer soundscape than previously possible by moving sound to precisely where the mixer placed it. The DVD includes only the content featured in the WATCHER mode. This movie will be available on Blu-ray Combo Pack and DVD for $39.99 and $29.95, respectively.
BLU-RAY/ DIGITAL HD SPECIAL FEATURES
See Also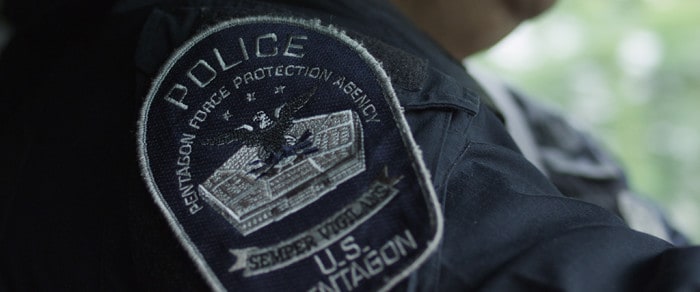 Watcher Mode:

"Creating Nerve" – 15 Character Pods
"The Fat Jewish Gets Tattewish" Outtakes
"The Governor's Ball Takeover" – Social Media Stars in a Game of Dare
"Do You Have the Nerve?" Game
"Are You a Watcher or a Player?" Quiz
Player Profiles
DVD SPECIAL FEATURES
"Creating Nerve" – 15 Character Pods
"The Fat Jewish Gets Tattewish" Outtakes
"The Governor's Ball Takeover" – Social Media Stars in a Game of Dare
Facebook
Instagram:
Twitter:
#Nerve
PROGRAM INFORMATION
Year of Production: 2016
Title Copyright: Nerve, Artwork & Supplementary Materials © 2016 Lions Gate Entertainment Inc. All Rights Reserved.
Type: Theatrical Release
Rating: PG-13 for thematic material involving dangerous and risky behavior, some sexual content, language, drug content, drinking and nudity – all involving teens
Genre: Thriller
Closed-Captioned: NA
Subtitles: English, Spanish and English SDH
Feature Run Time: 96 minutes
Blu-ray Format: 1080P High Definition 16×9 Widescreen (2.40:1)
DVD Format: 16×9 Widescreen (2.40:1)
Blu-ray Audio: English DTS:X Audio, Spanish 5.1 DTS Digital SurroundTM Audio, English 2.0 DTS Audio Optimized for Late-Night Listening, English Descriptive Audio, DTS Headphone:XTM Audio
DVD Audio: English 5.1 Dolby Digital Audio, Spanish 5.1 Dolby Digital Audio, English Descriptive Audio
ABOUT LIONSGATE
Lionsgate is a premier next generation global content leader with a diversified presence in motion picture production and distribution, television programming and syndication, home entertainment, international distribution and sales, branded channel platforms, interactive ventures and games, and location-based entertainment. The Company has nearly 80 television shows on 40 different networks spanning its primetime production, distribution and syndication businesses. These include the critically-acclaimed hit series Orange is the New Black, the syndication successes The Wendy Williams Showand Celebrity Name Game (with FremantleMedia), the breakout series The Royals and the Golden Globe-nominated dramedy Casual.
The Company's feature film business spans eight labels and includes the blockbuster Hunger Games franchise, the Now You See Me, Divergent and John Wick series, Sicario, The Age of Adaline, Roadside Attractions' Love & Mercy and Mr. Holmes, Codeblack Films' Addicted and breakout concert film Kevin Hart: Let Me Explain and Pantelion Films' Instructions Not Included, the highest-grossing Spanish-language film ever released in the U.S.
Lionsgate's home entertainment business is an industry leader in box office-to-DVD and box office-to-VOD revenue conversion rates. Lionsgate handles a prestigious and prolific library of approximately 16,000 motion picture and television titles that is an important source of recurring revenue and serves as a foundation for the growth of the Company's core businesses. The Lionsgate and Summit brands remain synonymous with original, daring, quality entertainment in markets around the world.
Becky
Wife, mother, grandma, blogger, all wrapped into one person, although it does not define her these are roles that are important to her. From empty nesters to living with our oldest and 2 grandchildren while our house is rebuilt after a house fire in 10/2018 my life is something new each day.