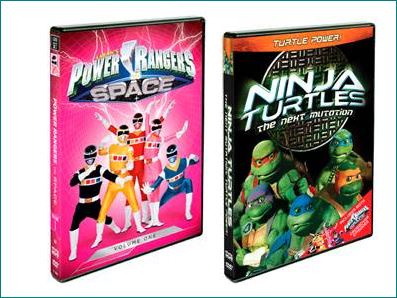 Becky
Wife, mother, grandma, blogger, all wrapped into one person, although…


New Power Rangers and Ninja Turtles: The Next Mutation DVDs Available August 5th
Power Rangers: In Space, Vol. 1
and
Ninja Turtles: The Next Mutation – Turtle Power
Both Titles Available in Stores Nationwide August 5th, 2014 from Shout! Factory
This summer, Shout! Factory unleashes new DVD collections for two popular series: Ninja Turtles: The Next Mutation – Turtle Power and Power Rangers: In Space, Vol. 1, available on home entertainment shelves nationwide on August 5th, 2104.
In Ninja Turtles: The Next Mutation – Turtle Power, everyone's favorite turtles — Leonardo, Raphael, Donatello and Michelangelo, along with the newest addition to the family, Venus Di Milo — are back! They're on a mission to rescue Master Splinter from the evil Dragon Lord and his horde while staying clear of other new foes like the vampiress Vam-Mi, the yeti Silver and the big-game hunter Simon Bonesteel who are all out for their shells! Ninja Turtles: The Next Mutation – Turtle Power contains six episodes from the live-action series, as well as the special Power Rangers In Space crossover episodes "Save Our Ship" and "Shell Shocked" as a bonus feature!
The Power Rangers battle the dreaded villain Divatox at rapid speed in Power Rangers: In Space, Vol. 1, a 3-DVD box set that contains the first 22 episodes of the series. When word reaches the remaining Power Rangers that their founder and mentor Zordon has been captured by a coalition of villains, the remaining Rangers journey into space aboard a NASADA space shuttle in the hopes of rescuing him. Deep in space, they discover the Astro Megaship, the mobile base of operations for Andros, a Power Ranger who grew up on the distant space colony of KO-35. Joining forces, they draw power from their new Astro Morphers to take their fight against evil anywhere necessary and to find Zordon before it's too late. Fighting a union of all their past villains, led by the monstrous Dark Specter and his trusted captain Astronema, the Rangers are in for the biggest fight the universe has ever seen!
Following its debut in 1993, Saban's iconic live-action pop culture series, Power Rangers quickly became the most watched children's television program in North America. Emphasizing the importance of teamwork, responsibility and helping others by following the adventures of a group of ordinary young people who "morphed" into superheroes, this long-running series has been seen in more than 60 countries, translated into numerous languages, and remains a mainstay in children's programming blocks. For 20 years, the highly entertaining saga and fan favorite characters from Power Rangers have captivated children and adults alike and are beloved by legions of fans worldwide.
Becky
Wife, mother, grandma, blogger, all wrapped into one person, although it does not define her these are roles that are important to her. From empty nesters to living with our oldest and 2 grandchildren while our house is rebuilt after a house fire in 10/2018 my life is something new each day.