Passion Creek Excerpt by Avery Flynn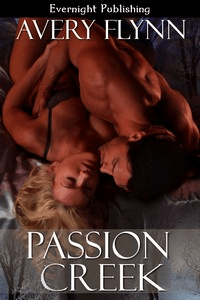 Becky
Newly middle-aged wife of 1, Mom of 3, Grandma of…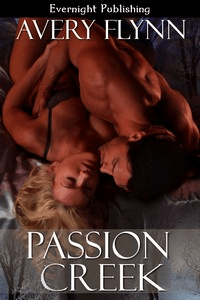 Sam moved in close enough for Josie to feel the heat pulsing off of his flushed cheeks. Or maybe it was the heat moving up from her wet pussy that caused the breathless jittering in her stomach. Her entire being focused on him as her nipples hardened in anticipation of the electric flash that would explode inside her the moment they touched. She should say something, do something but the golden flecks in his hazel eyes held her mesmerized. Josie hung on the edge of a sheer cliff of need—not wanting to pull back, but unable to take that final step forward into the oblivion of passion.
"I have a boring life in a small town where nothing ever happens. My plans for the future involve putting fifteen percent of my salary into my 401K and publishing papers in dry history journals that no one reads. There is no room on my calendar for adventure or treasure hunting with a woman who stands out in the room like a shiny new penny."
His lips were only millimeters from hers, his breath pushing against her parted lips like a heated caress. Josie's body vibrated from toes to eyebrows. If he didn't touch her soon she would have to pounce on him.
"You probably don't even eat leftovers," he grumbled.
"No."
"Or drive the exact same route to work every day." He drew a gloved finger down the zipper of her leather coat, frustratingly close to her breasts but not touching them.
"Uh-uh." So much of her brain had evaporated she couldn't even form words any more.
"We're nothing alike." He grabbed her shoulders, squeezing the tender flesh. "I am content with my routine. I don't want to change anything about it. Do you understand me?"
Josie could only blink in response to his growled pronouncement as her heart raced and her body cried out for him.
Sam dropped his hands from her as if she'd burnt him and stepped back. "So why do you make me think that I'm missing out on something extraordinary?"
Becky
Newly middle-aged wife of 1, Mom of 3, Grandma of 2. A professional blogger who has lived in 3 places since losing her home to a house fire in October 2018 with her husband. Becky appreciates being self-employed which has allowed her to work from 'anywhere'. Life is better when you can laugh. As you can tell by her Facebook page where she keeps the humor memes going daily. Becky looks forward to the upcoming new year. It will be fun to see what 2020 holds.