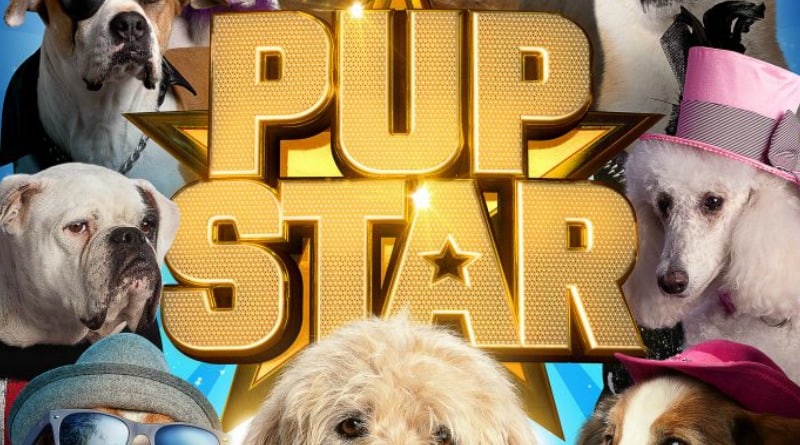 Becky
Wife, mother, grandma, blogger, all wrapped into one person, although…

Air Bud Entertainment, the creators of the "Air Bud" and "Air Buddies" films are proud to announce their newest dog-filled film "PUP STAR"..
This is a canine spin on America's hit TV singing competitions. The film is has 13
original songs
and includes voice talent from the top music icons
Ziggy Marley
and
Juicy J
. The film will be in select theaters and available on Digital HD
exclusively
on FandangoNOW
August 30th
!
This August, Air Bud Entertainment, the creators of the beloved 'Air Bud' and 'Disney Air Buddies' franchises, present a dog-filled spin on America's hit TV singing competitions, with the release of PUP STAR. Loaded with music, including 13 original songs, and the biggest cast of talking (and singing) canines ever assembled, the all-new family film is the inspirational adventure of an adorable Yorkie pup, Tiny (voice talent, Kaitlyn Maher, America's Got Talent)who finds herself on an action-packed cross-country journey to compete in the ultimate singing competition for dogs. Featuring an all-star celebrity judging panel including 'Dog Gnarley' (voice by Ziggy Marley), 'Blake Sheltie,' 'Lady Paw Paw' and a loveable but always disagreeable 'Simon Growl,' this movie showcases canine contestants including P-Diggy (voice talent, Juicy J), 'Bark' and the tall-hat wearing 'Furrell.'
An exciting film the whole family can enjoy, PUP STAR will release in select US theaters and Digital HD exclusively on Fandango's premium on-demand video service, FandangoNOW August 30, 2016. In Canada, the film will release September 17th exclusively in Cineplex Cinemas as part of the complimentary "Family Favourites Premiere" programming with an additional special movie offer at the Cineplex Stores.
Starting today, you can be pre-ordered on FandangoNOW for $9.99.
"Pup Star marks a return to the type of great family storytelling that is the foundation of the Air Bud brand, where dogs are lead characters in exciting adventures with strong family-driven themes," said Robert Vince. 'We're thrilled to launch the first ever live-action singing dog franchise and are already hard at work on Season Two!'
"We're excited to be working again with Air Bud Entertainment to support their newest family film PUP STAR," said Adam Rockmore, Senior Vice President, Marketing and Communications, Fandango. "Providing quality entertainment for kids and families on FandangoNOW is a priority and we're pleased to be the first to offer this movie."
PUP STAR stars Makenzie Moss (Steve Jobs), Jed Rees (Deadpool), Carla Jimenez (The Purge: Anarchy), and David Deluise (The Wizards of Waverly Place). Additionalvoice talents include John Ratzenberger (as 'Mutt'), Tom-Everett Scott (as 'Charlie'), Bonnie Sommerville (as 'Emily-Rose'), Nikki Blonsky (as Lady Paw-Paw) and Diedrich Bader (as 'Kano').
PUP STAR is produced by Air Bud Entertainment, the creative force behind the #1 live-action, direct-to-video movies in the family category. The film is directed by "Air Bud" and "Disney Air Buddies" veteran Robert Vince, and written and produced by Robert Vince and Anna McRoberts.
PUP STAR is supported by an exciting range of promotional partners including Cold Stone Creamery, Barbara's Bakery, Eggland's Best, and Evolution Dog Treats.
Cold Stone Creamery® will offer guests a FandangoNOW Movie Card for a free PUP STAR rental with any purchase, and will support with point-of-sale materials in 1,100 stores nationwide and on email blasts to 2MM My Cold Stone Club™ members.
Barbara's Bakery will offer a walk-on role for one winner plus their child or dog in the next Air Bud Entertainment movie and other prizing through a special code inside custom Snackimals cereal boxes, featuring Tiny (the singing Yorkie star of this fun movie!), and inside custom Puffins cereal boxes.
Eggland's Best, America's #1 egg, is egg-cited to launch a nationwide digital campaign supporting PUP STAR, and is the official host of the "Ultimate EB PUP STAR" sweepstakes. The grand prize winner will win a Myrtle Beach, South Carolina family vacation with their own PUP STAR; other prizes include Schwinn SmartStart bicycles, EB Pup Star Prize Packs, and much more!
Evolution Dog Treats will release limited-edition PUP STAR/Evolution Dog Treats — they're healthy, delicious treats but they won't enable dogs to talk and sing like they do in the movie!
Official Film Synopsis
Welcome to a world where dogs can not only talk — they can SING! Tiny, a cute little Yorkie pup with a big voice, gets a chance to audition for the singing competition for dogs, Pup Star. After she earns a place in the finale, she's suddenly dog-napped! But with the help of her new friend, Charlie, a retired rock-and-roller, she escapes. Together they leave on an incredible journey through some of music's most iconic cities. On the way to the competition they meet Big Ears — a soulful Bassett Hound who teaches Tiny to belt out the blues; Murray — a spiritual shaggy dog who helps her find her inner rhythm; and Emily Rose — a country-singing shepherd who helps her learn to sing from her heart. Most important of all, they all encourage Tiny to believe in herself and never give up on her dreams!
About Air Bud Entertainment
The company behind the beloved AIR BUD and DISNEY AIR BUDDIES franchises, Air Bud Entertainment is celebrating 20 years as a trusted family brand, which has become part of the social fabric across generations of children, parents and grandparents. Offering original family-friend films across numerous multi-media and digital platforms, fans can also now watch exclusive programming on Air Bud TV including original, all new short form content and TV series.
About FandangoNOW
Fandango's on-demand video service, FandangoNOW, offers a massive digital library of new release and catalog movies and next-day TV shows for purchase and rental on a wide variety of connected TVs, over-the-top (OTT) and mobile devices, and on its site, FandangoNOW.com. FandangoNOW is available on Roku, Smart TVs from Samsung, LG and Vizio, and supports iOS and Android mobile devices.
Connect on Social Media:
Connect with Pup Star on Facebook, Twitter and Instagram
The film will be in select theaters and available on Digital HD exclusively on FandangoNOW August 30th!
Becky
Wife, mother, grandma, blogger, all wrapped into one person, although it does not define her these are roles that are important to her. From empty nesters to living with our oldest and 2 grandchildren while our house is rebuilt after a house fire in 10/2018 my life is something new each day.