Becky
Newly middle-aged wife of 1, Mom of 3, Grandma of…

Quackerz by Shout Factory Kids
Shout! Factory Kids is pleased to announce the new animated movie, QUACKERZ will fly onto store shelves everywhere (including Walmart stores) on June 14, as well as available on VOD on the same day.
This fun-filled animated movie adventure brings to life a unique tale of unlikely heroes with action, comedy and heart and features a star-studded voice cast of Michael Gross (TV's Family Ties), Robbie Daymond (Nickelodeon's Get Blake!), Enn Reitel (The Adventures of Tintin), and Andrea Becker (Storage Wars: New York). This adorable movie teaches friendship, differences and of course is full of comedy and the characters are cute as well as catchy.
About the Movie:
The story of Quackerz takes place on a peaceful island but things aren't quiet for long because the disagreement starts and they begin fighting. But throughout the entire movie they have to fight to become more peaceful while developing friendships and more.
It is an adorable show with characters that are cute, the animation is bright and catchy. I strongly suggest you check out the behind-the-scenes footage too for more laughs!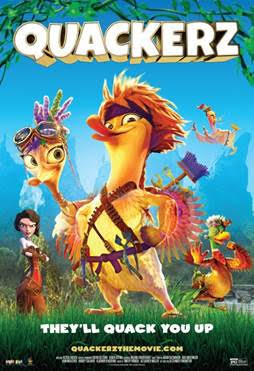 QUACKERZ Directed by Victor Lakisov has some incredible voice talent including: Robbie Daymond, Michael Gross, Enn Reitel, Alanna Ubach, Andrea Becker Lead All-Star Voice Cast in this hilarious animated movie adventure that opens Friday, June 3, 2016, in Los Angeles.
A new CG-animated feature QUACKERZ is a colorful family movie adventure, bringing to life a unique tale of unlikely heroes with action, comedy, heart and even a bit of romance! Brimming with whimsical characters, vibrant animation and high-energy fun, QUACKERZ features an exceptional voice cast of Robbie Daymond (Nickelodeon's Get Blake!), Michael Gross (Family Ties), Enn Reitel (The Adventures of Tintin), Andrea Becker (Storage Wars: New York), Alanna Ubach (Legally Blonde), Bruce Nozick (The Last Ship), Jesse Corti (Beauty and the Beast, Frozen) and Jimmie Wood (The Wild Thornberrys).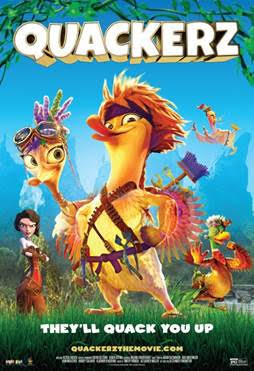 Directed by: Victor Lakisov (a.k.a. Victor Luckysov)
Written by: Andrey Galanov, Bladimir Diyachenko, Vsevolod Zorin, Vadim Sveshnikov, John Mickevich, Bob Underwood, *Vera Sveshnikova-Vaskovich
Executive Producers: Vsevolod Zorin, Ruben Atoyan, Oksana Brovchenko, Cai Jin
Music by: Dmitry Noskov, Alexander Maslov
Voice Cast: Robbie Daymond, Michael Gross, Enn Reitel, Andrea Becker, Alanna Ubach, Bruce Nozick, Jesse Corti and Jimmie Wood
When the peaceful island of the Mandarin Ducks is mistakenly invaded by the Military Mallards, a conflict flares up between the Mandarin Emperor and the Mallard Commander. Longway, the Emperor's son, and Erica, the daughter of the Mallard Commander, meet… and before long, a friendship takes wing. While their feathered fathers fight and egg each other on, the wicked Ms. Knout is con-duck-ting a scheme to destroy the sun. The kids will have to get all their ducks in a row to battle their foe… but waddle they do if her foul plan succeeds?
Movie Running Time: 85 minutes
MPAA Rating: PG
LONGWAY (Voiced by Robbie Daymond)
Longway is the son of the leader of the flock, a young drake. He is the next generation Sun Duck who possesses superpowers and can control the Sun's energy. But he knows nothing of his superpowers. His father, the Emperor of the Mandarin Ducks, strives to protect his son from the dangers of the world by keeping him ignorant of his heritage and his destiny. However fate cannot be so easily averted and the day comes when Longway must save the entire flock and defeat the powers of evil.
When we first meet Longway he is an average bratty teenager, interested in nothing but video games and irritable. Whenever things don't go according to plan, he threatens to leave his father's home. He is bored on his home island where flying is prohibited and no-one can leave. A curious young duck, anxious to know the world outside his tiny island, Longway is understandably wonderstruck when he meets Erica, a girl his age who has already traveled the world.
ERICA (Voiced by Andrea Becker)
Erica is the only daughter of the Military Mallards' Commander.
She is young, independent, brave, spontaneous, curious and very proactive. She travels the world with her father's squad and constantly violates army protocol and discipline, as a consequence of which she is frequently punished. But she is young and adventurous – she likes exploring new places and always finds the way to slip away and find some new trouble. Erica is very open minded and straight forward.
Emperor PENGLI (Voiced by Enn Reitel)
Pengli is the Mandarin Ducks' Emperor. He is a philosopher and a family man, he is emotional (shifts from calm to irritation and back in no time) and a master of kung fu. He is an ardent custodian of tradition and family history. Pengli is the only one who knows that the Legend of the Sun Duck described in the Great Book of their flock is true. Moreover, the next Sun Duck is his beloved son Longway and he is in mortal peril, as the last Sun Duck was captured by the Witch. Pengli pretends to be the Sun Duck to save his son, but since he has no magical powers, no one believes the Sun Duck ever did any good to the flock.
Commander DUCKMUS (Voiced by Michael Gross)
Duckmus is a warrior, a commander, a natural leader. He is practically incapable of admitting mistakes. He is physically strong and well groomed. He is always ready for a fight or an argument. Although he deeply loves his daughter, he tries not to let it show. He sincerely believes that all those who seek her hand in marriage are bumbling idiots not worthy of her attention.
New animated feature QUACKERZ opens in limited release on June 3, 2016
Available across all major VOD platforms June 14, 2016
Becky
Newly middle-aged wife of 1, Mom of 3, Grandma of 2. A professional blogger who has lived in 3 places since losing her home to a house fire in October 2018 with her husband. Becky appreciates being self-employed which has allowed her to work from 'anywhere'. Life is better when you can laugh. As you can tell by her Facebook page where she keeps the humor memes going daily. Becky looks forward to the upcoming new year. It will be fun to see what 2020 holds.