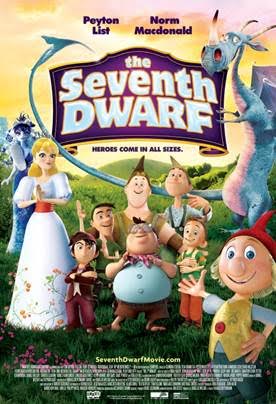 Becky
Wife, mother, grandma, blogger, all wrapped into one person, although…

After appearing in select NY and LA theaters, Shout! Factory's new animated feature, THE SEVENTH DWARF, is finally available NATIONWIDE on Blu-ray and DVD at Wal-Mart stores, as well as on iTunes and VOD platforms! THE SEVENTH DWARF is an exciting adventure story that unites all your favorite fairytale characters in one kingdom and stars the voices of Peyton List, Norm MacDonald, Nina Hagen and Joshua Graham.
Check out the trailer below and make sure you head to a Wal-Mart store near you to experience this delightful film with your entire family!
THE SEVENTH DWARF
—————————–
Cast: Peyton List, Norm Macdonald, Nina Hagen, Joshua Graham, Matt Gilbert, Al Parrish, Geoff May, Joe Marth, Cameron Elvin, Peter Karwowski, James Frantowski
DVD/Blu-Ray/VOD Release: August 18, 2015
Directed by: Harald Siepermann and Boris Aljinovic
Screenplay by: Harald Siepermann, Daniel & Douglas Welbat
Produced by: Douglas Welbat
Synopsis
Join all seven dwarfs for an adventure as big as they are small! It's the eve of Princess Rose's 18th birthday. Everyone in the kingdom has come to Fantabularasa Castle to celebrate including Snow White, the Seven Dwarfs, Cinderella and Red Riding Hood. But just before the stroke of
midnight
Bobo, the youngest dwarf, accidentally pricks the finger of Princess Rose (a.k.a. Sleeping Beauty) with a cursed needle and sends the kingdom into a century-long slumber! To find Rose's true love Jack to save her with a kiss, Bobo and the other six dwarfs must go on a treacherous journey, face a fiery dragon and outwit the jealous, scheming and evil witch, Dellamorta!
This hilarious mash-up of the best classic fairy tales for young and old alike, features a winged dragon, a brave little dwarf, non-stop laughs and toe-tapping songs!
Becky
Wife, mother, grandma, blogger, all wrapped into one person, although it does not define her these are roles that are important to her. From empty nesters to living with our oldest and 2 grandchildren while our house is rebuilt after a house fire in 10/2018 my life is something new each day.