A Stylish Man's Guide To Casual Attires
In the vast male fashion world, men's casual attire dress code carves a niche for itself. Generally, casual attire involves clothing that's slightly below the formal and high-end sphere of men's fashion, giving off a more comfortable and relaxed vibe. It's a dress code that can fall somewhere between self-expression and social convention.
Rocking casual attires stylishly is one of the ways men can exhibit their sense of style. While some may think of casual attires as afterthoughts, some brands have a clearer and firmer understanding of them, know what they mean, and how stylish they can be worn. To learn more, check out https://bespokeunit.com/.
Furthermore, here is a simple guide to help you get it right when it comes to casual attires.
1.Casual Blazers
Blazers rank high on men's list of casual attires. They come in a wide range of options you can choose from, from fabric to patterns to colors. More so, they serve as a button-less option to suit jackets.
A blazer doesn't need a tie to look stylish. It can bring a unique touch to the rest of your outfit and exhibit its personality in considerable measures. Typically, they go well with a pair of jeans or chinos. But blazers, in themselves, are not enough. However, they add some classy touch to a casual outfit.
2.Casual Shirts
A lovely tee shirt can sit underneath a blazer or jacket. However, the tee-shirt needs to form a part of the whole outfit and not itself. They can bring a broader and more stylish dimension to the scene. Tee shirts should be clean, made of quality material, and well-fitting, too, to avoid a baggy look.
When it comes to colors, it's a good idea to keep tees beautifully basic by opting for options like white or grey. Men are not stuck to these colors, though. Different patterns of tee shirts can also work, provided they're not too bright or loud.
For long sleeve shirts, collared and down-buttoned shirts are also great options. And much like tees, toned-down color and pattern are best preferred.
3.Casual Trousers
When it comes to casual pants, men can never go wrong with jeans, chinos, or trousers. However, the selected pants must complement the rest of the outfit. To ensure this, consider matching the color palette of the shirt and the pants. Know as well the difference between dress pants vs chinos.
Fitting is also crucial here. Pants should perfectly fit the body's size and shape. Getting tailored pants is highly recommendable for those whose hemline stops just above the shoes.
More so, it's safer to consider high-quality pants to prevent cases of pants getting torn or zips getting worn out. Well-chosen pants with a fitting shirt and blazer can give a cutting-edge casual look.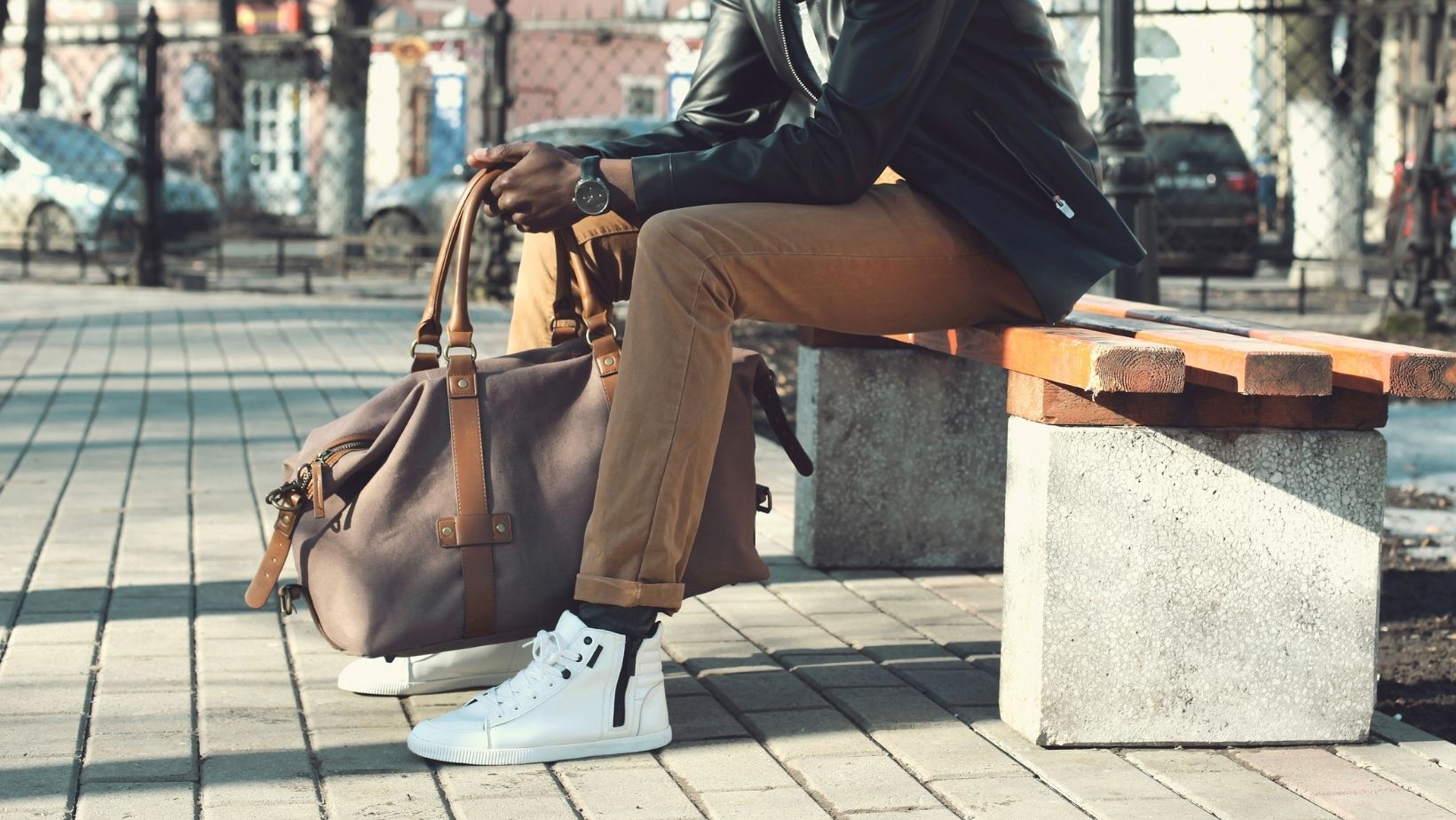 4.Casual Shoes
As with shirts and pants, men have the liberty to mix up different styles of shoes as casual attire. Loafers or footwear that's a little bit breezier often pass as casual attire.
Nonetheless, there are style limitations to be aware of. For instance, rather than rocking athletic sneakers, it's better to wear clean minimal sneakers. The material with which the shoe is made should be highly considered as shoe quality speaks a lot for men.
A good tip to also consider is that shoe colors should align with the color of the belt. More so, it should blend with the color palette of the overall outfit.
Comfort is an essential element here also. So, wearing comfortable shoes can give you a more pleasurable fashion experience than having to walk distances with your legs rammed into a tight shoe.
5. Casual Accessories
Casual attires give room for the use of accessories. If you'd like to use one, a leather belt comes in handy as a fashion accessory.
Quality and personal style play a role in considering the choice of accessories. For instance, a nice wristwatch, bracelet, ring, pair of shaded hats, or pocket square can add to your stylishly casual look. But for men who don't like excessive attention, it's recommended to stick with moderate and less-shiny accessories, so they don't get uncomfortable wearing them.
To put it simply, it's better to choose accessories that best express your style without going to the extreme of being too official or street style. More so, it's best to stick with what gives comfort and confidence.
Final Thoughts
Rocking casual attire is a great way for men to express their personalities and style. And when rightly combined, casual attires can give men a sharp and sophisticated look with a relaxed and comfortable touch.
From going to the office to going on dates, casual attires leave you without second-guessing your look or style. Moreover, with the guidance offered in this article, it becomes easier to rock casual attires with class and comfort.