ACTIV5 Fitness is a Portable Isometric Device Get Your Workout On

Disclosure:  We received an ACTIV5 in order to facilitate our review.  All opinions are our own.
As you might know, my husband has been working out on almost a daily basis (including running) since last October.  Although he has run into a few physical issues, he has been moving forward and looking for new ideas when it comes to his workouts.  He recently walk/ran a 5K for Liv Like Liz to fight ovarian cancer, which he has done in the past.  So when ACTIV5 fitness offered us their portable fitness device, I had to accept so Roger could try it out.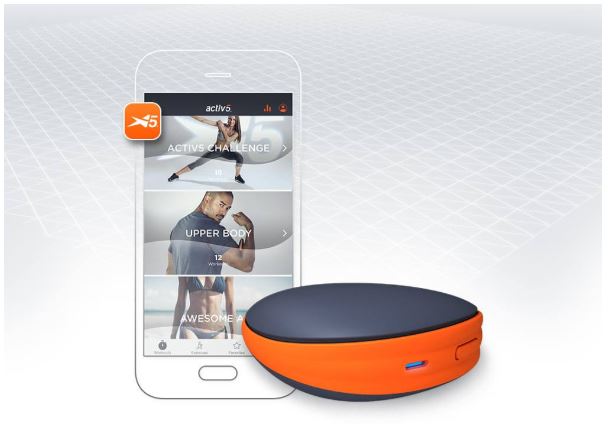 PORTABLE SMART DEVICE
The first thing we love about this device is that is like having a tiny gym in your pocket.  It effectively tones and strengthens your muscles.  It has a durable design that measures more than 200lbs of muscle force.  This has been proven to increase strength by an average of 30% in just 6 weeks. Roger is excited that we can take it with us when we travel and he now may even end his gym membership so no more using extra gas to get to and from the gym.
COACHING APP
You will love the coaching app that is available on iOS and Android operating systems, the Activ5 Companion App features more than 100 seated and standing workouts, enabling users of any age and fitness level to achieve the benefits of strength training with ease.   This is a positive as anyone in the family can use it, and benefit from it.  You can use 1 ACTIV5 for the whole family by setting up each user's profile so they can keep track of their progress.
WORKOUTS & GAMES
The Activ5 App personalizes 100+ workouts to your fitness level, tracks your progress and allows you to exercise while playing games.  I love the idea of playing games while at the same time giving you a workout you can enjoy and you won't even feel like you are doing a workout.
What you will get from using the ACTIV5 portable isometric device
Full body exercises
Short effective workouts
Low impact & Safe
Benefits of ACTIV5:
Saves you time. You won't have to drive to the gym or pay for a membership
Lowers your blood pressure
Aids in weight loss
Improve range of motion
Get stronger and bigger muscles
Benefits over aerobic exercise
High Endurance Exercise
Improves your stamina
Visit them on their social media and website below:
Facebook | Twitter |LinkedIn | Instagram | Website
Or Purchase on their Website they also offer free shipping unless you are in HI or AK