Believing in Themselves Bill Motz and Bob Roth for #LEGOFreemakerEvent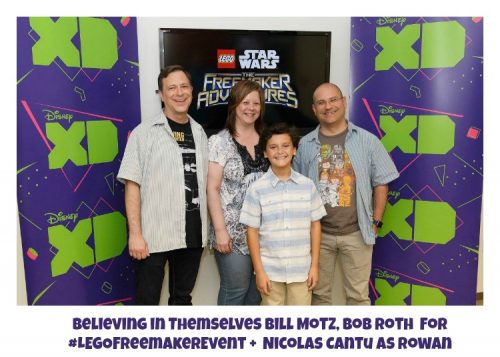 Becky
Newly middle-aged wife of 1, Mom of 3, Grandma of…
We have all had times we weren't sure whether an idea was a good one or not.  This happened to Bill Motz and Bob Roth when it came to deciding to go ahead with the making of the "LEGO STAR WARS: FREEMAKER ADVENTURES" .
Believing in Themselves Bill Motz and Bob Roth tell all about their experience!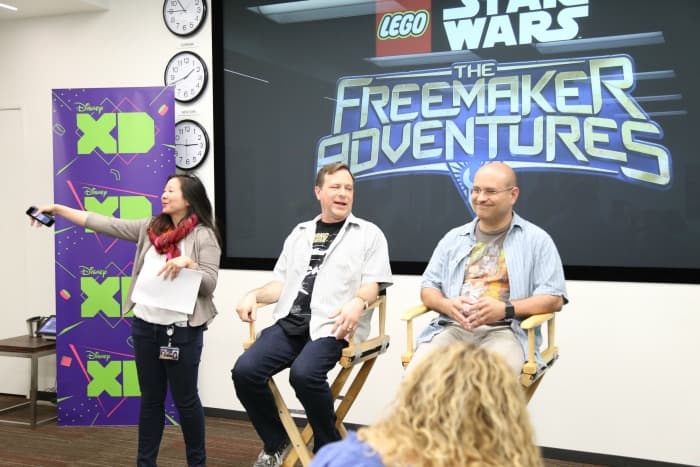 Bob Roth remembers when he was 7 years old that his brother told him they were going to the movies, which Bob wasn't really interested in.  Then his brother said, it's going to be better than Star Trek and Bob thought it had to be worth seeing because at the time, what was better than Star Trek.  He went into that theatre at 7 years old not knowing what he wanted to do with his life and walked out knowing exactly what he wanted to do. He wanted to give kids the viewing he had right at that moment. It was truly a magical time (the movie) in his life. That time with his brother (who is no longer with them) gave him a memory to value for a lifetime.  He also knows that his mother worked overtime to allow him to build his Star Wars collection.  Even back then he was in a family that loved Star Wars.  With Star Wars there is family enjoyed by families. So Star Wars is very much about family and so is Lego.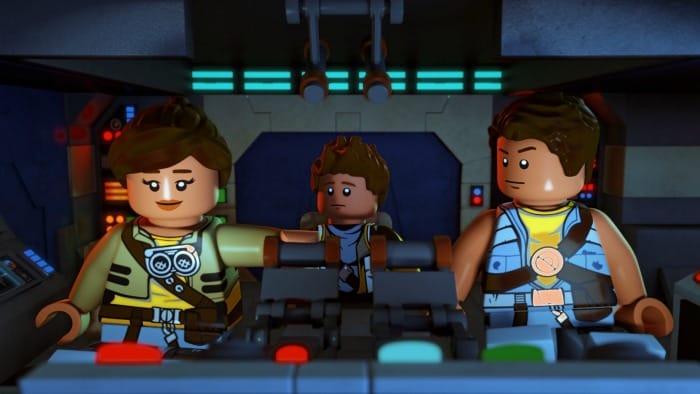 Bill Motz mentioned how he and Bob get together to work out of Bob's guest house that is filled with Star Wars memorabilia and one thing that resonates with him is an art print that's sort of framed behind the TV where they go over our episodes all the time that just says, it's a picture of a young Luke Skywalker and it says "Destiny".  Because for them, it is one of those things that they wake up each morning and want to pinch themselves to make sure it is true.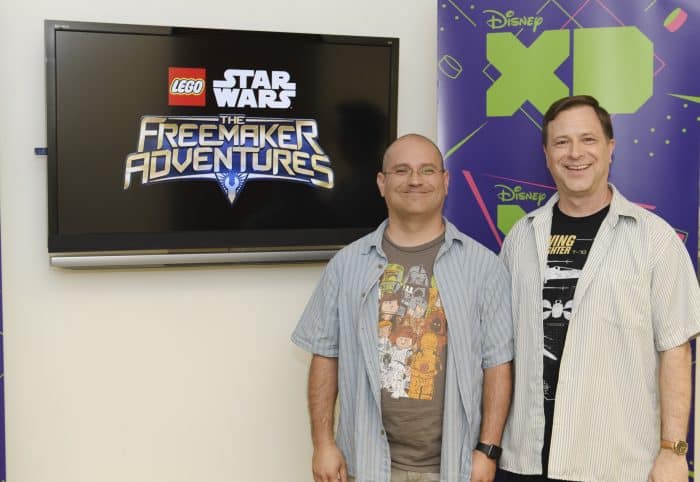 Some of their challenges were:
Pitching them their ideas to show the company that they were the right people for this show.
Having to keep it under wraps for a year.
Fear
Bill Motz, "Don't be operating from this place of fear like because you will always regret it.", and he is so glad they didn't turn it down because they would have missed out on all of this.  They are writers so they do not do any acting.  They like an actor to breathe life into the character and that helps them know if it is a good line/dialogue or not.  They have been to Denmark twice where LEGO is located, otherwise, they do Skype calls to show their ideas or where they are at in the process.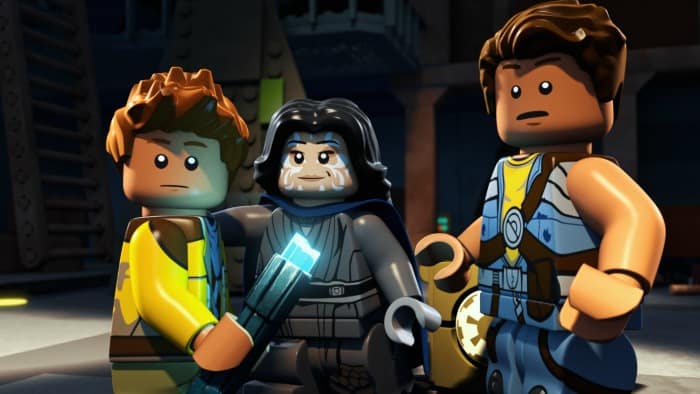 The characters are growing and will not stay stagnate.  Life is ever changing and so with these characters, they too will not stay the same.  Also, situations in life don't always appear as they seem.
Kids can face things that they think are overwhelming, things about themselves, about your circumstance and they can get through it. Kids can be a hero even to themselves and they can just get through it.  Bill and Bob want to just empower kids and families to say you know life is hard but you can face it and get through it. That's their philosophy.
Bob and Bill both have children that have given input or have helped them shape how their characters are.  Bob's are 12 and 14 years old, while Bill's are 18, 21 and 24 years of old. (this wasn't hard for me to remember as mine are 19, 22, and 25).  Even now Bill's 24 year old will sit down with Bill and work on the newest Star Wars LEGO gift from his Dad.  Bob's kids are not as 'involved in input'.  His kid's names are Rowan and Zander (Zanny). Both of his kids share the super enthusiasm for life and the inability to just sit still for a darn moment. But the character of Rowan (in the show) is somewhat from his child Danny.  The great thing about this is because Danny has ADHD, the child that struggles is the hero of the show.

The reason why this show starts with a family is because LEGO and Star Wars is about family and they didn't want to take the time to put a family together with all of the other things they wanted to do with these episodes. The one thing that is true in life is that we struggle with a lot of serious and heavy things.  So the great thing is that every episode, even the 'dark' episodes are fun.  They are fun and funny with joy in all of them.  This has been so important to Bill and Bob.
"LEGO STAR WARS: FREEMAKER ADVENTURES" only targeted audience is families.  This show is about family for family.
Bill and Bob have been friends for 25 years.  Their friendship has dated back to college and luckily it has continued ever since then. They joked that they are their second marriage (to each other).  Their families have seen the rough drafts, so to speak, and are beyond thrilled and proud of their Dads.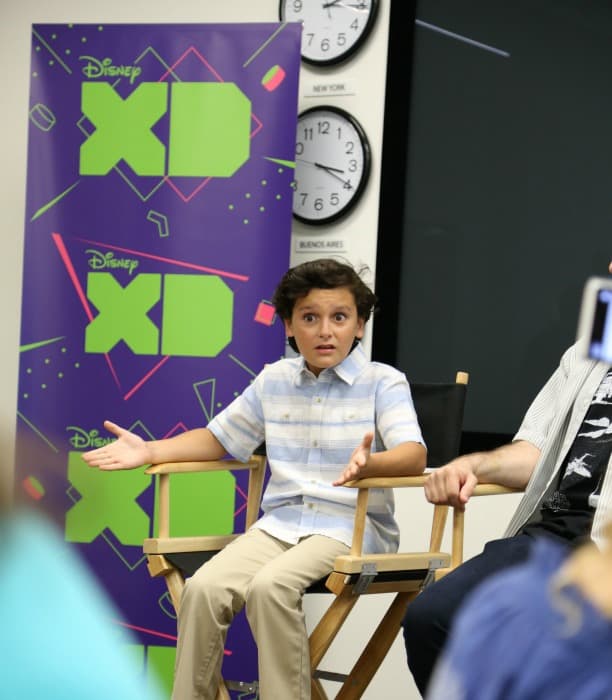 Twelve-year-old Nicolas Cantu stars as Rowan Freemaker, the Force-sensitive youngest sibling who is naturally drawn to Kyber saber crystals, in this fun-filled animated series. When Nicolas was asked what he thought about being the main character he said, "This is a big thing for me! Like as a child, oh I've watched you do stuff for Disney. Oh I love to do those sort of things. But Star wars? It's a dream come true. Lego? That's like every kid's dream ever. You know being lucky enough to have this opportunity is really amazing. You know? It's just, it's the whole package, though, a Disney show, Lego, Star Wars. Having a toy of me? I might as well retire!".
Bill and Bob have been impressed with Nicolas since his audition.  He showed confidence and excitement not only during his interview tape but ever since he was cast for the part. His personality bubbles right out of him, and he owns the room.
Without spoiling there will be some intense emotional times during the series and when Nicolas (Rowen) did them he practically had the cast in tears.
 Nicolas feels that kids will totally enjoy the series.  If they have watched any other Lego shows they know the comedy is very strong. He just loves all the Lego jokes that are all within the series. They're all very funny. Then you are also going to get that classic Star Wars storytelling that you've come to know and love especially the battle between good and evil. They will also are going to love having very serious moments and awesome ones. Especially as he said before the different jokes. It has the mix between adventure, and it's got action and comedy. So he just knows that is what the audience will enjoy the most.  Not to mention the content and the characters too.
I enjoyed the entire time we spent with Bob, Bill and Nicolas.  The excitement that shined through was awesome, but what touched me the most was Nicolas's enthusiam.  All I wanted to do was smile as soon as he first spoke.  All I could think of was, boy, his Mom must be so proud.
I was very appreciative that Bill Motz and Bob Roth, as well as Nicolas Cantu took time out of their busy schedules to spend some time with us.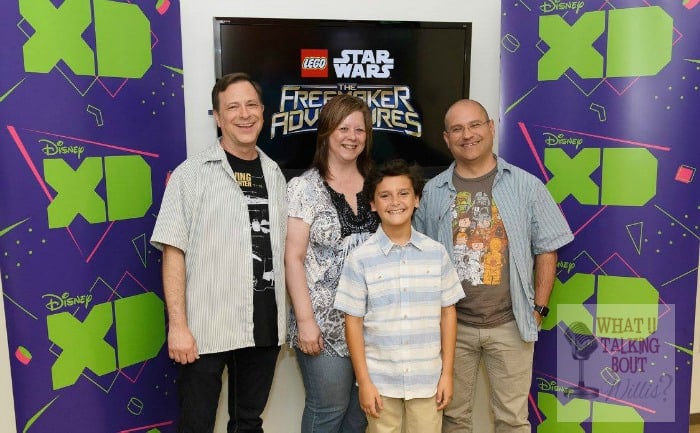 About the characters:
Nicholas was born and raised in Austin, Texas and currently resides in Los Angeles with his family that includes his mom, two brothers, and three dogs.
Matthew Wood stars as RO-GR a.k.a. Roger, a rusty battle droid from the Clone Wars that the Freemaker family adopts, in the fun-filled animated series, "LEGO Star Wars: The Freemaker Adventures."
Eugene Byrd stars as Zander Freemaker, the older brother that every kid wants, in the fun-filled animated series, "LEGO Star Wars: The Freemaker Adventures."
---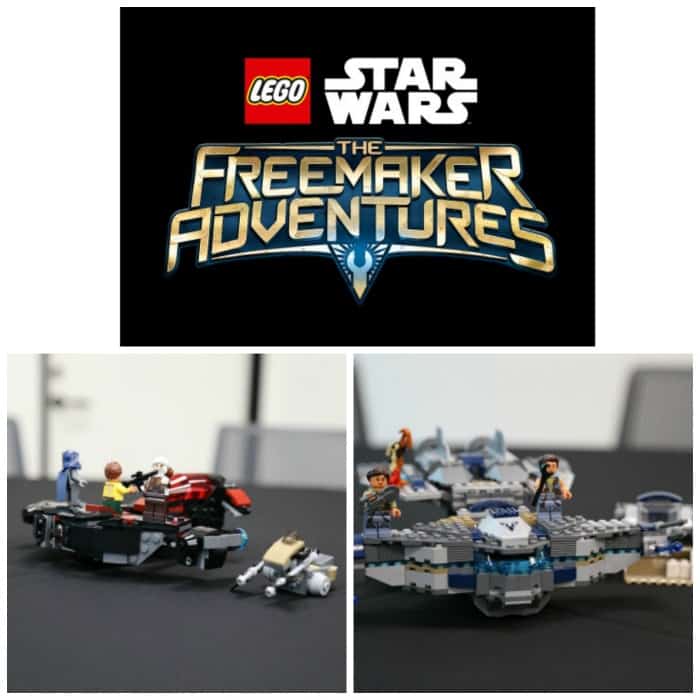 When will this air?
The animated television series "LEGO Star Wars: The Freemaker Adventures" will premiere MONDAY, JUNE 20 (10:00 a.m. EDT), on Disney XD.
Set between the events of "The Empire Strikes Back" and "Return of the Jedi," the action comedy series follows the Freemakers, a family of sibling scavengers who operate a salvage and repair shop in space. The series will also feature familiar characters and locations from the filmed Star Wars saga.
During the series' premiere week:
Disney XD will debut a new episode each day, beginning Monday, June 20 through Thursday, June 23.
The first episode will also be available via Video on Demand (VOD) and the Disney XD app for users on tablets, phones, set top boxes and computers on Monday, June 20.
To Hold You Over Until the 20th of June:
**Disney sent me to Los Angeles  for the #LEGOFreemakerEvent #FindingDoryEvent and #BizaardvarkEvent  for an all expenses paid trip to cover press with 24 other bloggers.  All opinions are mine.**
Becky
Newly middle-aged wife of 1, Mom of 3, Grandma of 2. A professional blogger who has lived in 3 places since losing her home to a house fire in October 2018 with her husband. Becky appreciates being self-employed which has allowed her to work from 'anywhere'. Life is better when you can laugh. As you can tell by her Facebook page where she keeps the humor memes going daily. Becky looks forward to the upcoming new year. It will be fun to see what 2020 holds.