ChapStick® Don't Let Chapped Lips Interfere with Spicy Holiday Dips


ChapStick® Don't Let Chapped Lips Interfere with Spicy Holiday Dips
Disclosure: "The ChapStick® product, information and gift have been provided by Pfizer Consumer Healthcare."
This brand has been around for as long as I can remember. The difference between when I was little and now, is ALL of the new awesome flavors.
This year ChapStick® is offering a variety of seasonally-inspired, limited-edition products to keep your lips ready for the spicy dips and holiday kisses. This year they have come out with new mixstix : Vanilla Candy Cane Milkshake, Pumpkin Pie, Candy Cane and a new holiday-themed tin containing ChapStick® Candy Cane.
New ChapStick® mixstix® Vanilla Candy Cane Milkshake
ChapStick® mixstix® delivers an innovative two-sided lip balm that offers one flavor on each side that can be worn alone or together to make a third unique combination!
This holiday season mix and mingle the complementary flavors of vanilla and candy cane for a for an wonderful holiday sensation, Vanilla Candy Cane Milkshake.
These will be great for stocking stuffers, to tape to the top of a package. ChapStick® isn't just for cold weather. It is good to have for wind, sun, and sometimes just to be kissable.
ChapStick® mixstix® Vanilla Candy Cane Milkshake is available for a limited time through the holiday season, beginning October 1, 2014 in a one-count package exclusively at CVS and Walgreens for an SRP of $1.99 to $2.69. Two count packages are available in the holiday section of Target for an SRP of $3.99.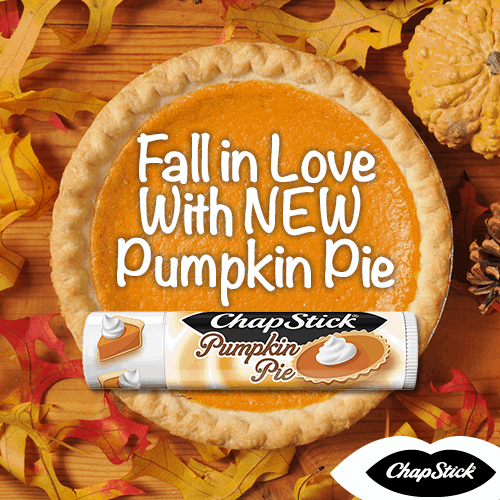 ChapStick® Seasonal Varieties: Pumpkin Pie and Candy Cane
This year's seasonal varieties are flavorful stocking stuffers and fun gifts for friends, teachers, co-workers and family.
Keeping in mind of the favorite fall dessert, ChapStick® is debuting a new seasonal flavor, Pumpkin Pie, to keep your lips smooth and happy all season long.

ChapStick® Pumpkin Pie is available beginning October 1 through the holiday season only at Walmart and CVS for an SRP of $1.00 to $1.99.

The minty fresh Candy Cane flavor is back again, by popular demand.

ChapStick® Candy Cane is available beginning October 1st through the holiday season exclusively at Walmart, Walgreens, Target and CVS. The 1ct loose are being sold for $1.00 to $1.99 at Walmart and Walgreens, and 3ct packs are at Target, CVS, and walmart for an SRP of $2.99.
New ChapStick® Holiday Tin
Tucked inside of this festive tin keepsake are two tubes of ChapStick® Candy Cane sure to bring some good ole' holiday cheer.
With the snow falling and temperatures starting to drop, keep your lips soft and smooth with ChapStick® Candy Cane, found inside the limited-edition, pop-top ChapStick® Holiday Tin.
The ChapStick® Holiday Tin is available for a limited time beginning November 1 through the holiday season exclusively at Walgreens for an SRP of $3.49
You can visit ChapStick® on their social media channels:
ChapStick® Facebook Fan Page
ChapStick® Twitter Page
Chapstick® Pinterest Page
Chapstick® Instagram Page
Visit Their Website