Dos and Don'ts for a Good At-Home Car Wash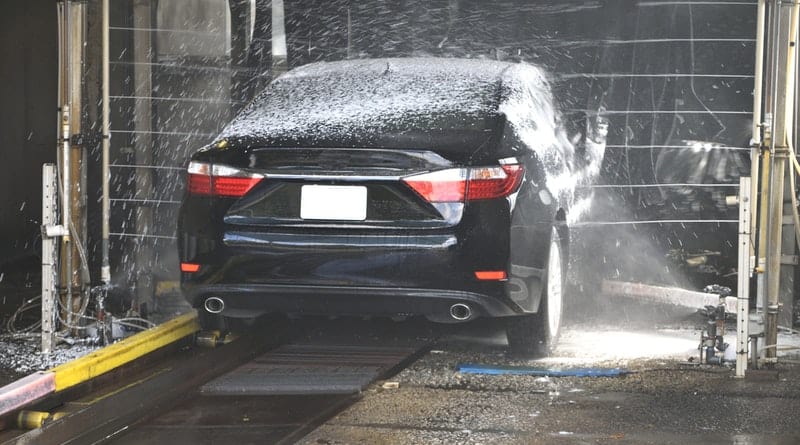 Becky
Newly middle-aged wife of 1, Mom of 3, Grandma of…
Washing your car seems like a pretty straightforward task. Soapy water, a sponge, and a hose should do the trick, right? Well, all of those things are good tools to have, but there's really more to it than that. When talking to professionals with Newark Chrysler Jeep Dodge, we learned that the sheet metal, special paint, and wax coating on your vehicle's exterior require special attention and products. Read on for some Dos and Don'ts for a good at-home car wash that will get your car clean and be sure not to accidentally damage your vehicle's exterior.
DO:
Wash your car as soon as you notice it's dirty: The longer stuff sits on your car, the harder it is to get off. Obviously, you can't wash your car every day, but if you notice a good deal of mud, dead bugs, or bird droppings on your vehicle, you should give it a wash as soon as you can. Bird droppings, in particular, can be acidic and will eat away at the clear coat covering your paint if you let it sit for too long. According to car experts at GrandPrixTimes, "how often you plan on washing your car will make a difference to which product you should purchase – some soaps are designed for regular washes, whereas some soaps are designed to protect the car's exterior for a longer time.
Use a bug-and-tar remover if needed:

For dead bugs and tar residue that have baked on to your vehicle's exterior, sometimes regular soap just doesn't cut it. Specially formulated cleaners are available to scrub off these hard-to-remove messes, and it's worth spending a few extra dollars.
Rinse your sponge frequently:

As you wash your car, dirt will soak into your sponge, and if you don't rinse it, eventually you'll just be rubbing abrasive substances into your paint. Have a separate bucket of water just for rinsing your sponge, and do so often, that way you can be sure you're not scratching your paint or clear coat.
Dry your vehicle by hand:

Letting your car air or drip dry can lead to streaks or soap residue. Make sure you thoroughly rinse off any soap and then use a soft terry cloth towel to dry the vehicle. There's nothing worse than spending an hour carefully cleaning your car just to end up with soapy-looking streaks.

Do make sure you read reviews for car vacuums before you buy to ensure the best purchase for you!
DON'T:
Wash your car when it's too hot:

Boiling hot summer days might seem like the best time to wash your car, and the perfect excuse to bust out the hose and beat the heat. On hot summer days, though, the sheet metal of your car will get really hot, and the soapy water will dry too quickly, leading to streaks. In the summer, wait for dusk, or get up early and wash your car before it's too warm outside.
Cut corners on soap:

Regular household soaps like a dish or laundry detergent are too harsh to use on your car's paint and can end up stripping off the wax coating on the outside. Make sure you find a car-specific soap (easy to locate at much big-box stress or auto parts stores) which will clean your vehicle gently.
Use rough sponges or cloths:

The protective wax coating on your vehicle's exterior scratches very easily, so any rough sponge or cloth can damage it. When washing, make sure to use a large, clean, soft sponge, or follow the route of professional detailers and opt for a lambs-wool mitt. Drying should be done with a terry or microfiber towel, or a real or synthetic chamois.
Becky
Newly middle-aged wife of 1, Mom of 3, Grandma of 2. A professional blogger who has lived in 3 places since losing her home to a house fire in October 2018 with her husband. Becky appreciates being self-employed which has allowed her to work from 'anywhere'. Life is better when you can laugh. As you can tell by her Facebook page where she keeps the humor memes going daily. Becky looks forward to the upcoming new year. It will be fun to see what 2020 holds.