Becky
Wife, mother, grandma, blogger, all wrapped into one person, although…


E-Cloth | Flexi-Edge Floor and Wall Duster Review
Disclosure: I received one Flexi-Edge Floor and Wall Duster in order to facilitate my review. All opinions are my own.
Housework; I have a love/hate relationship with this word. The love is the feeling I get when it is completed. The hate part is having to do it. Cleaning would be easier if it was not for the 4 dogs, woodstove dust, as well as spiders. Spiders create cobwebs. I swear that I go to bed and the next morning they have been very busy during the night. No Charlotte's web here.
Then E-cloth came into the picture. I was offered to review one of their items and have a giveaway as well. (More about that later). I picked the Flexi-Edge Floor and Wall Duster because I could imagine all of the places I could use it.
Having neck and back issues using the vacuum tool to reach up into the corners of our rooms proved very uncomfortable. Also my one invention, (ok I am not the first to do this), the 'broom with a rag over it'. This was just awkward, either the cloth fell off or one swoop and you had to start over with a new cloth.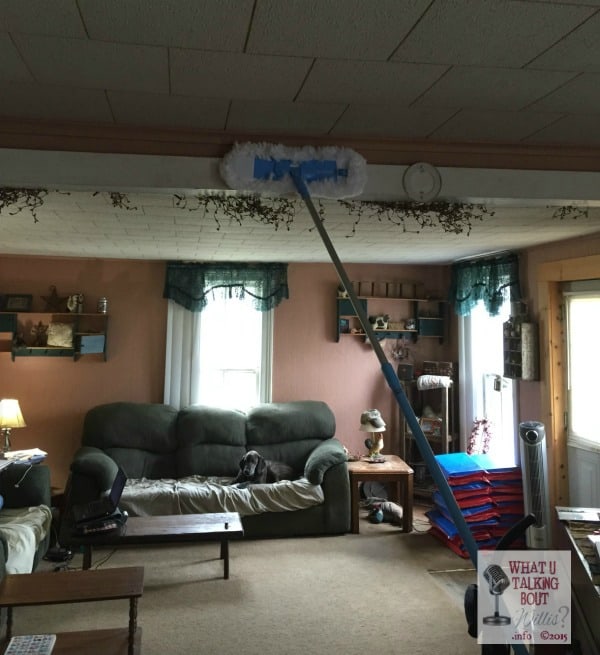 This Flexi-Edge Duster is wonderful. It extends as you see in the picture above to reach those 'hard-to-reach' places. It is also great for cleaning up hardwood floors, as well as ceramic tile. Once I was done cleaning it was obvious that the washable Flexi-Edge Floor & Wall Duster Head needed washing.
The positives of the Flexi-Edge Floor & Wall Duster Head:
Removes dust, dirt, hair, cobwebs and allergens from floors, walls and ceilings
Better than other leading floor duster brands:

Outperforms – cleaner floors in less time
Multi-purpose – cleans floors, walls & ceilings
Stronger stick – does not bend during use
Re-usable head – 100 wash guarantee saves money over disposable cloths
Environmentally friendly – significantly less waste than disposable cloths

Flexi-edges clean into corners, baseboards and easily around legs to chairs, tables and any other furniture.
Lightweight and highly maneuverable
Telescopic handle adjustable 3' -5'
Flexi-edge Head 17.5" x 5.5"
Head is 100% polyester. – Made in China
The above was information that I used from the page that I picked my Flexi-Edge Floor & Wall Duster Head from.
You can find them on:
Facebook
Twitter
Pinterest
Instagram
YouTube
I would recommend this product to anyone that wants to save on cleaning supplies. It is cleaning with water which saves on how much you have to purchase to keep your areas clean.
Now the exciting part! You will have a chance to win one for yourself! The link below will get you to the giveaway! Good Luck!
E-Cloth | Flexi-Edge Floor and Wall Duster Giveaway (ends 5/12)
Becky
Wife, mother, grandma, blogger, all wrapped into one person, although it does not define her these are roles that are important to her. From empty nesters to living with our oldest and 2 grandchildren while our house is rebuilt after a house fire in 10/2018 my life is something new each day.