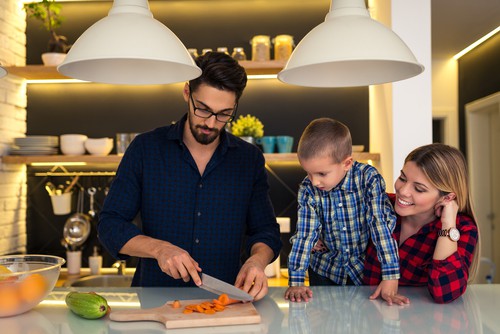 Becky
Wife, mother, grandma, blogger, all wrapped into one person, although…

Taco Tuesday. Pizza night. Ice cream after the game. Sound familiar? For many families, food is not only a way to tackle cravings and nourish the body, it also acts as a social engagement and a catalyst to enjoy quality time together.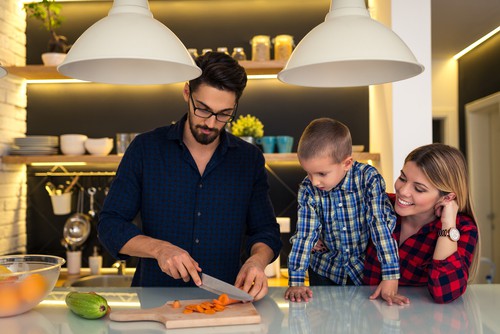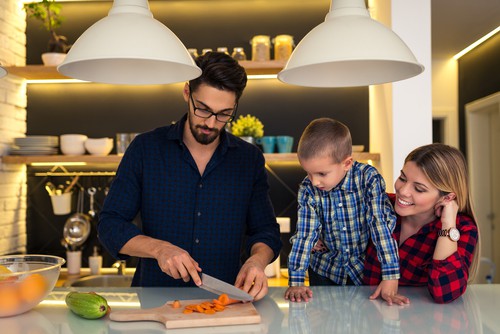 However, if you're like many Americans today, food plays a role in your and your family's health.
According to the Centers for Disease Control and Prevention, more than one-third of adults are obese while 20 percent of children age 12-19 and 17 percent of children age 6-11 are considered obese.
Those are some pretty hefty numbers.
Whether your family likes to indulge in food a little — or a lot — it is important to incorporate healthy meals, fitness, and well-being into your family's life. Read on for easy ideas on how to make healthy living a priority.
Easy swaps
If you think you need to sacrifice taste when it comes to eating healthy, think again. Many foods that are unhealthy can be swapped for those that have more nutritional value and fewer calories…and your family may not even notice.
If you're making spaghetti, consider swapping out your regular boxed noodles with spaghetti squash, which is low in sodium and calories. Top it with your favorite marinara sauce, some shaved Parmesan and voila! A deliciously healthy Italian meal.
Instead of traditional beef burgers, grill up some gourmet turkey burgers with all the fixings. These burgers will save you and your family calories and still pack a protein punch.
Instead of Popsicles or ice cream after a meal, try freezing some grapes for a cool, sweet treat. And if your family loves soda, switching to flavored sparkling water or even water with fruit added can be a great way to wean everyone off the bubbly.
Make dinnertime fun
In order to make healthy eating fun for the whole family, get everyone involved in planning and preparing the week's meals. Assign each family member a specific day of the week to decide what the family will cook for dinner (provided they choose from a list of healthy recipes). Then, put on your aprons and make your meal together.
See Also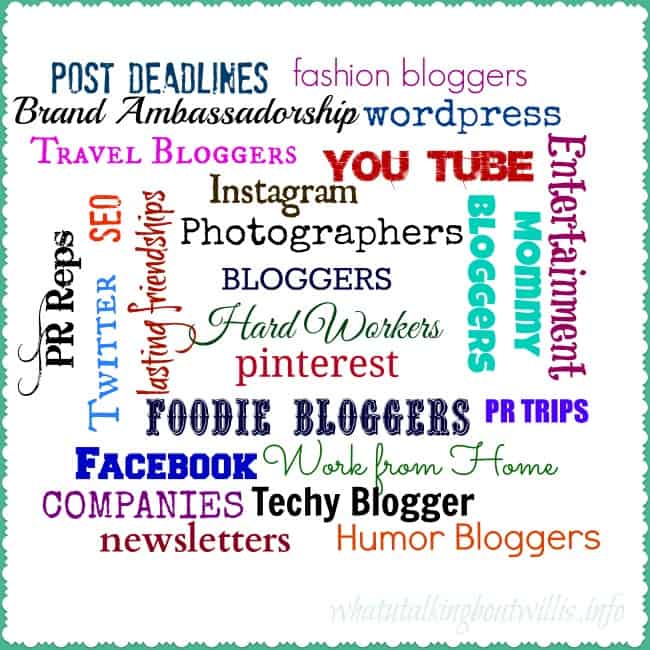 Fitness is a family affair
The family that plays together…stays together! So grab your spouse and kids for some daily exercise. Even a simple walk before or after dinner can help burn calories and reduce stress. If you have a playground nearby, a game of hoops with the family will get the heart pumping.
Yard work is another nice option for getting in some physical activity while also completing household chores. Or, if your family is more the dancing type, blast the music and boogie down right in your living room.
Joining a gym as a family is another great way to support a healthy lifestyle. For example, 24 Hour Fitness offers a wide variety of cardio and strength training machines, studio classes such as indoor cycling and Pilates, as well as babysitting services for young kids.
Meditation
Mental wellbeing is just as important as physical. In fact, studies indicate that people who meditate are more calm and less stressed. And with 60-90 percent of doctor's visits being a result of stress, there's no better time to start meditation.
The art of mindfulness is something you can do alone or with the whole family. Simply paying attention to your breath, taking 10 deep breaths in a row or sitting quietly in stillness with your eyes closed can have a profound effect on our well-being by relieving stress and flooding the body with oxygen. Further, mindfulness helps kids (and adults!) become less anxious and more focused.
Becky
Wife, mother, grandma, blogger, all wrapped into one person, although it does not define her these are roles that are important to her. From empty nesters to living with our oldest and 2 grandchildren while our house is rebuilt after a house fire in 10/2018 my life is something new each day.