February TV Round-Up from Shout! Kids and Hasbro Studios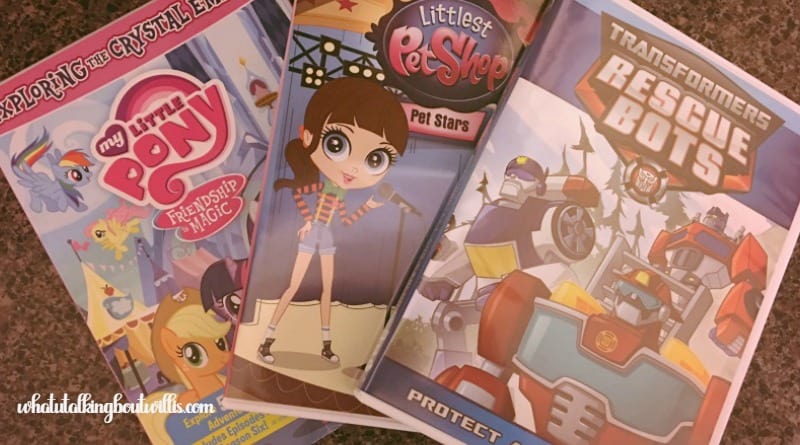 Becky
Newly middle-aged wife of 1, Mom of 3, Grandma of…
 February TV Round-Up from Hasbro Studios + Review:
Disclosure: I received these movies for free in exchange for my opinions and my opinions are 100% my own. 
The boys and I absolutely loved watching three of our favorite shows on DVD at our own pace and not miss a thing.
1st up: Transformers Rescue Bots 
Their mission is to protect and explore. This DVD includes 5 action packed episodes. You're not going to want to miss out on this.
Rescue bots is full of exciting adventures with Heatwave, Boulder, Chase, and Blades the best auto bots. Rhett my one year old usually can't sit still longer than five minutes, but he cuddled right up and watched a few episodes with me. This is a great film for the whole family.
Be sure to grab your Copy today!
2nd up: Littlest Pet Shop Pet Stars
We just watched Littlest Pet Stars and we have been doing stand-up comedy in our living room for about 3 hours. Ha ha, silly boys who have been inspired. We love watching Blythe and all her cute little animal friends have such outrageous fun. I am doing my best to raise my boys into compassionate men, So anytime we get an opportunity to watch animals we do!
The Pet Stars DVD includes five episodes, plus a bonus sing-along. This has been a great film for the boys to watch, while mommy cleans or enjoys some me time. I highly recommend you purchase a copy for the little loves in your life today!
3rd up: My Little Pony Friendship is Magic
I had to have my little nieces over to watch this gem of friendship is magic. Rainbow dash is our absolutely favorite pony, the girls just think she is gorgeous. I love how much the girls love exploring during the movies and after we explored crystal empire And attic kingdom.
This series encourages friendships, which in my opinion is the absolute best part! Every kid needs a best friend or four. We all want a special friendship just like twilight sparkle and rainbow dash.
This DVD includes five episodes and a bonus sing-along. Run out and grab your copy today.
February TV Round-up featuring My Little Pony, Littlest Pet Shop, and Transformers DVDs from Shout! Kids and Hasbro Studios
This February, celebrate the season of love with adorable family TV shows on DVD from Shout! Kids in collaboration with Hasbro Studios. Three DVDs from the My Little Pony, Littlest Pet Shop and Transformers Rescue Bots lines are being released this February as the perfect way for kids to spend Valentine's Day with the characters they love.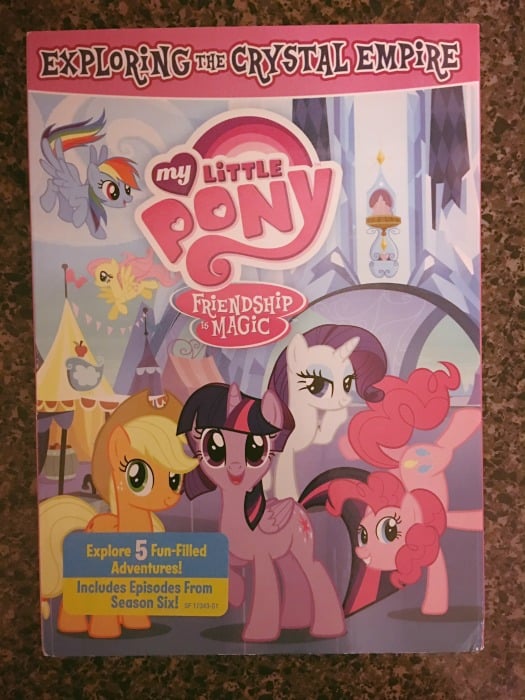 My Little Pony Friendship Is Magic: Exploring the Crystal Empire
My Little Pony – Friendship Is Magic: Exploring the Crystal Empire is coming to DVD on February 7, 2017 in the U.S. and Canada from Shout! Kids in collaboration with Hasbro Studios.
Join Twilight Sparkle, everybody's favorite studious princess, and her very best friends – Rainbow Dash, Applejack, Rarity, Fluttershy, Pinkie Pie and Spike – as they explore the wondrous arctic kingdom, the Crystal Empire! Old enemies return and new friends are made in this collection of episodes that will have you exploring the Crystal Empire with magical adventure!
Episodes Include:
· The Cutie Re-mark, Part 1
· The Cutie Re-mark, Part 1
· The Cutie Re-mark, Part 2
· The Crystalling, Part 1
· The Crystalling, Part 2
· The Times They Are A Changeling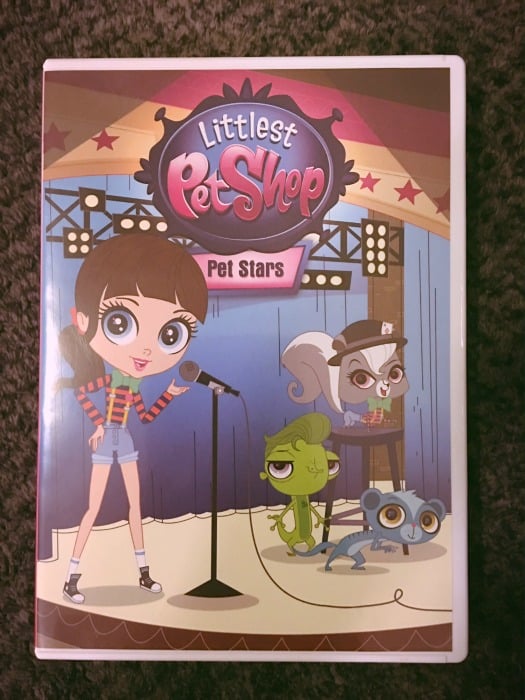 Littlest Pet Shop: Pet Stars
See Also
A pet star is born! On February 14, 2017, buddy up with Blythe and her superstar pet pals with Littlest Pet Shop: Pet Stars on DVD from Shout! Kids, in collaboration with Hasbro Studios.
Sinister king cobras! Comedy festivals! Pet hotels! And a monkey on Mars?! It's all here, as Blythe and her best friends – Russell the Hedgehog, Pepper the Skunk, Zoe the Spaniel, Minka the Monkey, Sunil the Mongoose, Penny the Panda and Vinnie the Gecko – share one outrageous adventure after another in The Littlest Pet Shop: Pet Stars!
Episodes Include:
· Heart Of Parkness
· Standup Stinker
· The Secret Recipe
· A Night At The Pawza
· Sue Syndrome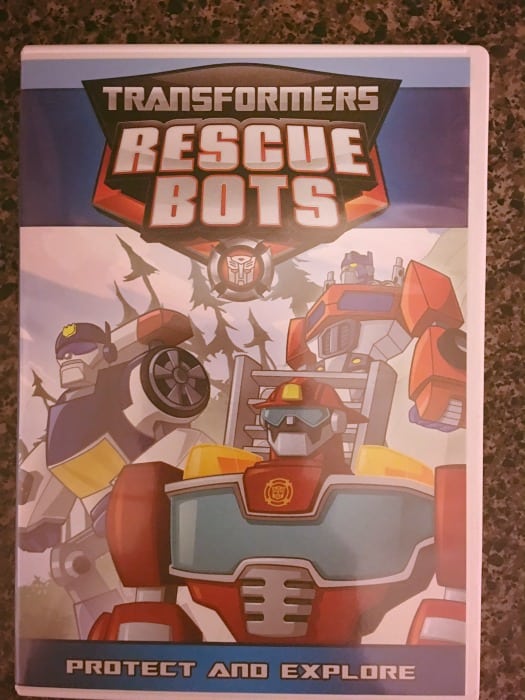 Transformers Rescue Bots: Protect and Explore
Get ready for big adventures and rescues in the great outdoors! Transformers Rescue Bots: Heroes of Tech will be released on DVD on February 21, 2017 from Shout! Kids, in collaboration with Hasbro Studios. Featuring five exciting episodes that the whole family can enjoy, this DVD is priced to own with a suggested retail price of $14.93.
When a mysterious iceberg is spotted off the coast of Griffin Rock, it brings both danger and the interest of an old nemesis. On a nature hike, the Rescue Bots team will have to battle escaped snakes. And when the Burns family is stranded at sea by a swarm of jellyfish, the Bots must control miniature souvenir replicas of themselves. Enjoy these adventures and more in Transformers Rescue Bots: Protect and Explore!
Episodes Include:
· Tip of the Iceberg
· Buddy System
· No Place Like Dome
· Thieves Like Us
· The New Recruits
About Hasbro
Hasbro (NASDAQ: HAS) is a global company committed to Creating the World's Best Play Experiences by leveraging its beloved brands, including LITTLEST PET SHOP, MAGIC: THE GATHERING, MONOPOLY, MY LITTLE PONY, NERF, PLAY-DOH and TRANSFORMERS, and premier partner brands. From toys and games, television programming, motion pictures, digital gaming and consumer product licensing, Hasbro fulfills the fundamental need for play and connection with children and families around the world. The Company's Hasbro Studios and its film label, Allspark Pictures, create entertainment brand-driven storytelling across mediums, including television, film, digital and more. Through the company's commitment to corporate social responsibility, including philanthropy, Hasbro is helping to build a safe and sustainable world and to positively impact the lives of millions of children and families. Learn more at www.hasbro.com, and follow us on Twitter (@Hasbro & @HasbroNews) and Instagram (@Hasbro).
About Shout! Factory
Shout! Factory, LLC is a diversified multi-platform media company devoted to producing, uncovering, preserving and revitalizing the very best of pop culture. Founders Richard Foos, Bob Emmer and Garson Foos have spent their entire careers sharing their music, television and film favorites with discerning consumers the world over. Shout! Factory's entertainment offerings serve up feature films, classic and contemporary TV series, animation, live music and comedy specials. In addition, Shout! Factory maintains a vast digital distribution network which delivers video and audio content to all the leading digital service providers in North America. Shout! Factory also owns and operates Shout! Factory Productions, Scream Factory, Timeless Media Group, Westchester Films, Biograph Records, and Video Time Machine. These riches are the result of a creative acquisition mandate that has established the company as a hotbed of cultural preservation and commercial reinvention. Shout! Factory is based in Santa Monica, California. For more on Shout! Factory, visit shoutfactory.com.
Becky
Newly middle-aged wife of 1, Mom of 3, Grandma of 2. A professional blogger who has lived in 3 places since losing her home to a house fire in October 2018 with her husband. Becky appreciates being self-employed which has allowed her to work from 'anywhere'. Life is better when you can laugh. As you can tell by her Facebook page where she keeps the humor memes going daily. Becky looks forward to the upcoming new year. It will be fun to see what 2020 holds.