Fluency by Jennifer Foehner Wells Tour Excerpt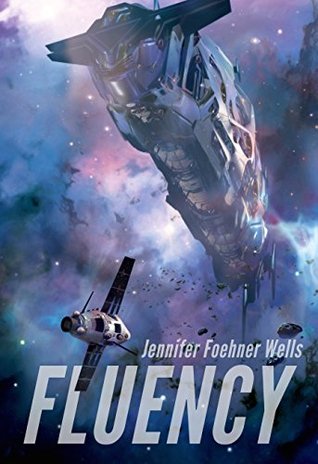 Becky
Newly middle-aged wife of 1, Mom of 3, Grandma of…

Fluency by Jennifer Foehner Wells Tour Excerpt
He realized he was standing there, nodding at her like an idiot, and headed for the door. "So, why haven't you seen the capsule yet?"
She raised her eyebrows and took a deep breath. "I didn't want it to be a factor in my decision-making process. They've given me all the tests over the last few weeks, like you, I suppose. I must have passed. They seem to think I'll be able to handle it, so now I'm ready to see it, I guess."
He rubbed his hands together in anticipation. "Well, then. This should be good."
All the bigwigs were waiting out in the hall. He greeted them cordially and they walked together to the construction bays. The others stood aside, congratulating themselves, while he gestured at the capsule and explained a few technical things to her.
He didn't notice anything amiss, at first. She just followed along as he walked the perimeter, showing her the four rocket-booster shells that were about to be mounted. Then he opened it up and she climbed the short service ladder to peek inside. She sat down suddenly on the ladder.
His eyebrows drew together. "Don't you want to go inside?"
"I—" She plucked at imaginary fuzz on her khaki pants. "Dr. Bergen…" She trailed off.
He shifted his weight from foot to foot uneasily as he watched her struggle, then took a step to stand between her and the men chatting nearby, who were barely aware of her now.
She lost her composure completely. She glanced over his shoulder. Her eyes were wide with disbelief.
She spoke just above a choking whisper, "They told me this was the most advanced… they said no expense had been spared… the best and the brightest—oh my God, this isn't a scale model, is it? This is it? It's… this small? It's not going to be any bigger than this for six people, for ten months, one-way? We'll all be… inside there?"
It hit him, then—how weird it must seem to someone outside the space program. Every candidate for this mission would gladly give up a leg to be one of the five going up in this capsule—but they all understood the logistics, the mechanics behind why it had to be this way. For her, it would be a shock. Of course it would. He couldn't take offense at that, could he?
Her eyes didn't leave his face while he considered what to say.
"Yes, Doc. This is it," he said gently.
She bobbed her head once and a tear fled down her cheek. She dashed it away, murmuring to herself so soft he barely heard it, and stood up. She laughed. It was forced, but she was actively retaking command of herself. "I have a bathroom that's bigger than this thing," she said in a thick, pinched voice.
He grinned at her. "Sure. But can your bathroom manage twenty-five thousand miles per hour?"
She smiled, and it lit up her face with such warmth. She stepped down and stuck out her hand. He returned the gesture.
She squeezed his hand and covered it with her other one. It was a simple action, but such a full moment. "I think I can always count on you to give it to me straight, Dr. Bergen."
She saw him. She got him.
That was it. That was when it really started. If he hadn't already been falling for her, that would have done it.
There were flashes going off, but he was barely aware of them as he stood there, absorbing that amazing smile. He wouldn't realize why the photos were taken until the next day when he got the news.
The average taxpayer would never see any of these photos. As far as the public was concerned, this would be the first five-man mission to Mars. Dr. Jane Holloway would be on an extended sabbatical in remote Tibet.
Nevertheless, it was an historic moment and would be documented for the classified NASA archives. One of the engineers that had designed the capsule bound for the Target, who was also selected for the team to man it, was showing it off to the newly recruited linguist-cum-astronaut for the mission.
---
Publisher: Blue Bedlam Science Fiction (June 18, 2014)
ISBN: 978-0990479826
Category: Science Fiction: Space Opera, First Contact, Action-Adventure, Alien, Romance
Tour Date: March 2-April 30, 2015
Available in: Print & ebook, 373 Pages
NASA discovered the alien ship lurking in the asteroid belt in the 1960s. They kept the Target under intense surveillance for decades, letting the public believe they were exploring the solar system, while they worked feverishly to refine the technology needed to reach it.
The ship itself remained silent, drifting.
Dr. Jane Holloway is content documenting nearly-extinct languages and had never contemplated becoming an astronaut. But when NASA recruits her to join a team of military scientists for an expedition to the Target, it's an adventure she can't refuse.
The ship isn't vacant, as they presumed.
A disembodied voice rumbles inside Jane's head, "You are home."
Jane fights the growing doubts of her colleagues as she attempts to decipher what the alien wants from her. As the derelict ship devolves into chaos and the crew gets cut off from their escape route, Jane must decide if she can trust the alien's help to survive.
Praise for 'Fluency':
"Author Jennifer Wells' writing genius comes from her vast knowledge of the highly technical subject matter and her ability to put the reader in the middle of it without losing him/her in technical jargon while creating characters that seem completely natural and believable."– Jean Fisher for Independent Publisher News
"With her first novel, Jennifer Wells adds a fresh voice to the sci-fi genre and distinguishes herself as an author to watch." –Theresa Kay, author of Broken Skies
"One of the runaway sci-fi hits on Amazon this year has been Jennifer Foehner Wells' space thriller Fluency and quite frankly it's a welcome addition to the genre.
This book moves at a breakneck pace in a very cinematic fashion, the narrative mostly linear with some minor flashbacks to fill in gaps in the back story. Wells does a fine job of dealing with the technical side of proceedings without resorting to complicated jargon (I know I know, some geeks love the jargon but not this one!) The human technology is believable and the alien technology while advanced, is also impressively practical.
While the strong female character has become a bit of a cliché in sci-fi over the past few years, it's worth noting that many of these female characters have been written by men. What makes Fluency so refreshing is that Holloway's character develops in a much more believable fashion given her circumstances. Sure she has to eventually toughen up and fight, but she's much more than that. She's a brilliant mind faced with a life-changing event and not just her life but the entire planet's and her decisions will have monumental consequences. Her ability to focus is paramount and though it may seem she is being manipulated at times, she quickly takes control of her relationship with Ei'Brai. As the story reaches its gripping conclusion it also lays the groundwork for an exciting continuation of this rapidly unfolding saga.
Littered with plenty of nods and winks to classic sci-fi and some clever pop culture references, Fluency is a thrilling, bumpy ride that rarely falters and firmly cements Jennifer Foehner Wells' standing in the indie scene as an innovative and refreshing new voice in modern sci-fi."– Eamon Ambrose, Eamo The Geek
"A book that is just as appealing to women as it is to men. I'll admit, I saw the beautiful cover and thought it was going to be old-school, hardcore sci-fi with lots of technobabble and women in service roles rather than command ones. By the time we got into space I was hooked, and only got more engrossed the further I went.
There's no flab in this book. It starts out strongly and each scene is carefully considered in how it develops the characters and advances the plot. The pitch rises gradually until leveling off at the end, just as it should.
The prose is straightforward and lets the reading just flow. Dialogue made sense and there weren't too many narrative sequences. Again, Jennifer Foehner Wells has taken care in crafting a balance of elements.
This is a pretty special book. It's a modern take on sci-fi, and has a lot to offer. There's a light romantic subplot, a first-contact scenario, and a high-stakes situation that seems unclear, then clear, then unclear again. This story isn't predictable and it doesn't rely on any timeworn tropes. Fluency is something new in fiction, and that always excites the hell out of me."–Zen, Women of Badassery
About Jennifer Foehner Wells:
Jennifer Foehner Wells lives an alternately chaotic and fairly bucolic existence in Indiana with two boisterous little boys, a supportive husband, a mildly unhinged Labrador retriever, and three adorable pet rats as housemates.
Having studied biology, Jen's possessed with a keen interest in science and technology. She's 100% geek and proud of it.
FLUENCY was Jen's debut. It spent weeks in the Kindle Top 100, going as high as number 4. It remains prominent in several Science Fiction categories. It has garnered 848 five star reviews, to date.
Website: www.jenniferfoehnerwells.com
Buy 'Fluency':
Amazon
Barnes and Noble
Book Depository
Indie Bound
Becky
Newly middle-aged wife of 1, Mom of 3, Grandma of 2. A professional blogger who has lived in 3 places since losing her home to a house fire in October 2018 with her husband. Becky appreciates being self-employed which has allowed her to work from 'anywhere'. Life is better when you can laugh. As you can tell by her Facebook page where she keeps the humor memes going daily. Becky looks forward to the upcoming new year. It will be fun to see what 2020 holds.