This Fourth of July : Plan an Epic Neighborhood Block Party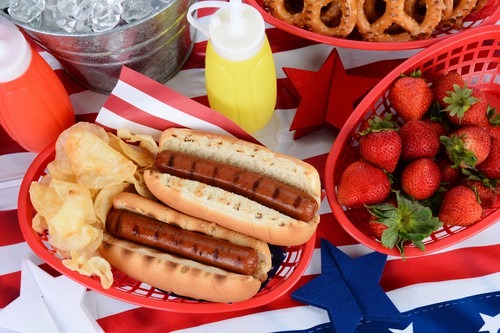 Becky
Newly middle-aged wife of 1, Mom of 3, Grandma of…
Between the hectic school week and long weekend to-do lists, meeting up with neighbors (or even meeting your neighbors at all) can be a rare occasion. A friendly wave from the car or kind hello while walking the dog may be as social as it gets in the neighborhood.
With the Fourth of July around the corner, it's time to change your neighborhood vibe. Make this the summer your neighborhood throws the biggest bash of the year.
Parade. Pool. Barbecue. Picnic. Fireworks. Sparklers. Red, white and blue. Take all of the fun Fourth of July traditions and turn these rituals into an epic neighborhood block party that both the adults and kids will never forget.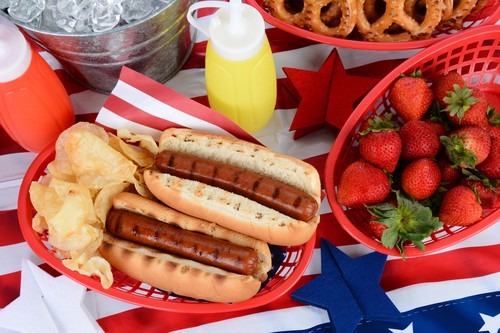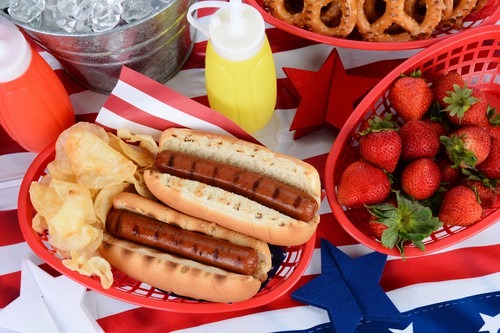 Party Committee
Designate a party planning committee who will help plan, organize and execute this July Fourth block party. Gauge interest in the party, as many families head out of town for the weekend. Once you know who's down (to party), send out invites. Create fun invitations and mail them or go the frugal route with Evite. (Just make sure to gather everyone's email addresses.) You can even get the kids involved to custom-make DIY invitations using festive glitter sticks and stickers. Once the invites are out, create a Facebook page as an easy way to coordinate and communicate with guests.
Potluck Cookout
Invite neighborhood families to cook, bake or buy their favorite dish or food. Three cheese mac 'n cheese with panko breadcrumb topping? Yes, please. Grilled burgers, sausage, and hotdogs? Of course. Salads, deviled eggs, taco dip, guacamole and tortilla chips? Gotta have 'em.
Post the potluck list to Facebook so your neighbors can comment on what they plan to bring. Along with main courses and sides, your cookout will also need sweet treats, desserts, and drinks like soda, lemonade, beer and cocktails. If some neighbors are limited on time or lack culinary skills, ask them to be responsible for items like plates, cutlery, ice, cups, and straws.
Silly Olympics
Silly Olympics is a fun way to make friends, turn neighbors into teammates and enjoy friendly competition outdoors. Especially after indulging in all the good food, outdoor activities are a great way to get moving. Check these game ideas for your neighborhood Olympics:
See Also
Blindfold Croquet: One team member must complete the course blindfolded following only vocal cues from another team member.
Animal Relays: Team members race to the finish line in a crab, ape, bear or duck walk and tag the next team member to go.
Water Balloon Dodgeball: Opponents hit with a water balloon are out. The last person standing who has dodged all water balloons thrown by the opposing team wins.
Beach Ball Race: Teammates must propel their beach ball down the pool using only water guns.
Cannonball Contest: A volunteer from each team will make up the judges panel. One member from each team cannonballs into the pool to make the biggest splash. Judges will ultimately choose the champion.
Want more ideas? Check out BuzzFeed's list of insane summer outdoor games; keep in mind, these may require more prep.
Lounge Area
Some guests may want to be more of a spectator than a participant. Ensure there's space for "viewing areas" throughout the yard and poolside. Take this as a justified opportunity to finally invest in patio furniture that is both comfortable and protective against the sun. Blankets and lawn chairs work for the yard, but a little upgrade to folding chairs with a shaded canopy and cup holders may not be such a bad idea. Of course, you can designate this party as BYOC, "Bring Your Own Chair."
At dusk, plan for most of the party to congregate in the street. Everyone can nibble on snacks, make s'mores over a fire pit and get out the sparklers before heading out to watch nearby fireworks.
Becky
Newly middle-aged wife of 1, Mom of 3, Grandma of 2. A professional blogger who has lived in 3 places since losing her home to a house fire in October 2018 with her husband. Becky appreciates being self-employed which has allowed her to work from 'anywhere'. Life is better when you can laugh. As you can tell by her Facebook page where she keeps the humor memes going daily. Becky looks forward to the upcoming new year. It will be fun to see what 2020 holds.