Graduated from High School, and Off to College Soon.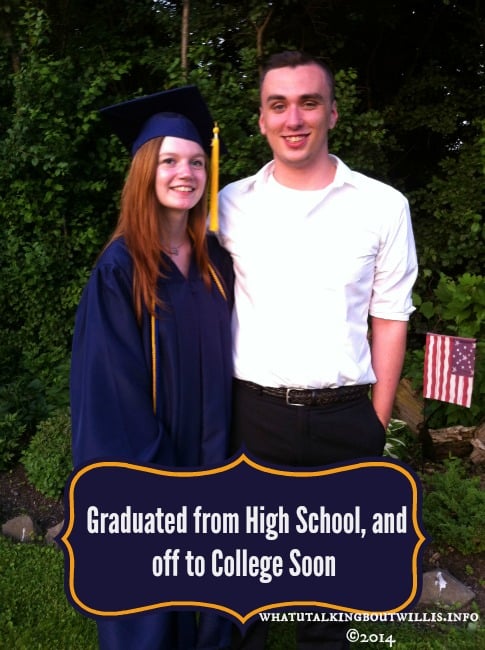 Becky
Newly middle-aged wife of 1, Mom of 3, Grandma of…

Graduated from High School, and Off to College Soon.
My name is Abbey Willis, and I'm this here lady's daughter. I'm a less than a month away from being 18, and just last month I graduated from Watkins Glen High School.
I applied to and was accepted to 3 colleges, but I decided on SUNY Purchase, which is 4 and a half hours away. I've never been away from home without my parents for more than a week, at most. Sad, I know. But thankfully I'll have my boyfriend with me, so I won't be entirely alone.
Despite my excitement to get away and start new somewhere else. I'm nervous. I'll miss my friends and family because we have close relationships. What if I get really homesick and it takes me a long time to adjust? What if I get a weird roommate, or a mean one? What if we just don't get along, or she never talks to me? What if she never shuts up?
Will I get lost my first day and have to show up late to class and walk into this huge lecture hall with hundreds of other students staring at me? I'm also a generally shy person and with all the people I'll have to meet and talk to, will I drown in my social awkwardness? I've never had to experience anything like this before, and I feel like I'll be out of place. On top of this, my college's website hasn't been acting right and class registration has been a big pain. So now I'm worried about getting into all the right classes.
Now, I know it won't be all bad, and there will be positive things about going to college. Learning independence, making new friends, stepping out of my comfort zone, being in a place I've never been, learning new and exciting things in class, and being one step closer to being a real life adult with a career in something I enjoy (which is psychology by the way). However, it is difficult to see those great things with all the uncertainties in the way. I have a picture of how everything will go, but I can't know until I get there. I hope orientation this month gives me some insight about the college experience and gives me the chance to get my schedule set so I can breathe for a second. I guess I'll let you know when I get to that step.
This is my first post on my Mom's website, and my Mom didn't tell me how to end these things. I feel like a kid who learned to ride a bike, but never learn how to brake.
Becky
Newly middle-aged wife of 1, Mom of 3, Grandma of 2. A professional blogger who has lived in 3 places since losing her home to a house fire in October 2018 with her husband. Becky appreciates being self-employed which has allowed her to work from 'anywhere'. Life is better when you can laugh. As you can tell by her Facebook page where she keeps the humor memes going daily. Becky looks forward to the upcoming new year. It will be fun to see what 2020 holds.