Growing up in Disneyland by Ron DeFore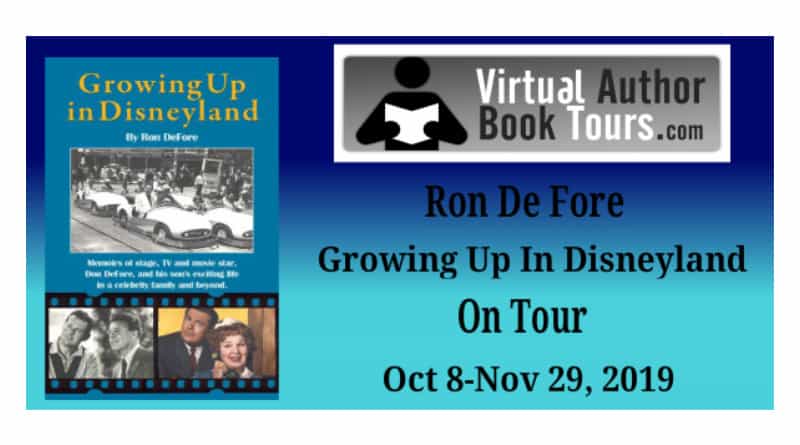 Becky
Newly middle-aged wife of 1, Mom of 3, Grandma of…
Disclosure:  I received a copy of the book above in order to facilitate my review.  All opinions are my own.
What an enchanting story by Don DeFore who was a classic actor during the Golden Age of Hollywood who became one of the pioneers of television.
To go from when he was Ozzie Nelson's silly next-door neighbor in 'The Adventures of Ozzie & Harriet' to his starring role as George Baxter in "Hazel", it was the existence of DeFore that was always felt. Being friends with Walt (Disney) led to owning his own eatery in the early days of Disney. Such an interesting read and to hear his story from the perspective of his son, Ron who experienced every kid's dream a joyous childhood who had a golden pass to Disneyland. You will not want to stop reading this book once you start.
I really enjoyed reading this book as it took me back to another place in time during the golden age of Hollywood, which I would have loved to have experienced myself. I felt like I was taken back in time while reading about Don Defore's experiences through his own words and that of his son's, Ron. I have been a huge Disney fan ever since I can remember. When I first agreed to read about the family's experiences at Disneyland, as the title seemed to imply. But like myself, you will find it is so much more than that.
This is a must-read not just for Disney fans but for anyone who wants to immerse themselves in the book and see what life of a star and his son who not only grew up around so many celebrities. but had magical first-hand experiences at the happiest place on earth! I would have loved to experience this in real life.
Many thanks to DeFore for writing this book and allowing me to enjoy everything about it. The next time I feel like I want to experience something like this I will just sit down and read it all over again.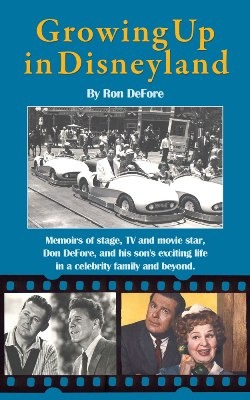 Growing up in Disneyland by Ron DeFore
Publisher: Waldorf Publishing (July 15, 2019)
Category: Memoir, Disneyland, Entertainer Biographies, Coming of Age
Tour dates: Oct-Nov, 2019
ISBN: 1643166263
Available in Print and ebook, 348 pages


Description Growing up in Disneyland by Ron DeFore
Part biography about TV and movie star, Don DeFore, and his son's accounts of life in a celebrity family and beyond. Don DeFore made more than 35 movies in the '40s through the '60s and co-starred in more than a dozen. He is best known for his role as "Thorny" the first next-door-neighbor on "The Adventures of Ozzie and Harriet" and "Mr.B" in the 1960s TV sitcom, "Hazel." The book includes much of Don's unpublished autobiography, 'Hollywood-DeFore 'n After.'
'Growing up in Disneyland' is a metaphor for Ron's life growing up in a celebrity family filled with Fantasyland adventures he equates to a Forest Gump type life, from meeting the Beatles, Beach Boys, Led Zeppelin, and other celebrities as Associate Director of the Steve Allen Show. His nearly 20 careers include a mid-life crisis as the Flying DJ at an L.A. discotheque to political positions within the Reagan Presidential Administration to establishing his own company. 'Growing up in Disneyland' is also to be taken literally, as Ron spent much of his youth in Disneyland where his father owned "Don DeFore's Silver Banjo Barbecue" restaurant in Frontierland. Ron and his brother, Dave, have given presentations to various Disneyland interest groups after which many attendees suggested, you should write a book.
'Growing up in Disneyland' will be enjoyed by any age group from baby-boomers that remember Don DeFore's many beloved acting roles to those that don't but are curious how life was in the good-old-days, especially growing up in a Hollywood celebrity family. Ron has had so many careers and adventures along the way that readers will have much to keep them from putting the book down.
Praise Growing up in Disneyland by Ron DeFore
"I enjoyed the flow of the book and how the author kept the momentum going, allowed the reader to adjust and then took them on a journey where they experienced the larger than life personality of Don DeFore. The language was simple yet encouraging. Ron DeFore draws the reader in and once they have entered the colorful world of the DeFore family, they won't want to leave. Incredibly vivid and entertaining!" – Rabia Tanveer for Readers' Favorite
"I found the life and works of both author Ron DeFore and his father Don to be a truly fascinating tale of legacy, the surreal nature of fame and the bubble-like existence which that kind of family life brings with it. Ron writes with a candid nature and kind words, recalling many adventures with a nostalgic tone that is sure to hit the hearts of those who were living during the time of the Beatles and the Beach Boys, to name but a few. For me, it was a glimpse into a past I'd no experience of, and the recollections by both Don and Ron brought everything to life with fascinating detail and authentic voices. I learned an awful lot during this heartfelt tale, and I would certainly recommend 'Growing Up in Disneyland' to readers who remember the fifties, but also those who would like a true portrait of Hollywood lives at the time."-K.C. Finn for Readers' Favorite
"A must Read Biography of a Film Star and Television Icon. A fascinating read to hear his story from the viewpoint of his son, Ron who experienced every kid's dream/ a wonderful childhood who had a golden pass to Disneyland"-Rick Lertzman, Amazon Review
About Ron DeFore
Ron DeFore is the second son of movie, television and Broadway star, Don DeFore. He has one brother, David and three sisters, Penny, Dawn, and Autumn.
He has had nearly 20 careers from TV and film production, real estate, Disc Jockey, senior executive in the Reagan Administration, to forming his own successful public relations firm in Washington, D.C.
Ron has since retired from his firm and continues to consult and write, "Growing up in Disneyland" being his major project since 2018. Ron is married to Laurie Gambino
"Growing Up in Disneyland" by Ron DeFore
My book, "Growing Up in Disneyland" is about my father who was a well-known actor for his many roles on Broadway, radio, movies, and television.  It's also about my life growing up in a Hollywood celebrity family. Dad was not a "superstar" but he was damn close. He earned a star on Hollywood's Walk of Fame, was in more than 30 feature films with many Hollywood legends and co-starred in more than a dozen.  He is best remembered for his two roles in the early days of television. He played Mr. Thornberry or "Thorny," the next-door-neighbor to Ozzie and Harriet, and in the 1960s he co-starred with Shirley Booth as George Baxter or "Mr. B" in the weekly series, "Hazel." He also guest-starred in dozens of TV shows from the 60s through the late 80s including episodes of "Love Boat," "Fantasy Island," St. Elsewhere," "Mannix," "Murder She Wrote," and many others.
I'm often asked what it was like growing up with a father who was a Hollywood star.  Before I answer that I need to add a bit more depth to Dad's notoriety. First, the title of the book is not only a metaphor for my life but it is also to be taken literally as Dad was the only person to ever own a concession in Disneyland bearing the name of a real person, "Don DeFore's Silver Banjo" barbecue restaurant in Frontierland from 1957 to 1962.  He also served as President of the Academy of Television Arts and Sciences for two consecutive terms. In his first, in 1954, he did what nobody else before him had ever been able to accomplish–he sold the first national broadcast of the Emmy Awards Show to NBC!  Finally, besides co-starring with Ronald Reagan in a feature film he campaigned for him and was a Reagan Delegate to both the 1976 and 1980 Republican National Conventions.  His long-time support started with Dad producing one of Reagan's first political events as well as becoming an appointee in his Presidential Administration (as I did as well).
All this background is vital in answering the question about what my life was like because today many people may not know the name, Don DeFore, but in my youth, he was known and easily recognized by millions of people.  So, my life was quite different than most starting with the house my Dad built in 1947, where I grew up, was built on two lots in the heart of Brentwood (West Los Angeles). We had a swimming pool, tennis court, Olympic size trampoline, and huge lawns for playing football.  The house recently sold to Trent Reznor for more than $16 million. Many of our friends were kids of famous people–Judy Garland, Richard Widmark, Anthony Caruso, Dick Van Dyke, Harry Morgan, James Whitmore, Esther Williams, and others. (For younger readers, Gwyneth Paltrow now lives across the street.)  There were hundreds of more celebrities that lived either in Brentwood or the adjoining Beverly Hills. So, I was surrounded by famous people, and as I spell out in my book, that's why I'm one of the worst people at remembering celebrity faces and names because to me they're all second nature. It wasn't important or unusual.  If you grow up among Kings and Queens you believe that's how the entire world is structured.
We've all heard numerous stories over the years of the many sons and daughters whose lives ended too early, often due to drugs.  Every year we hear stories of celebrities or their off-spring being arrested or doing stupid things. It's the relative few of us that survive and avoid these tragedies.  I attribute that to my parents' conservatism. We were not a typical "Hollywood" family. Dad and Mom were not in the "in-crowd." We went to church almost every Sunday. That's one of the reasons Dad built the house where he did, "way out in the country," as people at the studios would say.  In the early '50s, we had chickens, ducks, and even a cow! We kids had to work around the house for spending money. I resented this tremendously as friends would simply ask for things like an electric guitar and amp and they'd get it. I had to borrow the money from my parents and work it off.  It wasn't until I moved away at the age of 18 that I deeply appreciated that upbringing. I knew the value of money. Two of my closest friends that lived next to me did not fare as well. They both stayed living with their parents where they died in their forties.
Now that I've painted the bleak picture, I need to balance that with the fact that the vast majority of my time growing up was extremely positive.  Our family went on many wonderful trips in the U.S. and around the world, we were constantly in the spotlight in parades or publicity shots. Dad was recognized wherever we went–met by adoring fans seeking autographs.  All the time, I felt extremely special. My book explores this "special feeling" in-depth as it has been an important driving force throughout my life. But for many, it can have a devastating effect if not put into proper perspective.  The book also walks the reader through what I call "The Early Television Phenomenon" that I experienced in the early '50s when Dad was recognized by fans. I don't want to spoil the fun for readers, so I'll simply say that the encounter with fans during those early days of TV when Dad was "America's next-door-neighbor" was a lot of fun for us kids.  Get the book. You won't regret it as the many five-star Amazon ratings will confirm. To learn more and for information on how to get an autographed copy go to https://growingupindisneyland.com/.
Website: https://growingupindisneyland.com/
Facebook: https://www.facebook.com/GrowingUpinDisneyland
Twitter: https://twitter.com/Moviestarson
Instagram: https://www.instagram.com/sonofmoviestar/
Actor Don DeFore Fan Club
Website: https://www.defore.net/
Facebook: https://www.facebook.com/groups/DonDeFore/members/
Buy Growing up in Disneyland by Ron DeFore
Amazon
Barnes&Noble
IndieBound
Giveaway Growing up in Disneyland by Ron DeFore
This giveaway is for the winner's choice of one print or ebook copy of the book. Print is open to the U.S. only and ebook is available worldwide. There will be 3 winners. This giveaway ends November 1, 2019, midnight pacific time.
Follow Growing up in Disneyland by Ron DeFore Tour
Teddy Rose Book Reviews Plus Oct 8 Kickoff & Interview
Vicki, I'd Rather Be At The Beach Oct 10 Review & Excerpt
Lu Ann Rockin' Book Reviews Oct 17 Review & Excerpt
Becky What U Talking Bout Willis Oct 21 Review & Guest Post
Steve Silver Screen Videos Oct 22 Review & Interview
Katy Amazon Oct 31 Review & Excerpt
Dawn Bound 4 Escape Nov 8.Guest Review
Teddy Rose Book Reviews Plus Nov 15 Review
Michelle Reading Authors Nov 22 Review
Amy Locks, Hooks and Books Nov 25 Review & Excerpt
Ruth My Devotional Thoughts Nov 26 Review & Excerpt
Becky
Newly middle-aged wife of 1, Mom of 3, Grandma of 2. A professional blogger who has lived in 3 places since losing her home to a house fire in October 2018 with her husband. Becky appreciates being self-employed which has allowed her to work from 'anywhere'. Life is better when you can laugh. As you can tell by her Facebook page where she keeps the humor memes going daily. Becky looks forward to the upcoming new year. It will be fun to see what 2020 holds.