L.M. Montgomery's Anne of Green Gables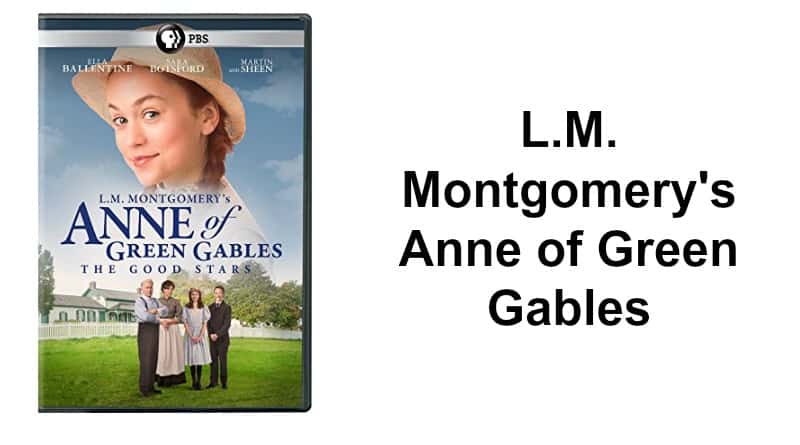 Becky
Newly middle-aged wife of 1, Mom of 3, Grandma of…
Purchasing products through the affiliate links on this page contributes to the success of this site at no additional cost to you.
L.M. Montgomery's Anne of Green Gables
Available on DVD from PBS Distribution on November 7th
PBS Distribution announced on October 16, 2017 they will be releasing the "L.M. MONTGOMERY'S ANNE OF GREEN GABLES THE GOOD STARS" on DVD. The second installment of the classic best-selling Lucy Maud Montgomery story of a free-spirited teenager on Prince Edward Island returns after the successful Thanksgiving 2016 premiere, which reached more than 3.2 million viewers.
"L.M. MONTGOMERY'S ANNE OF GREEN GABLES THE GOOD STARS" will be available on DVD November 7, 2017. The run time is approximately 90 minutes, and has an SRP of $19.99. The program will also be available for digital download.
L.M. Montgomery's Anne of Green Gables The Good Stars DVD

In this installment, Anne Shirley turns 13 and faces complex situations with friends, learns from inspirational adults, and experiences an escalating friendship with Gilbert. Her free-spirited nature is challenged by her perceived need to be sensible, a journey fraught with confusion and some unfortunate — albeit amusing — mishaps.
The program, written and directed by John Kent Harrison will once again star critically acclaimed actor Martin Sheen as Matthew Cuthbert, along with the return of Ella Ballentine as Anne Shirley ("The Captive") and Sara Botsford ("E.N.G.") as Marilla Cuthbert.
Additional cast members include Julia Lalonde ("Catch a Christmas Star") as Diana Barry, Kate Hennig ("Thirty Two Short Films About Glenn Gould") as Rachel Lynde, Stefani Kimber ("Remember") as Josie Pye, Drew Haytaoglu ("Looks Just Like the Sun") as Gilbert Blythe, Kyle Gatehouse ("Source Code") as Mr. Phillips and Linda Kash ("Cinderella Man") as Mrs. Barry.
"L.M. MONTGOMERY'S ANNE OF GREEN GABLES THE GOOD STARS" was produced by Breakthrough Entertainment in association with Corus Entertainment's YTV and the author's granddaughter, Kate Macdonald Butler, who served as executive producer.
About Breakthrough Entertainment
Breakthrough Entertainment Inc. is an award-winning producer and distributor of premium content for worldwide audiences. The entertainment studio's operations include the development and distribution of feature films, television and digital content; international co-productions and production services. Breakthrough's digital media division ranks amongst the industry's most respected producers of high-quality interactive entertainment on mobile and online platforms. Established over 30 years ago, Breakthrough's library now boasts over 40 feature films and 4,000 television episodes, which air on major networks and digital channels across the globe. The studio has been recognized with international awards including numerous Geminis, Canadian Screen Awards, and Canadian Comedy Awards.
About PBS Distribution
PBS Distribution is the leading media distributor for the public television community, both domestically and internationally, extending the reach of these programs beyond broadcast while generating revenue for the public television system, stations, and producers.
PBS Distribution offers a broad range of high quality content in multiple formats including DVD, Blu-ray, digital download, and digital streaming. PBS International offers factual content for broadcast, cable, and satellite services internationally. The PBS Distribution catalog includes films from Ken Burns, documentaries from award-winning series such as NOVA, FRONTLINE, AMERICAN MASTERS, NATURE, and AMERICAN EXPERIENCE, dramas from MASTERPIECE, as well as films from independent producers and popular children's programming.
L.M. MONTGOMERY'S ANNE OF GREEN GABLES THE GOOD STARS
Street Date: November 7, 2017
Genre: Family
Run Time: 90 minutes on 1 disc
SRP: DVD, $19.99
Format: DVD
Becky
Newly middle-aged wife of 1, Mom of 3, Grandma of 2. A professional blogger who has lived in 3 places since losing her home to a house fire in October 2018 with her husband. Becky appreciates being self-employed which has allowed her to work from 'anywhere'. Life is better when you can laugh. As you can tell by her Facebook page where she keeps the humor memes going daily. Becky looks forward to the upcoming new year. It will be fun to see what 2020 holds.