Madonna's 7 Most Notorious Reinventions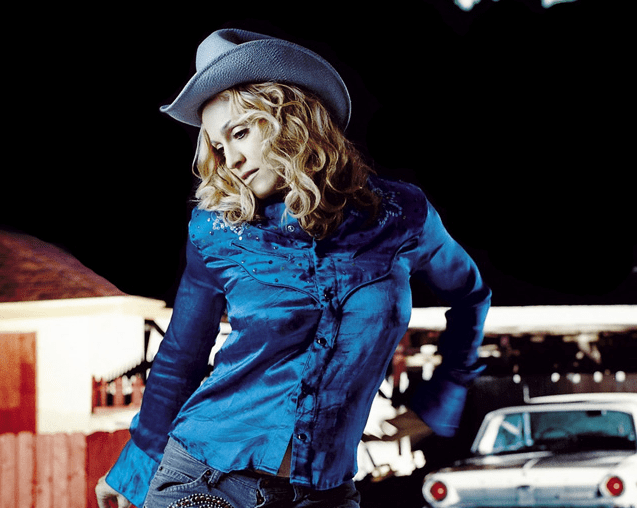 Becky
Newly middle-aged wife of 1, Mom of 3, Grandma of…
Madonna's 7 Most Notorious Reinventions
Madonna is one of the few celebrities who needs only a first name, a recognition that's well deserved, since throughout her 30+ year career she has been a one woman pop culture and music phenomenon. Madonna has defined genres, inspired shock and awe, made millions, and, of course, created a plethora of trends. Her style has always changed to reflect her music and mood at the moment, spawning millions of copycats in the process. Over the years she has established herself as the "Queen of Reinvention" thanks to her ever changing aesthetic. So, in honor of her 56th birthday on August 16th, let's take a look at some of her most memorable looks, spanning through the 80's, 90's, 00's, and '10's.
New Girl in Town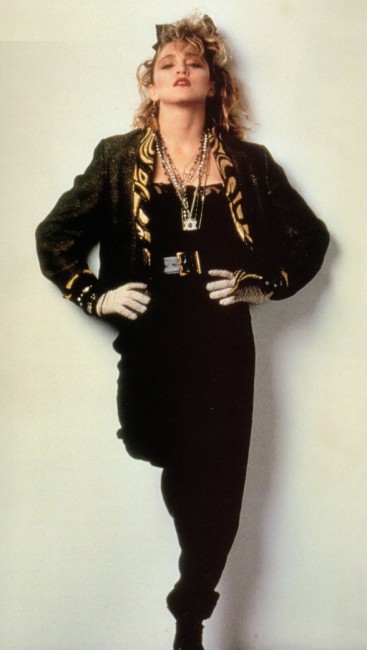 After bursting onto the scene in 1982 with her first single "Everybody," Madonna quickly became known for the unique sense of style she had created with jewelry designer and stylist Maripol. There was no such thing as too much, and excess reigned supreme. Bra tops, sheer tank tops, fishnets, pumps, crimped hair, rosaries, ropes of pearls, and arm loads of rubber bracelets were essential to the look and were soon seen on nearly every teenage girl in America.
Hollywood Glamour
In 1984, in order to match up with her new album Like a Virgin and her second single off the album, "Material Girl," Madonna rejected the scruffy New York image she had invented and went instead for full on Hollywood glamour. The famous video of "Material Girl" featured Madonna almost exactly recreating Marilyn Monroe's famous "Diamonds Are a Girl's Best Friend" number from Gentlemen Prefer Blondes. She even chopped off her dirty blonde hair, bleached it platinum blonde, and regularly appeared on the red carpet with red lips, curve hugging gowns, and plenty of diamonds.
Blonde Ambition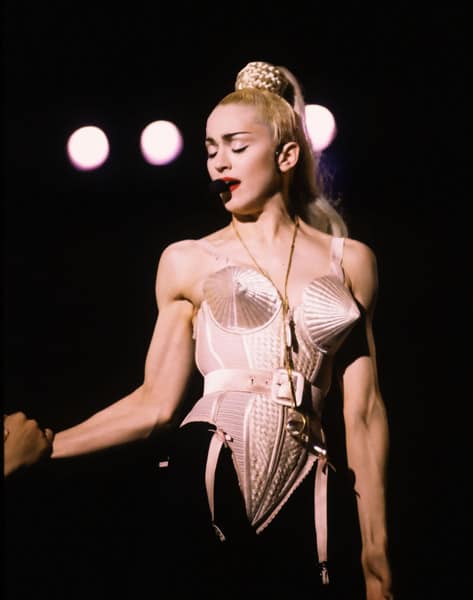 She carried on the old Hollywood look through the rest of the 80's and into the 90's, most famously in Dick Tracy and her music video for "Vogue," however she focused less on emulating Monroe specifically, and more on other screen sirens of the 30's and 40's, like Jean Harlow and Marlene Dietrich.
To help her create this new look she teamed up with a then up-and-coming French designer, Jean Paul Gaultier. Together they created the costumes for her famous Blonde Ambition tour in 1991 which featured gender bending pant suits, frilly lingerie inspired minidresses, and of course, the famous cone bra.
Mistress Dita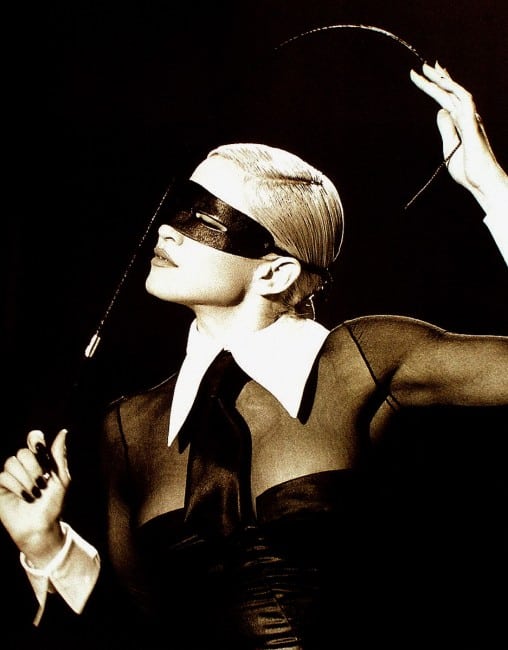 To create her 1992 album Erotica and it's accompanying, now infamous, coffee table book Sex,Madonna took on the persona of Mistress Dita. Inspired by the androgynous fashion of Dietrich and the German silent film actress Dita Parlo (whose name she borrowed for the persona), Madonna emerged as a sort of Berlin cabaret dominatrix. She wrote the highly controversial passages in Sex as Mistress Dita, and famously whispered, "My name is Dita, and I'll be your mistress tonight" in the single "Erotica".
Ray of Light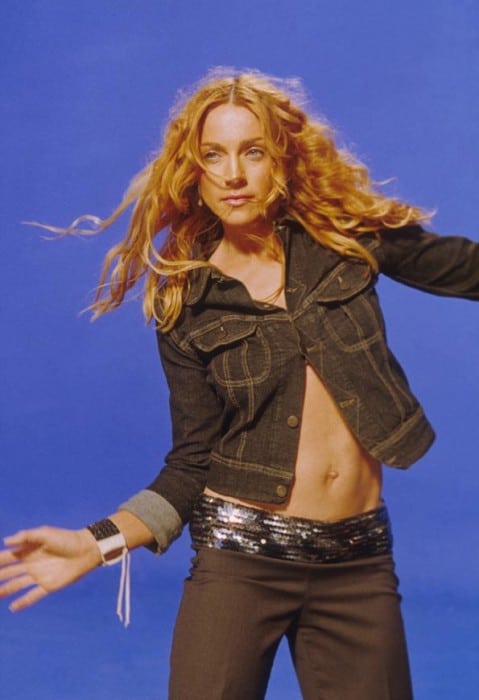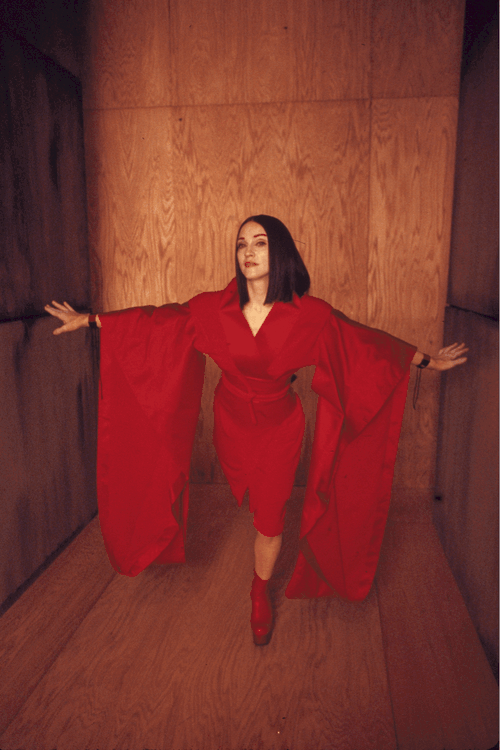 During the course of the mid to late 90's Madonna had her daughter Lola, and was introduced to yoga and Kabbalah. These things together inspired an increasingly new age/worldly Madonna. She felt more in sync with herself, and put her new outlook on life into her 1998 album Ray of Light. The new Madonna was tanned, toned, and almost casual in comparison to her early 90's glamour.
It was also while promoting this album and the singles "Nothing Really Matters" and "Frozen" that she had yet another shift in her look, this time to a much more East Asian inspired aesthetic. She dyed her famous blonde hair black and styled it stick straight, she wore kimonos and bindis, decorated her hands with henna, and began to incorporate her newfound love of meditation and yoga into her performances.
American Girl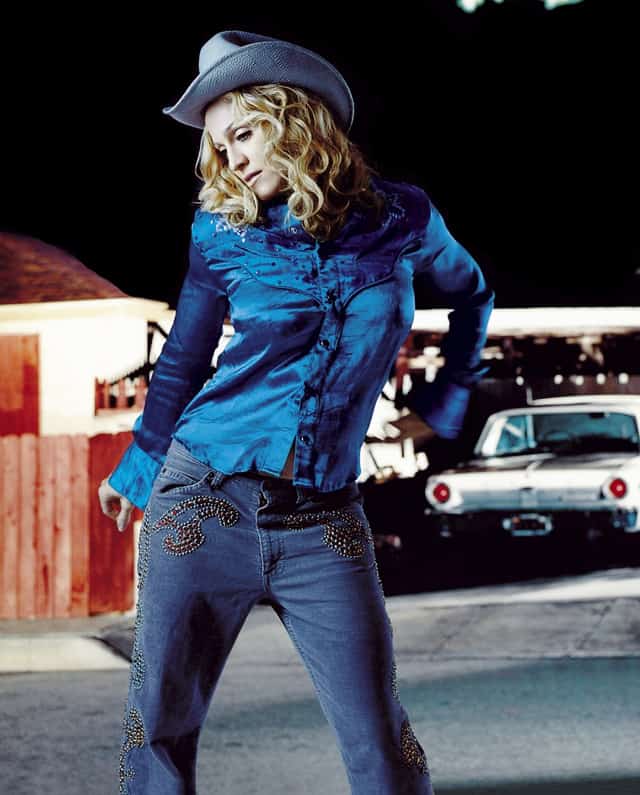 For the soundtrack of her film The Next Best Thing Madonna recorded a cover of Don McLean's "American Pie" and released a Western inspired music video. She carried on this cowgirl look with the release of her 2000 album Music and in the music videos for the title song as well as "Don't Tell Me," which resembled a good, old-fashioned hoedown at times.
This, of course, inspired the Western ware trend in the early 00's where city dwellers began adopting bedazzled Western shirts, boot cut denim, and a modern take on a Stetson. Suddenly, there were Western themed bars and mechanical bulls, which went out of fashion almost as quickly as they came into it.
Disco Diva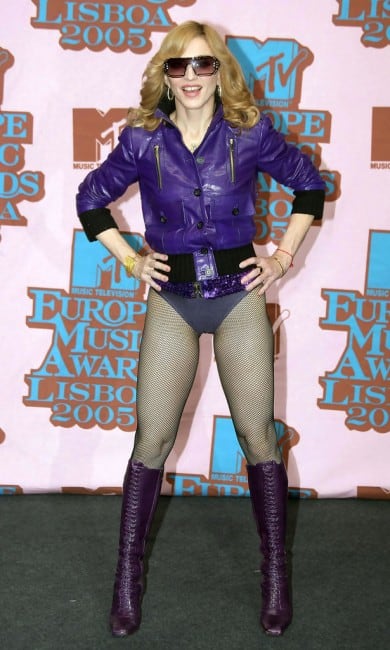 For her 2005 smash hit album Confessions on a Dance Floor and its lead single "Hung Up" Madonna not only borrowed the sounds of the disco era, but also its signature style. This new look featured feathered hair, spandex leotards and bodysuits, platforms, leisure suits, clingy satin dresses, and plenty of glitter (she even had crystals on her false eyelashes).
Never one to do anything on a small scale, she carried over her discomania to her Confessions Tour, where she emerged from a giant disco ball and performed one of her new songs mixed with Donna Summer's classic "I Feel Love."
About the Author: Spencer Blohm is a freelance entertainment and pop culture blogger for DirectStarTV.com. As a (nearly) lifelong Madonna fan he'll always cherish the day he got to see her MDNA show. He lives and works in Chicago where he can often be found running along the lake listening to Confessions on a Dance Floor on a loop.
Becky
Newly middle-aged wife of 1, Mom of 3, Grandma of 2. A professional blogger who has lived in 3 places since losing her home to a house fire in October 2018 with her husband. Becky appreciates being self-employed which has allowed her to work from 'anywhere'. Life is better when you can laugh. As you can tell by her Facebook page where she keeps the humor memes going daily. Becky looks forward to the upcoming new year. It will be fun to see what 2020 holds.