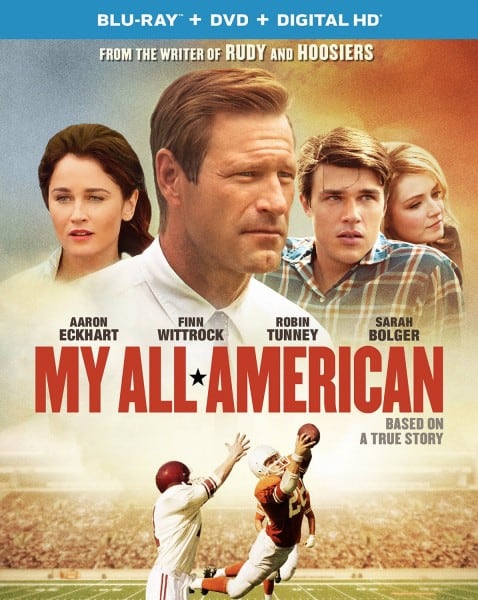 Becky
Wife, mother, grandma, blogger, all wrapped into one person, although…

My All American comes to Blu-ray on February 23, 2016.
There have been many movies with sports-related themes. So when a new 'true story' about a sport some are apt to say 'another?'. The nice thing is when a director can explore a different angle on a theme with a new style.
My All-American takes place in the late 1960s and follows the brief college football career of Freddie Steinmark. Freddie Steinmark's optimism and moral decency, rooted in his dad and Catholicism, enabled him to succeed and then face declining health with bravery.
This movie is not edgy or groundbreaking in any way, but it is enjoyable entertainment and has really nice casting. It shows a person who is untainted by the counterculture of the 1960s, whom everyone respects, and who faces his decline with the same determined courage with which he faced the challenges of the sport.
I think it reminds me a bit of the Gary Cooper movie about Lou Gehrig, The Pride of the Yankees. This is because of the overall innocence of the characters and how relationships develop only to lead to declining health. It's a nice human interest story with wholesome characters.
Mainstream critics are too critical overall of biographical movies which are presented in as straightforward a way as this. For my part, I think it's a fun movie to watch even though football maneuvers don't make sense to me, and I feel that the fairly straightforward personality and life of Freddie somehow make a fine motion picture. Besides his optimism, courtesy, and determination, I think the thing we are supposed to admire about his character is that he was determined to enjoy his life even after he learned he wouldn't live much longer (due to bone cancer). He maintained a sense of purpose to the end.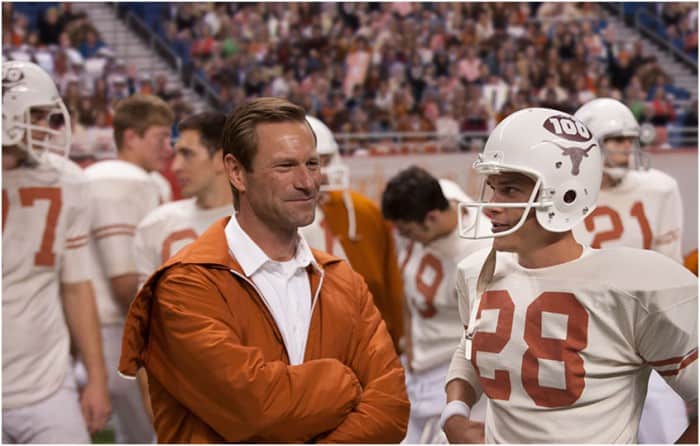 AARON ECKHART AND FINN WITTROCK STAR IN THE INSPIRING TRUE STORY
FROM THE ACCLAIMED WRITER OF HOOSIERS AND RUDY

AVAILABLE ON DIGITAL HD, BLU-RAY™ AND DVD ON FEBRUARY 23, 2016
FROM UNIVERSAL PICTURES HOME ENTERTAINMENT
Universal City, California, January 7, 2016 – Universal Pictures Home Entertainment has partnered with Aviron Pictures for the marketing, sales and distribution of its Blu-ray, DVD, Electronic Sell-Through and Video-on-Demand releases of its theatrical films across the U.S and Canada. The first release under the home entertainment pact with Universal will be My All American, coming to Digital HD, Blu-ray™ combo pack, DVD and On Demand on February 23, 2016.
Directed by acclaimed screenwriter Angelo Pizzo (Hoosiers, Rudy), My All American is an inspiring tribute to a real-life triumph of the human spirit, packed with skin-of-the-teeth victories and losses, unforgettable characters and heartfelt traditional values. An uplifting and exhilarating tale of personal determination and team spirit, My All American on Blu-ray™ combo pack and DVD also comes with a pair of revealing behind-the-scenes peeks at a movie that will inspire and entertain the entire family.
An unlikely football hero faces unexpected challenges with grit and grace in My All American, the true story of Freddie Steinmark. Although deemed too small as an athlete, Freddie (Finn Wittrock – The Big Short, "American Horror Story") dreams of playing football and brings a fight to the game that is noticed by legendary coach Darrell Royal (Aaron Eckhart – The Dark Knight, Olympus Has Fallen), leading to a scholarship to play college football. With dedication and grueling practices, a victorious season is within reach, but Freddie then receives a shocking diagnosis and discovers what it truly means to have the heart of a champion.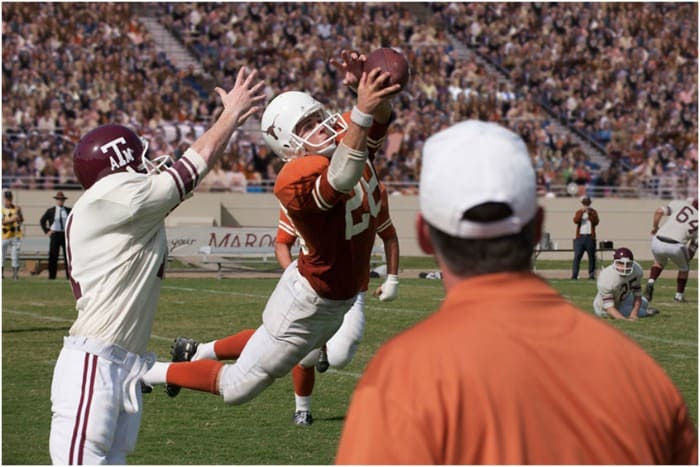 BLU-RAY TM AND DVD BONUS FEATURES:
Spirit of Freddie Steinmark

– Learn how the story of the true life hero who inspired the film was brought to the big screen.

A Look Inside

– A behind the scenes look at the film featuring interviews with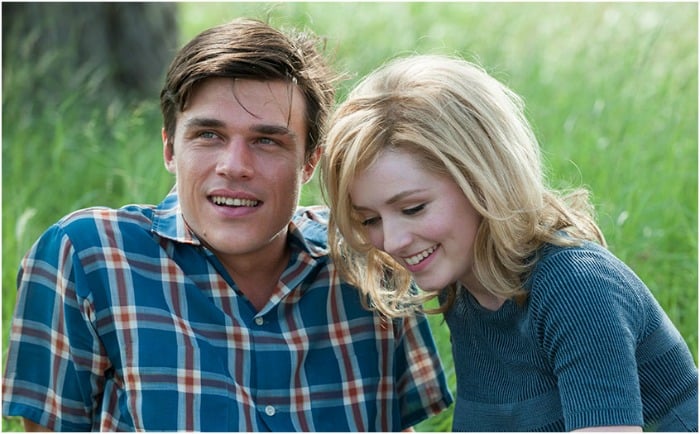 The film will be available on Blu-ray™ with DIGITAL HD and UltraViolet™ and DVD
Blu-ray™

unleashes the power of your HDTV and is the best way to watch movies at home, featuring 6X the picture resolution of DVD, exclusive extras, and theater-quality surround sound.

DVD

offers the flexibility and convenience of playing movies in more places, both at home and away.

DIGITAL HD with UltraViolet™

lets fans watch movies anywhere on their favorite devices. Users can instantly stream or download.
My All American | Facebook | Twitter | Instagram | Buy on Amazon
Becky
Wife, mother, grandma, blogger, all wrapped into one person, although it does not define her these are roles that are important to her. From empty nesters to living with our oldest and 2 grandchildren while our house is rebuilt after a house fire in 10/2018 my life is something new each day.