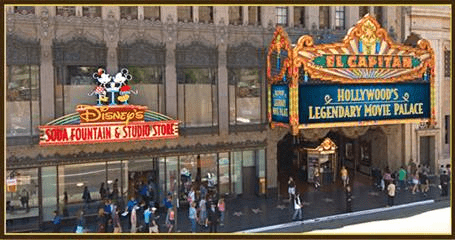 Becky
Wife, mother, grandma, blogger, all wrapped into one person, although…


Our El Capitan Theatre Tour #IronMan3Event
When we arrived to the El Capitan Theatre, Ed Collins greeted us to explain that we would have breakfast first then get onto the tour. The recipe used for the waffles is the same recipe they use at Disney Land/World. It was delicious. Isn't it cute? You can read my post about the Disney Soda Fountain & Shoppe.
The room was all set up with a special birthday to Jennifer M from Makobiscribe.
One of the highlights while in LA was our tour of the El Capitan Theatre and the Disney Soda Fountain. I will do my post separate of the Disney Soday Fountain. Although we had already been at the El Capitan the night before for the Red Carpet premiere it was really neat to be able to look around and hear about the history of the theatre.
During our visit to the El Capitan Theatre our host was Ed Collins, who talked to us about the history of the theatre.
The El Capitan Theatre opened in 1926 and played stage shows for the first 15 years of its life. This made the theatre special. In the first 15 years they had 150 stage shows. All of the great names in the early years of the motion picture industry had appeared on this stage. Names that we all recognize, how did we know? We found old Playbills and newspapers. Stars like Rita Hayworth, Clark Gable and Bob Hope; just to name a few, performed on the El Capitan stage. We tend to speculate why because the movie moguls, directors and producers in the '20s all came to the stage shows that played here. The movies was the new business in the '20s. Louie B. Mayer, for example, and the Warner Brothers, we know attended shows here because they were also brothers in the Masonic Lodge next door.
Next Mr. Collins asked us if we had ever seen "Citizen Kain"? A few of us replied we had in fact seen it. He mentioned how it was an impactful movie, but was not a very flattering portrait of William Randolph Hearst. So back when it was looking for a home to have its premiere, no theater wanted to play it. Why? Because theaters were owned by studios at that time; not to mention that Mr. Hearst's papers reviewed their movies. So we're not going to show a movie that isn't a flattering portrait. Here at the El Cap where we had stage shows only. The owner, Mr. Toberman, said "Hey, I'll try a movie." So "Citizen Kain had its movie premiere at the El Capitan in 1941. Mr. Toberman then said "movies are the way to go".
The theater was closed, modernized and reopened in 1942 as Paramount theater. Since it was associated with Paramount, the theater ran another 50 years with premieres and first run movies. At this time Disney came to Hollywood, which made the theatre realize that Holly Blvd. had become a really popular spot to be. So Disney then came to the El Capitan in 1989 and restored it back to the way it was when it was new.
We opened here in June of '91 with "The Rocketeer". This was the first movie that played here when we were finished restoring it. What made "The Rocketeer" special was not only did it have its premiere on Holly Boulevard, but that was also our first stage show! So we said, "Hey yeah. Let's do like they did in the Golden Era of movies. We will have a stage show before the movie." Mr. Collins goes on to say " So for "The Rocketeer" we had the El Capitan singers and dancers. It was as show that was produced by Disneyland on the stage in front of the curtain. That kicked off stage shows and movies.." Then, we came along in 1998 and said "You know, we should have done the stage the first go around. So we decided to do it this time." We added the mighty Wurlitzer pipe organ which led us to our second restoration. Now here we are today.
Currently we do 10 to 12 premiers a year. As you know the latest was "Iron Man 3" last night. Coming up is Pixar Disney's "Monster's University". So that is what this theater's all about. Its part of the theater, the Disney marketing plan for the movie to create awareness right? We want to get people excited about the movie and watching it here so you'll write about it and tell others about it. (He was very right as that is what I am doing now). That is why all those premieres take place, then the press comes and reports on it.
One of the neat things about the El Capitan theatre was the balcony (where we sat for the premiere of Iron Man 3) were how the steps lit up. This was very helpful as it is very dark up there ! I took a picture to show you how pretty the lights were.
Another question that was asked what whether or not the El Capitan was haunted with ghosts. Although Mr. Collins didn't confirm or deny, one of the snack bar workers stated they had seen one.
In case you are in Hollywood this summer for a vacation, here is the schedule at the El Capitan.
IRON MAN 3 is currently playing at the El Capitan Theatre in Hollywood, CA until June 20th in Disney Digital 3D and Real D 3D
· See a Display of Collectibles & Comic Books from the Private Collection of Stan Lee!
· Coming this summer at the El Capitan Theatre:
– June 21st – August 8th: MONSTERS UNIVERSITY (Plus, see Mike & Sulley in the MU Pep Rally with the Sprit Squad Live on Stage!)
– August 9th – September 19th: Disney's PLANES
Watching any of these movies at the El Capitan is an experience you will always remember!
Becky
Wife, mother, grandma, blogger, all wrapped into one person, although it does not define her these are roles that are important to her. From empty nesters to living with our oldest and 2 grandchildren while our house is rebuilt after a house fire in 10/2018 my life is something new each day.