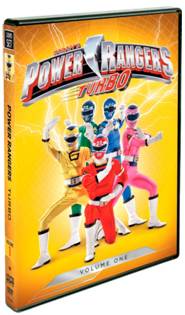 Becky
Wife, mother, grandma, blogger, all wrapped into one person, although…


Power Rangers Turbo, Volume 1 Review
On April 1, 2014 the Power Rangers have come to battle the dreaded villain Divatox at rapid speed! Shout! Factory released the 3-DVD box set that contains the first 23 episodes of the series.
When my oldest (who is now 23 years old) was little, he was very into the Power Rangers. We had every color in the small Power Ranger figures, a large Black Power Ranger figure and a stuffed Red Power Ranger. I can still here the song "Go, go Power Rangers". This just shows how popular The Power Ranger's are and have lasted for so many, many years.
This 3-DVD box set contains the first 23 episodes of the series, as I mentioned before. This is the continuation from the exciting events of Turbo: A Power Rangers Movie, the five Power Rangers use their new powers, weapons and high-tech supercharged vehicles to battle evil at faster speeds than ever in their history!
The beautiful yet vicious space pirate Divatox follows the Power Rangers to Angel Grove to get revenge for ruining her planned wedding to the volcanic island deity Maligore.
This is an exciting Volume of never stopping action and a fun story for any kid that loves Power Rangers. They were first introducted in 1993. It became the most watched children's television program in North America. Showing the importance of teamwork, responsibility and helping others by following the adventures of a group of ordinary young people who "morphed" into superheroes.
This long running series has been seen in more than 60 countries, translated into numerous languages, and contines to be a mainstay in childrens programing. Imagine over 20 years of "Go, Go, Power Rangers".. I never realized when my now 23 year old watched it as as a little boy, it would still be on an going cartoon to this day.
Becky
Wife, mother, grandma, blogger, all wrapped into one person, although it does not define her these are roles that are important to her. From empty nesters to living with our oldest and 2 grandchildren while our house is rebuilt after a house fire in 10/2018 my life is something new each day.