"Rogue Alliance by Michelle Bellon " Review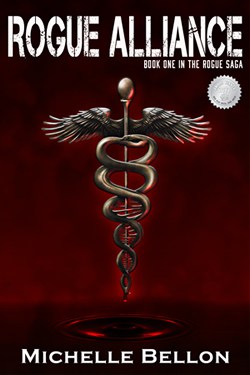 Becky
Newly middle-aged wife of 1, Mom of 3, Grandma of…

**Disclosure: This post contains affiliate links. This means if you click on the link and purchase the item, I will receive an affiliate commission. I only recommend books I feel will be enjoyed by my readers.**
"Rogue Alliance by Michelle Bellon " Review
From the very first page Bellon got my attention, this always tells me its going to be a good one. The book starts out with the character of Brennan, a man with amnesia, who is locked up in a secret government institute. When a man he doesn't know shows up and offers him his freedom in exchange for loyalty, Brennan doesn't see any other choice. Free from his cell and the awful experiments that he was subjected to, Brennan decides that he owes his new friend all he can give, even if he is a man dealing in illegal activity.
Shyla is a detective in the Federal Agency of Narcotic Control who's career is quickly moving upwards. When she is offered a promotion to go undercover to bring down one of the United States most dangerous drug lords, Shyla jumps at the opportunity. When she finds out she has to move back to her hometown, she has had nightmares about, Shyla begins to have doubts. Due to getting away from her horrific childhood life after graduation, Shyla never wanted to step foot in Redding again. Unfortunately, in order to take down Victor, Shyla packs her bags and goes back to the area of her nightmares with a bottle of tequila in tow.
Rogue Alliance has all of the great components to capture anyone's attention. With its extremely fast moving plot, witty dialogue, and unexpected yet much appreciated romance. Shyla is extremely snarky and because of her circumstances from her past, she is uncomfortable with any attention from men that comes her way. She definitely has to change her ways in order worm her way into Victor's good graces and bed. What she doesn't expect is a connection to Brennan, Victor's stoic and very secretive bodyguard. When they both try to ignore the spark that is between them, they come to realize that is just might be impossible. Shyla also struggles to remain undercover and to keep her head out out of the past in a town that knows her history.
As a reader you will see the beginnings of a budding romance that at first seems to be an awful idea because of sins from the past along with lost memories. Then upon a closer look you will see something that might change your mind.
Can these characters stay alive long enough to tell their stories? That is a hard call to make, because with the turn of the page you're wondering how these twists and turns will work out. Make sure you take time to enjoy this page turning, fast paced story.
---

About the author:
Michelle Bellon lives in the Pacific Northwest with her husband and their four children. She drinks ungodly amounts of coffee and has an addiction to chapstick.
She works at a surgery center as a registered nurse and in her spare time writes novels. She writes in the genres of romance suspense, young adult, women's fiction, and literary fiction. She has won three literary awards.
***********************************************
Check out Michelle's Other Books
Becky
Newly middle-aged wife of 1, Mom of 3, Grandma of 2. A professional blogger who has lived in 3 places since losing her home to a house fire in October 2018 with her husband. Becky appreciates being self-employed which has allowed her to work from 'anywhere'. Life is better when you can laugh. As you can tell by her Facebook page where she keeps the humor memes going daily. Becky looks forward to the upcoming new year. It will be fun to see what 2020 holds.