Keep Your House Clean from Floor to Ceiling with the Shark Rocket Complete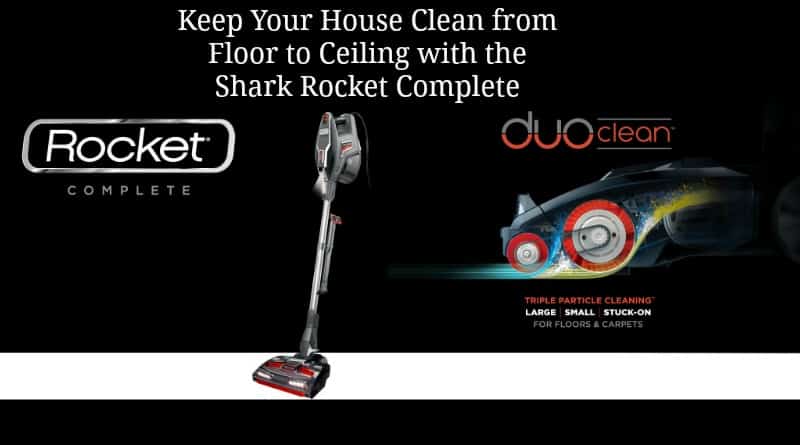 Becky
Newly middle-aged wife of 1, Mom of 3, Grandma of…
The new Shark Rocket Complete is a time saver.
When I think about a new vacuum cleaner before the Shark Rocket Complete it honestly made me cringe. At an early point in my husband's and my marriage we had a dog, then 2 dogs. When that happened our first vacuum it actually lasted the years previous to owning the dogs. Then after the first year with the dogs, the vacuum died. I can't exactly blame it on the dogs because it could have been the age of it. Then it seemed that any vacuum after our first one the life was 1 – 1 1/2 years each. We have now been married 21 years. So can you image 12 years ago when we were up to 5 dogs how hard it was on the vacuums? I will tell you without naming them all we tried all but the Dyson. This was only because I was so unsure of which one would be the answer to my vacuum woes.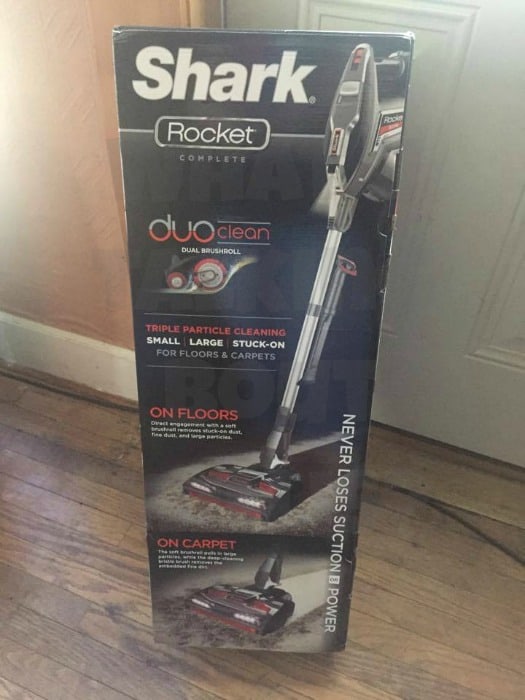 When I was offered to review the Shark Rocket Complete (HV382) I was so excited. Our last vacuum was on its last leg, as parts started falling off and really it was a 2nd of the same one because they had to send us a second one because the first started throwing sparks. Anyways when this beautiful vacuum showed up I could not wait to put it together.
First of all, as small of a detail, this is I totally love having a light on the Shark. Not only on the wand part also the motor/cup area. You wouldn't think this was a big deal but between you and me, I didn't know I had such a terrible spider/web issue. How embarrassing! I am really glad I do not get a lot of company.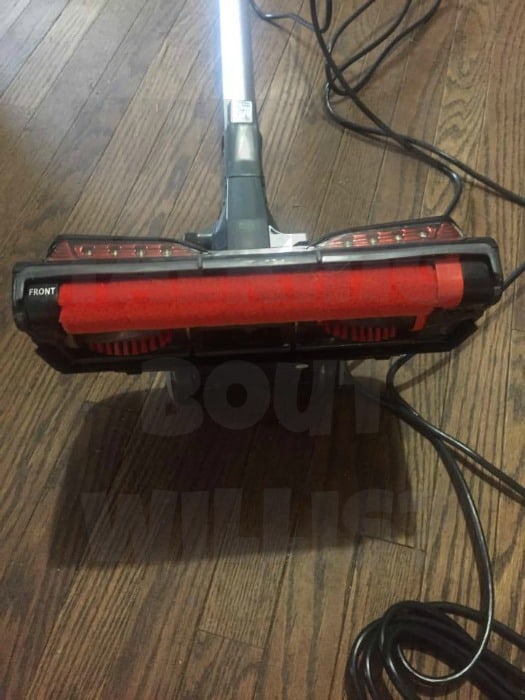 This Shark Complete comes with a lot of attachments. The vacuum itself includes a handheld vacuum, motorized floor nozzle, a wand, an onboard tool clip, duster crevice tool, dusting brush, wall mount which includes the screws and anchors, an under-appliance wand, a TruePet Mini Motorized Brush, a Hair removal tool which is located above the brush tool, and a accessory bag. I was able to put it together all by myself. You didn't need to have any tools to do so. We haven't put the wall mount up yet so I will probably leave that to my husband.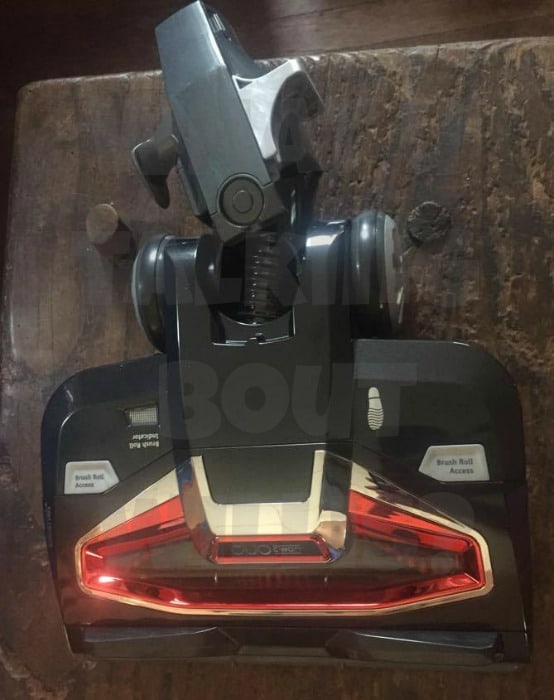 Although the dirt cup seems small, I was able to vacuum my living room, and half of my kitchen with a room in between until I emptied it. These rooms do not have carpet. Recently we took our living room carpet because I discovered that it was all hardwood underneath.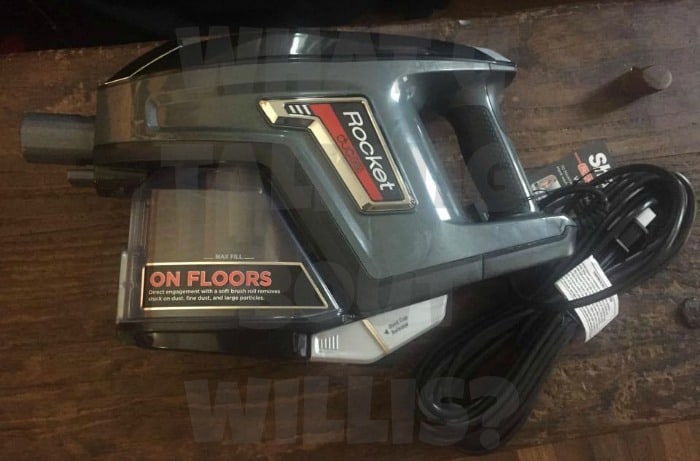 Our bedroom is fully carpeted and does fill the cup about 1 1/2 times. I do like that the cup is easy to remove, empty and put back on. The green light on the motorized floor nozzle is also a plus as long as it is green you know your unit is picking up properly. It is easy to detach the motorized floor nozzle and reattach it. The switch to turn the unit on and off it right at your fingertips (well more like your thumb). The first setting is for bare floors and using the wand with the tools. The second setting is for carpeted floors.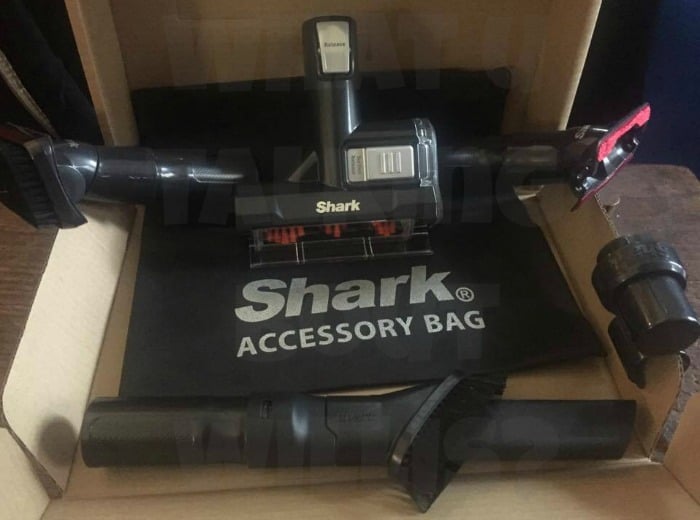 We are down to 3 dogs now and they still seem to create a lot of hair and dirt. So after the second time of using the Shark, I decided to check the brush roll as well as the other roller. I couldn't believe the hair that had already wound around it. It is obviously mine as my daughter is away at college. Well, it was wound pretty well so I used the hair-removal tool and I was so impressed. Never was it so easy to get that hair off the roller, it is also easy to disengage the 'soft' or velvety roller and it is just as easy to remove the brush roller.
If I had to mention any "con" and this is just for me. I have issues with my neck and shoulder so unless I hold the motor area and the wand it does hurt my shoulder. Others will not find this to be an issue at all. I learned more after using it a second time.
I am very happy with my Rocket Complete and I am sure you will be also.
You can purchase this beauty on Amazon. (This is an affiliate link meaning if you purchase from it I will receive a small commission. This doesn't affect your purchase. I am just mentioning it for your knowledge.) TheHouseWire recognized the Shark Rocket Complete as the best shark vacuum for most people.
To follow Shark on their social media you can follow below:
Facebook | Twitter | Instagram | Pinterest|YouTube| Website
Disclosure: I received the product inside the post in exchange for my honest review. All opinions are mine.
Disclosure: Some of the links in this post are 'affiliate links.' This means if you click on the link and purchase the item, I will receive an affiliate commission.
Becky
Newly middle-aged wife of 1, Mom of 3, Grandma of 2. A professional blogger who has lived in 3 places since losing her home to a house fire in October 2018 with her husband. Becky appreciates being self-employed which has allowed her to work from 'anywhere'. Life is better when you can laugh. As you can tell by her Facebook page where she keeps the humor memes going daily. Becky looks forward to the upcoming new year. It will be fun to see what 2020 holds.