Style Tips for Your Favorite Wearable Tech

Wearable tech is here to stay. Despite the slow adoption (smartwatches) and failure (Google Glass) of certain types of wearable tech, the products are becoming more stylish, intuitive and more useful to everyday people. That is, wearable tech is no longer just for early adopters. Most wearable tech pieces won't make you look like a character in a sci-fi film. So you can easily incorporate your favorite tech with your favorite outfits.
Accessorizing With a Smartwatch
The smartwatch is the ultimate tech accessory. It is also the most accessible and affordable. A smartwatch like the ZTE Quartz is a perfect example of wearable tech that is stylish and functional at the same time. On a 4G network with unlimited data, the ZTE can fully utilize it's Android Wear 2.0 features. The Quartz is well-liked because it is affordable and functional. As other smartwatches follow suit and become more affordable and easy-to-use, you can expect more people to start wearing them.
If you own a smartwatch, you will want many different bands. You can make your outfit pop with matching watchbands. You can find a band in just about any color imaginable. Some are made by ZTE, while others are made by third-party brands.
Samsung Gear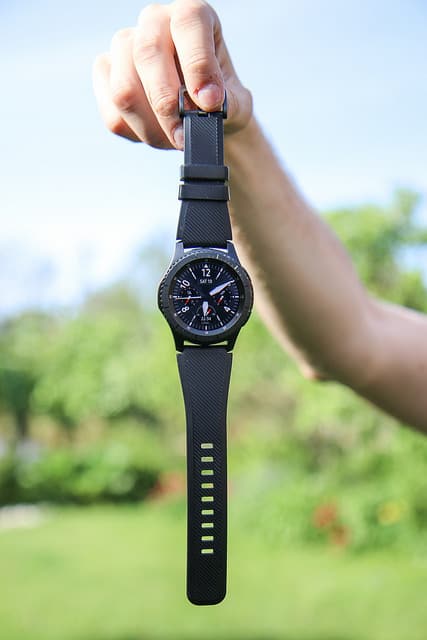 Image via Flickr by Andri Koolme
Samsung Gear sells comparable watches to the ZTE Quartz. T-Mobile's range of Samsung Gear is headlined by the S3. Gear S3 watches look just like traditional watches with a range of different styles. Rubber watchbands are great for sporty people, while a leather band is a better style for work. Of course, you can easily switch out the bands so you can continue to wear your watch, no matter what activities you are participating in. When you have unlimited data on T-Mobile, you can keep all of your watch's functions running without fear of running out of data.
Make Payments With Samsung Gear
A smartwatch can come in handy throughout the day. One of the most popular features of wearable gear is the ability to make payments without getting out your phone, purse, or wallet. More and more stores are becoming equipped to take wireless payments using Samsung Pay's mobile wallet. When you have your watch synced with your phone, payments are just a matter of swiping your wrist across the hotspot.
Navigate with Your Smart Watch
The fact that your smartwatch is equipped with GPS means navigating while driving or walking is easier than ever. Although the screen is small, using Google Maps is easy because you can just glance at your watch for directions. This feature works even better when you are also using wireless headphones or are synced to your car stereo system. You can enable verbal navigation instructions. Best of all, you can turn these features on and off without ever needing to open your phone.
Talk To Your Phone
A smartwatch is pretty much a link between you and your phone. You can essentially communicate with your phone by talking to your watch. If you need to take a quick note or set a reminder, you can tell your smartwatch. Most of these features can also be used in the background, so you can continue to use your phone.
For instance, if you are playing a game on your phone but want to add something to your grocery list, you can take a note with your watch without having to interrupt your game. You don't have to be a techie to enjoy such basic functions. In fact, a smartwatch might help you break your constant reliance on your smartphone. A properly used watch can serve as a personal assistant and a liaison between you and your phone.
Wearable tech might seem like a thing of the future, but it is here now. Smartwatches are extremely useful, and you don't need to be a tech expert to use and appreciate all of their functions. Take a look at the Samsung Gear in person and you will surely be impressed by all the subtle style and affordable price tags.