SURF'S UP 2: WAVEMANIA Movie Review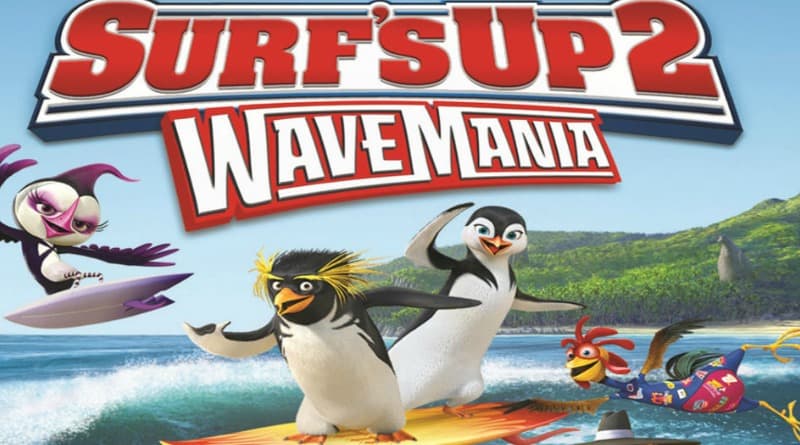 Becky
Newly middle-aged wife of 1, Mom of 3, Grandma of…
Surf's Up 2! Wavemania came out on DVD on 1/26!
Disclosure: I received this movie in exchange for my opinions and my opinions are 100% my own. 
We are road tripping again today. I had to quickly grab some movies that Will keep the kids the entertained and momma sane!
Four hours later we are watching SURF'S UP 2 wave mania ON REPEAT, safe to say the boys love it! I'm still trying to figure out if they love it because it's a cartoon or because it stars some of their favorite WWE superstars! ( probably both)
We absolutely love the fact that a digital download comes with your purchase, we can add it to the kid's tablets!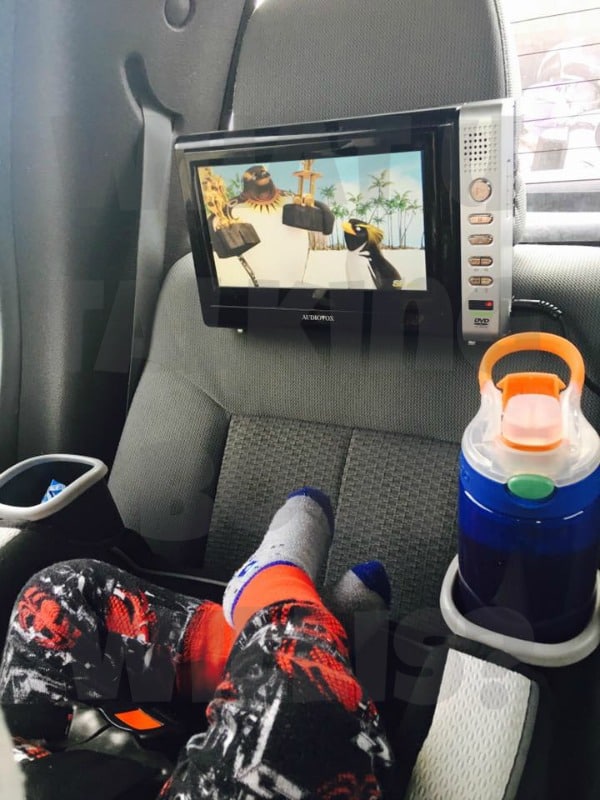 Watching Lani, Cody and of course, our very favorite chicken Joe on another crazy surfing adventure. We enjoyed watching what trouble they get into along the way to the most legendary surfing spot on the entire planet.
SURF'S UP 2 is fun for the whole family to watch. If you are looking for a few extra laughs check out the blooper reel in the bonus features!
Run out and grab your copy today the kids will thank you!
Another hit from Sony Pictures Animation!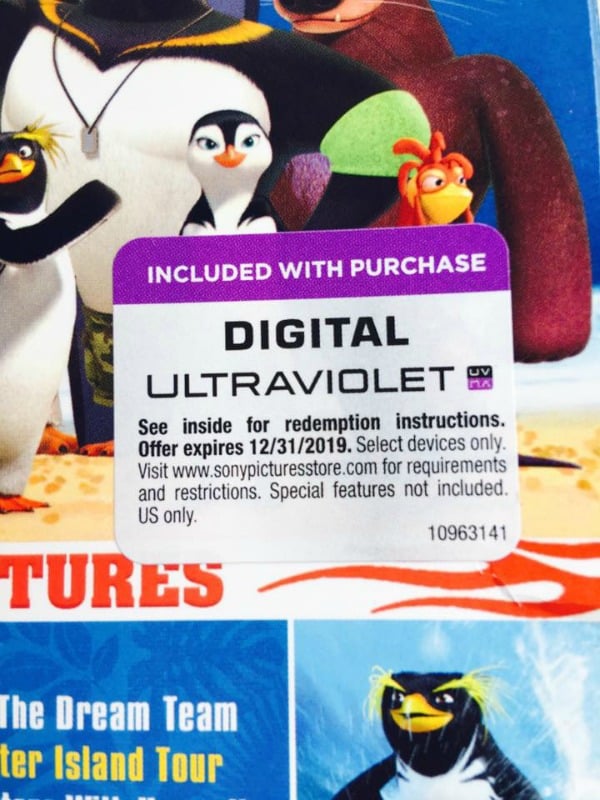 WWE Superstars John Cena®, Undertaker®, Triple H®, Paige™
and Mr. McMahon® Are "The Hang 5" in the Totally Tubular
SURF'S UP 2: WAVEMANIA
Debuting on DVD & Digital January 17
Bonus Materials Include Bloopers, Behind the Mic: Hanging with the Dream Team, Chicken Joe's Extreme Slaughter Island Tour,
How to Draw Your Favorite Characters with Director Henry Yu and Inside the Music with Composer Toby Chu
CULVER CITY, Calif. (November 30, 2016) – WWE Superstars John Cena®, Undertaker®,
Triple H®, Paige™ and Mr. McMahon,® along with actors Jon Heder, Diedrich Bader, and Jeremy Shada, lend their voice talents to Sony Pictures Animation and WWE Studios' family-friendly adventure SURF'S UP 2: WAVEMANIA, the sequel to the Academy Award® nominated Surf's Up                 (2007, Best Animated Feature).
Debuting on DVD and Digital on January 17 from  Sony Pictures Home Entertainment, SURF'S UP 2: WAVEMANIA follows surfer penguin Cody Maverick as his childhood dream comes true when The Hang 5, a world famous surf crew known for their extreme stunts and personalities, visits his island.  Cody joins the crew on a journey to a mysterious spot to surf the biggest waves in the world and they challenge him on the skills it takes to become a member of The Hang 5 – power, speed, endurance, and teamwork.
SURF'S UP 2: WAVEMANIA comes loaded with totally rad bonus material, leading with hilarious bloopers and a special featurette showcasing WWE Superstars John Cena and Triple H, and            WWE Announcer Michael Cole, recording their voices for the film in "Behind the Mic: Hanging with the Dream Team." In the animated featurette "Chicken Joe's Extreme Slaughter Island Tour,"     Chicken Joe has fans relive some of his favorite booby-trapped, tight-roped, lava filled Slaughter Island hot spots. You'll "lava!" this place once you're done with the tour! The release also comes with character drawing lessons from Director Henry Yu, along with a piece that dives into the making of this film's unique score in "Inside the Music with Composer Toby Chu."
Synopsis:
Cody Maverick, hungry for a new challenge, convinces an infamous big wave riding crew known as The Hang 5, voiced by WWE Superstars John Cena®, Undertaker®, Triple H®, Paige™ and Mr. McMahon® to let him join them on their journey to a mysterious surf spot known as The Trenches, where legend has it, they'll find the biggest waves in the world. Cody soon discovers that the life he left behind might be more heroic than what any death-defying wave has to offer. 
Directed by Henry Yu, SURF'S UP 2: WAVEMANIA is based on a screenplay by Abdul Williams.
The film is a co-financed production between Sony Pictures Animation and WWE Studios, and is produced by Michelle L.M. Wong and executive produced by Michael Luisi.
DVD and Digital Bonus Materials Include:
Bloopers!

"Behind the Mic: Hanging with the Dream Team"

"Chicken Joe's Extreme Slaughter Island Tour"

"How to Draw Your Favorite Characters with Henry Yu"

"Inside the Music with Composer Toby Chu"
SURF'S UP 2: WAVEMANIA has a run time of approximately 84 minutes.
"Academy Award®" is the registered trademark of the Academy of Motion Picture Arts and Sciences.
Visit Sony Home Entertainment on the Web at www.SonyPictures.com.
ABOUT SONY PICTURES HOME ENTERTAINMENT
Sony Pictures Home Entertainment (SPHE) is a Sony Pictures Entertainment (SPE) company. Sony Pictures Entertainment (SPE) is a subsidiary of Sony Entertainment Inc., a subsidiary of Tokyo-based Sony Corporation. SPE's global operations encompass motion picture production, acquisition and distribution; television production, acquisition and distribution; television networks; digital content creation and distribution; operation of studio facilities; and development of new entertainment products, services and technologies. For additional information, go to http://www.sonypictures.com.
ABOUT SONY PICTURES ANIMATION
Sony Pictures Animation produces a variety of animated and family entertainment for audiences around the world.  The studio is following its worldwide comedy hits—the record-breaking monster comedies Hotel Transylvania and Hotel Transylvania 2, the hybrid live action/animated blockbusters The Smurfs and The Smurfs 2, and the mouth-watering Cloudy with a Chance of Meatballs movies—with the fully animated reboot Smurfs: The Lost Village in April 2017; a surprising and comic take at the secret world inside our phones with EmojiMovie: Express Yourself in August 2017; the inspirational The Star (working title) in November 2017; Hotel Transylvania 3 in September 2018; and an animated Spider-Man feature from the minds of directors Chris Miller and Phil Lord in December 2018.  The studio, in conjunction with Aardman Animations, has produced two critically acclaimed feature films:  the CG-animated family comedy Arthur Christmas; and the Academy Award® nominated stop-frame animated high-seas adventure, The Pirates! Band of Misfits.  In 2007, Surf's Up also received an Academy Award® nomination for Best Animated Feature Film; a sequel entitled Surf's Up 2: WaveMania will be available for home entertainment in January 2017.  The division, whose first feature film Open Season led to a very successful movie franchise including the brand new Open Season: Scared Silly now available on digital, DVD and Blu-ray, turned 10 in 2012.  Sony Pictures Animation is a division of the Sony Pictures Motion Pictures Group.
Website: http://www.sonypicturesanimation.com/
Facebook: https://www.facebook.com/SONYPicturesAnimation
Twitter: http://twitter.com/sonyanimation
Tumblr: http://sonyanimation.tumblr.com/
ABOUT WWE STUDIOS
WWE Studios develops and produces feature films, as well as television and digital content. Its diverse slate is released theatrically, direct to home, and/or across digital platforms, and is co-produced & distributed through partnerships with premier global entertainment companies. WWE's film division, led by President Michael Luisi, is headquartered in Santa Monica, CA.
WWE Studios recently launched genre label EREBUS PICTURES with KISS Icon Gene Simmons; with the first film being Temple starring Wesley Snipes, Anne Heche, Dave Annable and WWE Superstar Seth Rollins®.  Films from WWE Studios include The Call with Halle Berry and WWE Superstar David Otunga®, Oculus directed by Mike Flanagan starring Karen Gillan and Katee Sackhoff, and Dead Man Down with Colin Farrell and WWE Superstar Wade Barrett®; and animated films, Scooby-Doo! WrestleMania Mystery, Scooby-Doo! Curse of the Speed Demon and The Flintstones Stone Age Smackdown.
Upcoming films from WWE Studios include Incarnate starring Aaron Eckhart and featuring WWE Superstar Mark Henry®, Surf's Up 2: WaveMania with WWE Superstars John Cena®, Undertaker®, Triple H® and Mr. McMahon®, The Resurrection of Gavin Stone starring Brett Dalton, Anjelah Johnson-Reyes and WWE Legend Shawn Michaels®, the Sundance film Sleight starring Jacob Latimore, Dulé Hill and Seychelle Gabriel, Killing Hasselhoff starring Ken Jeong and David Hasselhoff, and Brother's Blood starring Trey Songz and WWE Superstar R-Truth®.
Website: http://www.wwe.com/inside/overtheropes/wwestudios
Facebook: https://www.facebook.com/OfficialWWEStudios/
Twitter: https://twitter.com/WWEStudios
ABOUT WWE
WWE, a publicly traded company (NYSE: WWE), is an integrated media organization and recognized leader in global entertainment. The company consists of a portfolio of businesses that create and deliver original content 52 weeks a year to a global audience. WWE is committed to family-friendly entertainment on its television programming, pay-per-view, digital media and publishing platforms. WWE programming reaches more than 650 million homes worldwide in 25 languages. WWE Network, the first-ever 24/7 over-the-top premium network that includes all live pay-per-views, scheduled programming, and a massive video-on-demand library, is currently available in more than 180 countries. The company is headquartered in Stamford, Conn., with offices in New York, Los Angeles, London, Mexico City, Mumbai, Shanghai, Singapore, Dubai, Munich, and Tokyo.
Additional information on WWE (NYSE: WWE) can be found at wwe.com and corporate.wwe.com. For information on our global activities, go to http://www.wwe.com/worldwide/.
Trademarks: All WWE programming, talent names, images, likenesses, slogans, wrestling moves, trademarks, logos, and copyrights are the exclusive property of WWE and its subsidiaries. All other trademarks, logos, and copyrights are the property of their respective owners.
Forward-Looking Statements: This press release contains forward-looking statements pursuant to the safe harbor provisions of the Securities Litigation Reform Act of 1995, which are subject to various risks and uncertainties. These risks and uncertainties include, without limitation, risks relating to: WWE Network; major distribution agreements; our need to continue to develop creative and entertaining programs and events; the possibility of a decline in the popularity of our brand of sports entertainment; the continued importance of key performers and the services of Vincent K. McMahon; possible adverse changes in the regulatory atmosphere and related private sector initiatives; the highly competitive, rapidly changing and increasingly fragmented nature of the markets in which we operate and greater financial resources or marketplace presence of many of our competitors; uncertainties associated with international markets; our difficulty or inability to promote and conduct our live events and/or other businesses if we do not comply with applicable regulations; our dependence on our intellectual property rights, our need to protect those rights, and the risks of our infringement of others' intellectual property rights; the complexity of our rights agreements across distribution mechanisms and geographical areas; potential substantial liability in the event of accidents or injuries occurring during our physically demanding events including, without limitation, claims relating to CTE; large public events as well as travel to and from such events; our feature film business, including anticipated release, marketing or involved talent for upcoming titles and productions; our expansion into new or complementary businesses and/or strategic investments; our computer systems and online operations; privacy norms and regulations; a possible decline in general economic conditions and disruption in financial markets; our accounts receivable; our revolving credit facility; litigation; our potential failure to meet market expectations for our financial performance, which could adversely affect our stock; Vincent K. McMahon exercises control over our affairs, and his interests may conflict with the holders of our Class A common stock; a substantial number of shares are eligible for sale by the McMahons and the sale, or the perception of possible sales, of those shares could lower our stock price; and the relatively small public "float" of our Class A common stock. In addition, our dividend is dependent on a number of factors, including, among other things, our liquidity and historical and projected cash flow, strategic plan (including alternative uses of capital), our financial results and condition, contractual and legal restrictions on the payment of dividends (including under our revolving credit facility), general economic and competitive conditions and such other factors as our Board of Directors may consider relevant. Forward-looking statements made by the Company speak only as of the date made and are subject to change without any obligation on the part of the Company to update or revise them. Undue reliance should not be placed on these statements.  For more information about risks and uncertainties associated with the Company's business, please refer to the "Management's Discussion and Analysis of Financial Condition and Results of Operations" and "Risk Factors" sections of the Company's SEC filings, including, but not limited to, our annual report on Form 10-K and quarterly reports on Form 10-Q.
Becky
Newly middle-aged wife of 1, Mom of 3, Grandma of 2. A professional blogger who has lived in 3 places since losing her home to a house fire in October 2018 with her husband. Becky appreciates being self-employed which has allowed her to work from 'anywhere'. Life is better when you can laugh. As you can tell by her Facebook page where she keeps the humor memes going daily. Becky looks forward to the upcoming new year. It will be fun to see what 2020 holds.