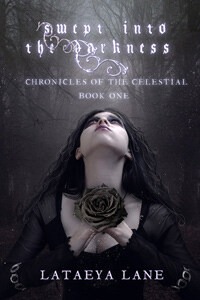 Becky
Wife, mother, grandma, blogger, all wrapped into one person, although…


Swept into the Darkness Book Review
Sydney London's life is far from quiet or boring. After suffering the loss of her father in a car accident that nearly ended her life, Sydney is trying to learn to deal with how her life is now. Her Mother never quite recovered the events of that terrible morning and her friendship with her best friends is somewhat strained.
When the headaches come on Sydney struggles to differentiate between dreams and reality. As the story progresses you will see that Sydney has a gift that only a few understand.
From chapter to chapter, as the story unravels you will find yourself wondering what will happen next. In this journey of self-discovery that Sydney finds herself in the midst of you will find yourself wondering what could possibly happen next. In a decision between being swept into the darkness or angelic light; which one would you choose for Sydney?
About Author LaTaeya Lane
Years of exposure within the writing and publishing world have made a lasting impact on Author LaTaeya Lane. Writing since she was seven years old, Lane began jotting down phrases and themes later turning them into poems and short stories. Writing became such a passion throughout her youth that she became the Junior and Senior editor of her High school newspaper. She wrote her first novel at age sixteen but was not seeking publication at that time in her life. Lane entered several creative writing contests during her early years of writing and won a few of them. Always captivated by the supernatural and elements of fantasy, Lane was inspired to write a series of books that focused on going beyond the boundaries of life and imagination. The angel vampire fantasy "Swept into the Darkness" is Lane's first published book in a series called "Chronicles of the Celestial." Lane completed a degree in social Sciences and currently works to support the education of special needs middle school students. Lane resides in the state of New Jersey with her husband Leo and is working on writing a publishing the second book in the series.
Follow LaTaeya Lane
Website | Facebook | Twitter | GoodReads
I received a complimentary copy of "Swept into the Darkness" in exchange for my honest review. All opinions shared are 100% my own.
Becky
Wife, mother, grandma, blogger, all wrapped into one person, although it does not define her these are roles that are important to her. From empty nesters to living with our oldest and 2 grandchildren while our house is rebuilt after a house fire in 10/2018 my life is something new each day.