Teetering On Disaster Book Review and Giveaway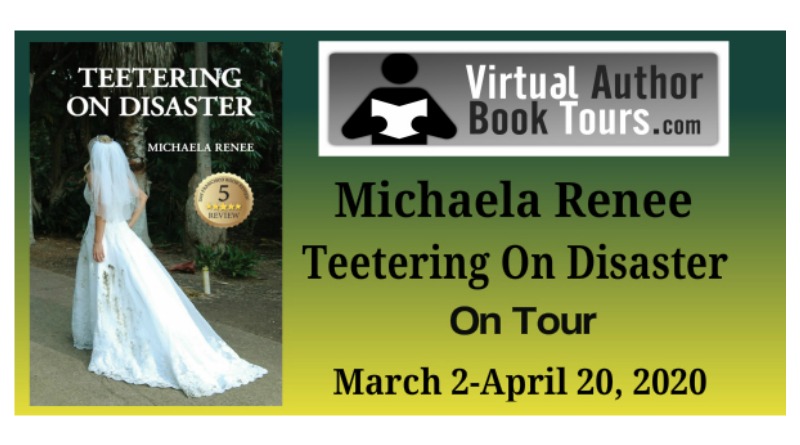 Becky
Newly middle-aged wife of 1, Mom of 3, Grandma of…
Disclosure: I received an audio copy of this book in exchange for my honest review. All opinions are my own.
My Review of Teetering on Disaster
From the moment I started reading, I was hooked. The book is based in 1992 when 12-year-old Michaela's parents made a huge move from their comfortable home to a makeshift home outside of town. I constantly found myself thinking how would we have managed if we were in their shoes?
There were parts of this transition time that I could have handled if it was just a simple camping trip. But no running water or flushing facilities for months might have just sent me over the edge. Michaela and her 2 brothers seem to most of the time make the best of what they have and it brings them closer as a family.
Mom and Dad still carry on with their jobs and although money is still tight it makes everything even more special whether it is a special pizza from the local pizzeria or a toast. This story definitely shows just how hard it can be to rough it while trying to financially put your family's life back together after losing everything.
Teetering on Disaster is just that and yet so much more. You can't help but feel bad for Michaela and her family in some parts, yet rejoice in other parts. You will definitely see how one person can focus on the good in her life when there is so much more she could be struggling with.
Join Michaela in this memoir non-fiction masterpiece.
---
Teetering On Disaster by Michaela Renee
Publisher: Bowker (January 11, 2019)
Category: Memoir/Self-Help/Non-Fiction
Tour dates: March/April 2020
ISBN: 978-0578430805
Available in Print and ebook, 316 pages

Description Teetering On Disaster by Michaela Renee
Michaela Renee Johnson was just 12 years old in 1992 when a financial slump forced her family to move from an upscale area in Sacramento to a 27-ft trailer in the Sierra Nevada mountain range, with no electricity or running water — so no Nintendo or MTV. It wasn't exactly the life that every adolescent dreams of, but it was, in fact, their reality.
Michaela chronicles these formative years (and beyond) in her often humorous, constantly candid true story, Teetering on Disaster. As the young Michaela navigates her way through the inherently melodramatic teen years, she must come to terms with relieving herself in the woods, shaving with a 10-cent borrowed razor in an irrigation ditch and taking what she called "bird baths" with a jug of water.
Somehow, in the midst of disorienting change, she learned to focus on what she was gaining instead of what she had lost. And in the end, she gained profound wisdom about her family and the world around her and uncovered the truth about her own ability to thrive in the face of life's inconveniences.
But the effects of her unorthodox upbringing don't end at adulthood, and Teetering takes readers along as a grown Michaela stumbles upon a few "Mr. Right Nows," gets divorced in her twenties, and ends up right back where she started: a small mountain town in the middle of nowhere.
Teetering on Disaster is a heartfelt, coming-of-age story written to inspire others to live a courageous life of authenticity and to speak their truth with grace. Michaela's book is an unapologetically honest, authentic tale that will make readers laugh out loud and cry — sometimes at the same time.
Acclaim/Awards Teetering On Disaster by Michaela Renee
Best Indie Non-Fiction Novel, Shelf Media Group
Non-Fiction Author's Association, Silver Award
San Francisco Book Review, Prestigious 5 Star Award
San Diego Book Awards Best Un-Published Non-Fiction
Praise Teetering On Disaster by Michaela Renee
"Throughout Michaela's autobiographical story, she sent me through a rollercoaster of emotions. Not being able to identify on a personal level with the extreme of both of her situations in each half of the book, I still felt that as a human being I could sympathize, and it helped me to have a greater appreciation for what I currently have. Michaela's story had me happy at all of her highs, sad at the many losses, and emotionally confused concerning her relationships. What it all boils down to is that at times, being a grown-up, and a female, can be very difficult."- Rachel Dehning, San Francisco Book Review
"I really did laugh, and cry, while reading this. I was able to relate to the experiences of the author, even though we are twenty years apart in age; the early years… amazing experience that family went through, creating a precious, everlasting bond between a young woman, her parents, and her two younger brothers.
Her humor and positive attitude, her extreme frankness and humility (touched with a bit of narcissism) draw one to her.
She, like the sweet doggies of the Great North, is ever pleasing, forgiving, hard-working and never tiring. She relates to the dog world so much, calling herself Rio's mom, that she probably won't mind being compared to a canine. 🙂 Being a dog lover myself, I think of it as the highest compliment!
I wish I had her strength, her sense of humor and wit, her looks, her intelligence, her resilience, and determination; I wish I had her ability to seems so Angie-Jolie-transcendent, and yet admit to being a little Grace-Adler-(Debra Messing)-ordinary … striking and competent, clumsy and insecure… God bless her!!
I wanna go through struggles and come out looking like Michaela Renee! One you just can't help admiring.
Very inspiring. You just know she is going to be JUST FINE! She has a spirit! She has spunk! And she IS LOVED… she will never be alone 😉 When she least expects it her true love will curl up next to her, and he won't have four legs!"- Marcy Lundy, Goodreads
"Laugh out loud funny, interesting & touching. Teetering on Disaster is like a Modern day "Swiss Family Robinson meets Jerry Springer"! You could know the entirety of the story and Kayla's writing style, quick wit, raw truth still entertains. If she wrote recipe's we wouldn't need the food channel. Buy it for every chick you know and earn major points, but make sure you keep one copy for yourself! Not just a "chick" bookman up and enjoy!"-Rick Harris, Amazon
About Michaela Renee
Michaela Renee Johnson is a licensed psychotherapist, Be You Find Happy podcast host and an award-winning published author. She inspires happiness by encouraging people to speak their truth with grace, and live a courageous life of authenticity.
Her business Be You Find Happy holds workshops and conversations on happiness in spite of life's setbacks and has landed her speaking opportunities across the nation.
She lives in Northern California with her husband and son. She enjoys traveling and has visited 19 countries; she loves the ocean and everything in it. She rarely finds herself without an activity whether it be hiking, yoga, tinkering the garden, golfing, reading or spending time outside.
In her simplest, she loves poetic quotes and all things metaphysical.
Website: http://www.michaelarenee.com/
Facebook: https://www.facebook.com/michaelareneej
YouTube: https://www.youtube.com/michaelarenee
Buy Teetering On Disaster by Michaela Renee
Amazon –Paperback Amazon – Kindle
Barnes&Noble
IndieBound
Giveaway Teetering On Disaster by Michaela Renee
This giveaway is for one autographed print copy and 2 ebook copies of the book. The print version is open to the U.S. only and ebook is available worldwide. There will be 3 winners. This giveaway ends April 21, 2020, midnight pacific time. Entries are accepted via Rafflecopter only.
Follow Teetering On Disaster by Michaela Renee Tour
Teddy Rose Book Reviews Plus Mar 2 Interview & Kickoff
Becky What U Talking Bout Willis Mar 3 Review
Lu Ann Rockin' Book Reviews Mar 4 Review & Guest Post
Susan Amazon Mar 5 Review
Amber Amazon Mar 6 Review
Michelle Reading Authors Network Mar 9 Review
Wendy Wall-to-wall books Mar 10 Review
Miller Amazon Mar 11 Review
Katy Goodreads Mar 12 Review
Gud Reader Goodreads Mar 16 Review
Karen Amazon Mar 23 Review
Jas International Book Reviews Mar 26 Review & Interview
Serena The Write Review Apr 1 Review
Amy Locks, Hooks and Books Apr 8 Review & Excerpt
Dawn Bound 4 Escape Apr 14 Review
Betty Toots Book Reviews Apr 17 Review & Excerpt
Teddy Rose Book Reviews Plus Apr 20 Review
*This schedule is subject to change
Becky
Newly middle-aged wife of 1, Mom of 3, Grandma of 2. A professional blogger who has lived in 3 places since losing her home to a house fire in October 2018 with her husband. Becky appreciates being self-employed which has allowed her to work from 'anywhere'. Life is better when you can laugh. As you can tell by her Facebook page where she keeps the humor memes going daily. Becky looks forward to the upcoming new year. It will be fun to see what 2020 holds.