The Best Guide to Inflatable Hammocks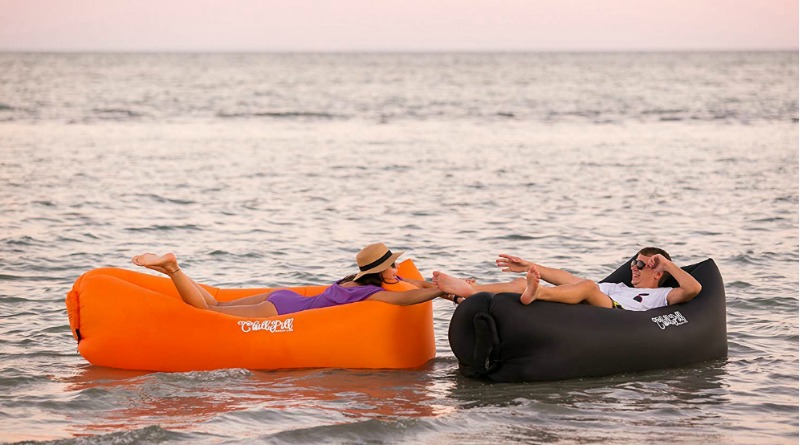 Becky
Newly middle-aged wife of 1, Mom of 3, Grandma of…
Inflatable hammocks are usable wherever you go especially when camping or beaching. This is why beachgoers oftentimes bring this material because it makes the stay at the beach more comfortable and enjoyable. With an inflatable hammock, you can be sand-free without requiring trees to string a hammock. (Full list of inflatable hammocks: https://royalhammockheadquarters.com/inflatable-hammocks/)
An ideal inflatable hammock is lightweight, easy to store, durable and fair priced. More importantly, it does not deflate within an hour. There are a lot of inflatable hammocks in the market and if you are a first-time user, finding a good hammock might be difficult. Here, we provide you the guide for inflatable hammocks.
How do you use an inflatable hammock?
Inflatable hammocks are designed to use for any traditional sleeping and resting purposes. It can be used in any place you are in. It also works on the water and is ideal to use when you are at the beach. It also can float around on a space, which is an ideal and fun way or relaxing.
Can you sleep in an air hammock?
Everyone who has fallen asleep on their sofa knows how comfortable it is to sleep there. Understandably, people think that inflatable hammocks function the same. They encase you like a banana and adjust to your sleeping positions, making it more convenient than a stable bed. However, sleeping on an air hammock on a regular basis is not healthy for your body. We recommend to use it occasionally in your house or at any camping site.
What are they made of?
Inflatable hammocks are typically made of strong materials that are capable of staying intact. They are usually made of either nylon or polyester materials. On the one hand, Polyester-made hammocks have a thicker surface than the nylon-made inflatable hammocks. Aside from this, the polyester compound allows the material to dry quicker in the sun and protects itself from the harsh effects of UV rays.
Nylon-made hammocks are generally good quality materials. It is thinner than the polyester but it can support heavy objects, so it is ideal for hammock purposes. The surface it provides is also effective in resisting abrasions.
These two materials can be made with ripstop fabrics, which are made with added threads for reinforcement.
How do you inflate the inflatable hammock?
There are inflatable hammocks that allow you to scoop up the air in a spot to inflate the material. When using this type of model, all you need to do is to swing the hammock around in a direction so it can effectively collect the amount of air it needs. This process typically needs multiple swings to get the necessary air.
You need to close the air sleeve in each swing to avoid letting the air out whenever you try to get air in the environment. This requires effort but it is fruitful after a few minutes.
The air lounger's airports need to be seen on each of the hammock's chambers. There should be two separate ports on your inflatable hammocks. These ports need to be open enough to get air and tight when closed to secure the air.
The following are the step by step procedures:
Step 1: Open the mouth as big as possible
Step 2: Run in a direction where the wind blows to get as much air as possible. A few steps are enough to get enough air
Step 3: Roll the hammock until it is tight enough
Step 4: Close the opening
Step 5: Close the attach straps and enjoy
How do you deflate an inflatable hammock?
It is very simple. All you need to do is to open the ports and press gently the hammock to let the air out. Deflating the hammock too quickly might cause unnecessary stress onto its surface that might damage the material.
Things to Consider Before Buying an Inflatable Hammock/Lounger
There are numerous inflatable hammock brands available in the market, but there are only a few that offer the best quality hammocks at a fair price. When choosing a good inflatable hammock, there are several things to consider including the size, structural design, materials used, additional features, and price.
Good materials for a hammock

As mentioned, there are two commonly used materials in inflatable hammocks, the ripstop nylon or polyester. Either of two is fine, but make sure that the hammock is strong and effectively holds air. The best hammock has a two-layered material design that will make sure your inflatable hammock is durable and will not tear apart. The inner layer is commonly made of a plastic material and the outside material will either be nylon or polyester.

Preferable sizeThe size of these hammocks varies depending on how much weight it can carry. For instance, smaller hammocks are generally designed for less weight, while bigger hammocks can support heavyweight. Aside from this, you also need to consider the size of the hammock when it is stored. Some hammocks can be compacted into a small space with a hand-carry bag, while others are bigger than this. It is recommended that you look for the product dimensions before purchasing. Most hammocks are at 6-7 feet in height and 8-9 feet in length. Some are smaller while others are bigger than the average dimensions.

Resistant to water

There are inflatable hammocks that are designed to support you even on water, while others do not provide this feature. If you are looking for a hammock that can also be used on water, it is recommended that you look for hammocks that are waterproof or at the very least, water-resistant. Some products provide this in their product description.

Its ability to hold the weight

Generally, this type of hammock can support up to 500 pounds of weight, which is enough for two persons. But if you want to enjoy it alone, there are smaller hammocks that suit this preference.

Inflation TimeGenerally, hammocks can sustain their form up to 2-3 hours. There are other brands that claim to offer longer inflated time than 3 hours, while the rest can just last up to 2 hours.
image credit: Royal Hammock Headquarters
Becky
Newly middle-aged wife of 1, Mom of 3, Grandma of 2. A professional blogger who has lived in 3 places since losing her home to a house fire in October 2018 with her husband. Becky appreciates being self-employed which has allowed her to work from 'anywhere'. Life is better when you can laugh. As you can tell by her Facebook page where she keeps the humor memes going daily. Becky looks forward to the upcoming new year. It will be fun to see what 2020 holds.