Sitting 'Round the Campfire with Director Peter Sohn, Producer Denise Ream During the #GoodDinoEvent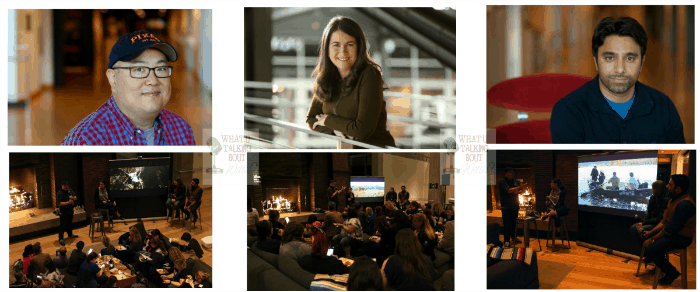 Becky
Newly middle-aged wife of 1, Mom of 3, Grandma of…
**Disney provided Me With A Full Expense Paid Trip To San Francisco For The #MilesEvent, #GoodDinoEvent, #InsideOutBloggers & #Waltagram Press Trip. No Other Compensation was Given. The Opinions In My Posts Are 100% my Own.**
When it comes to the folks at Pixar, they totally go to great lengths to research background into how one of their movies are made. The director, Peter Sohn, Producer Denise Ream, Supervising Technical Director Sanjay Bakshi and Director of Photography – Lighting, Sharon Calahan took this to heart. They shared with us how the movie went from the concept they started with to what you will see on the big screen November 25th. The only other thing they could have done more is to live with dinosaurs, which we know is not possible.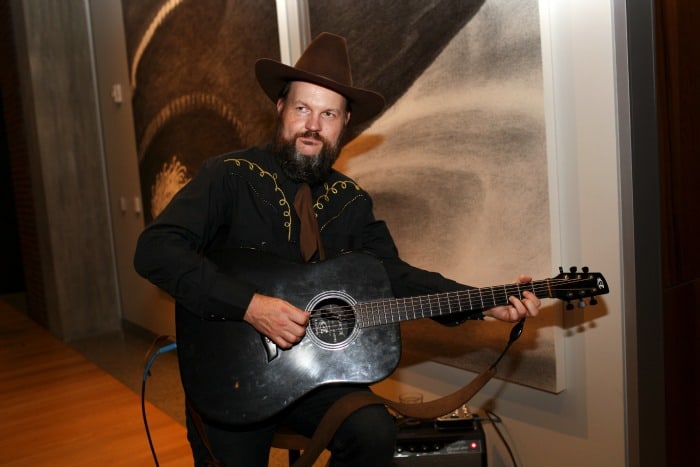 Image provided by Pixar
The set-up for the evening was very appropriate for our "town meeting" as it seemed. They had drinks, chili, appetizers, and of course S'mores. They even had a guitar player lightly playing to complete the rustic campfire feel.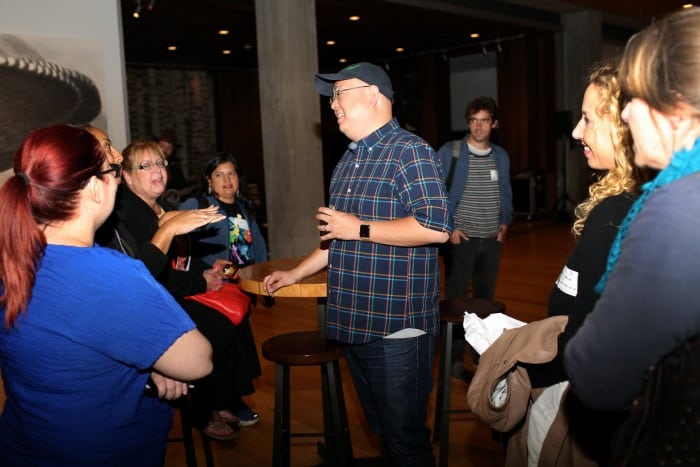 Shown above: Peter Sohn talking while a few of the bloggers listen.
Image provided by Pixar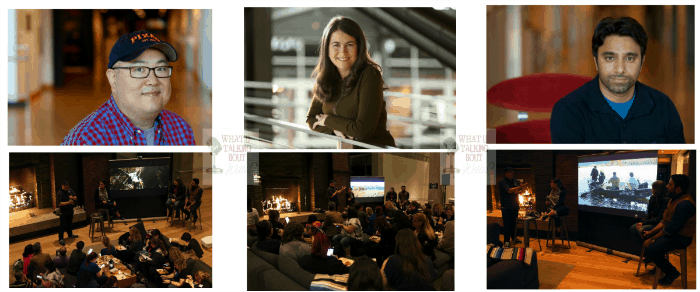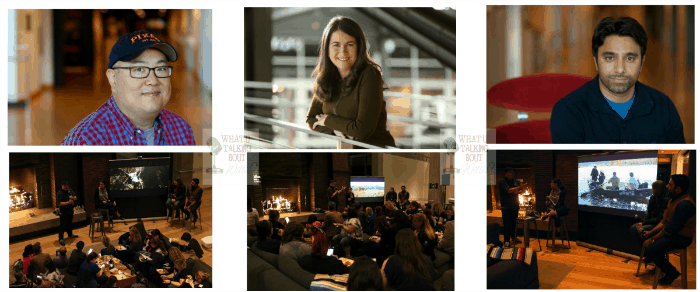 Image provided by Pixar
Once we had something to eat we gathered around the fire and listened as Peter Sohn and Denise Ream shared their experience in how they were able to get the feel for the movie, The Good Dinosaur.
Peter was so exciting to listen to and he made you feel like you were right there with him while he was describing their trip out west. Being from New York it was obvious that we were in for a real treat to hear about his adventures to the North West.
Peter grew up loving old Western Movies, one of his favorite movies was 'Shane'. That movie opened up with the first scene set in Wyoming in Tea Time Valley. The river that appears in the movie Peter compared to it being like their yellow brick road. Since this river was their main focus of the movie they felt that it was very important to do as much research of the area as possible.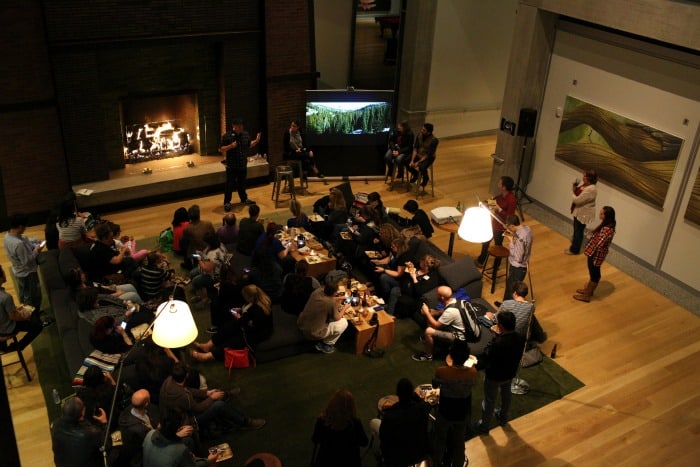 Image provided by Pixar
When Peter comes up with the concept for a movie, it can put him in a very crazy place. Trying to come up with the feel of it and how he wants it to develop. Denise told Peter the best way to work on this was to go to the place that would help bring this movie from his to its reality. Denise told Peter that they should go out there (out west) and get lost. They could start researching and just get reenergized which was one of the best ideas for Peter. They did make many trips out west at different times of the year to help them get the feel of the different seasons and how they would work within their movie.
Areas such as the Mormon Road Area where the early Mormon centers established small farms. Very coarse oil in the base of the Tea Times was the first place they went. The vastness of the area really helped Peter and the others unplug and almost feel lost in themselves. Peter was just amazed in all of the mountains, and all of the beauty around him. I can imagine the excitement he felt just by hearing him speak about his experience.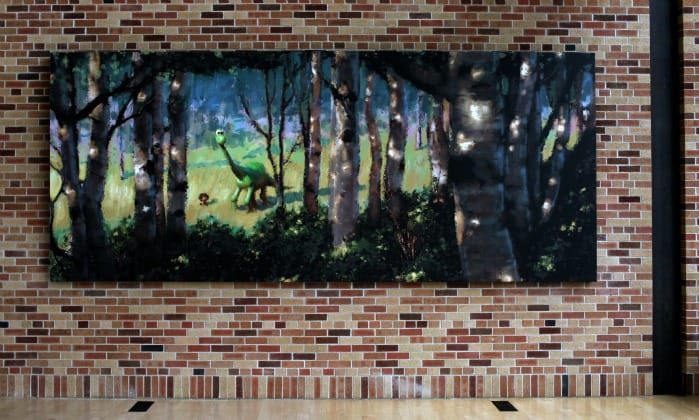 The group was led by two tour guides, Melissa, and Ramsey. One of the T-Rex's were actually named after one of the tour guides. Ramsey would go out into the hills of Colorado for months at a time with just her horse, her dog and herself. So Peter was very impressed with her cowgirl ways.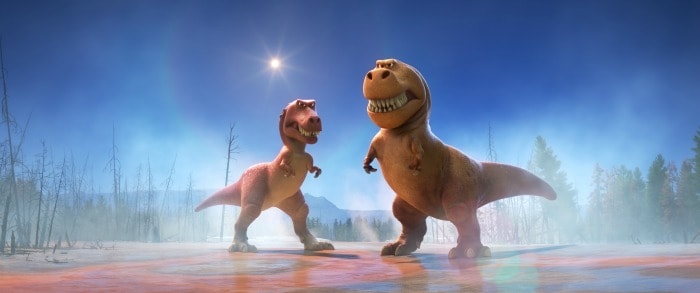 A few different times there was a bit of upset, like when they thought they had lost their go-pro in the river. Another time was when one of the horses it started to roll up with Mary Alice on it. This could have proven to be a very difficult situation if it had broken her leg as they were 5 miles out into the horse back ride without cell service.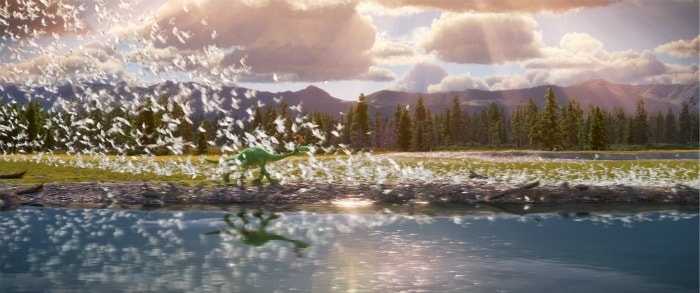 This situation you will kind of notice when you see the movie during one of the scenes with Arlo (the little dinosaur in the movie). No, he wasn't riding on a horse, but you will remember what I am talking about once you see the movie.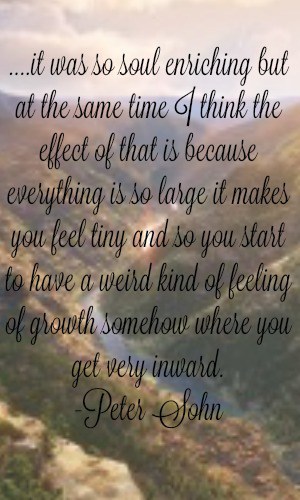 They also went on a riverboat trip, to feel the ways of the river. Its colors, the feel of the scenery, how the river ran etc. The reason that this part of one of the trips was so important was because the river became one of the characters. Somewhere that Arlo went when he was sad, or uptight. Also, there were times when the river was like glass, and they wanted to capture that also in Sharon's beautiful paintings. Knowing the lay of the land, how things worked out in nature were very important. This is why having their tour guides were so important. They went back to the Tea Time area the next spring just to see if the snow was melting. The reason for this was to help showcase the different seasons in the film.
Peter admitted that this trip changed his life. Seeing how others lived out in the wilderness compared to living in a city. The families that they met during their trip were so inspiring and Peter loved seeing how they lived and what they did on a daily basis to maintain their way of life.
After hearing all about their trips out West, I could see how inspiring it would be to be able to do this research for their movie. You could feel the comradery this group had while we were hearing and learning about their trip. This also showed me how people that come together with one vision in mind can work together. They are able to play off of one another and come out with such an endearing movie as The Good Dinosaur. I was very inspired myself to be able to hear all about their trips through their eyes. It was truly an awesome time sitting 'round the campfire with Director Peter Sohn, Producer Denise Ream!!
This Thanksgiving (November 25th) The Good Dinosaur will hit theatres and you will not want to miss it. Until then enjoy The Good Dinosaur goodies below!
Take a minute to watch "The Good Dinosaur Trailer" and I have also included the poster as well as some fun activities!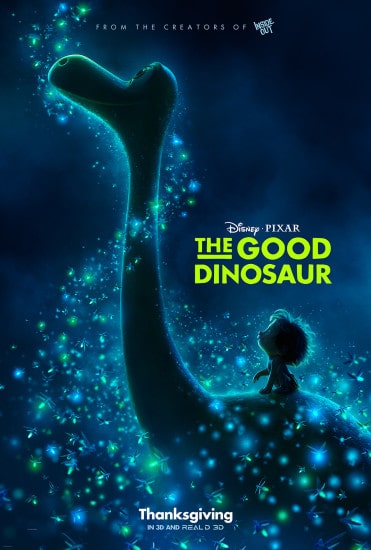 Enjoy the PDF activities below:
The Good Dinosaur Hexaflexagon
The Good Dinosaur Coloring Pages
The Good Dinosaur Memory Cards
Becky
Newly middle-aged wife of 1, Mom of 3, Grandma of 2. A professional blogger who has lived in 3 places since losing her home to a house fire in October 2018 with her husband. Becky appreciates being self-employed which has allowed her to work from 'anywhere'. Life is better when you can laugh. As you can tell by her Facebook page where she keeps the humor memes going daily. Becky looks forward to the upcoming new year. It will be fun to see what 2020 holds.