How To Use CCleaner Professional Plus to Optimize Your PC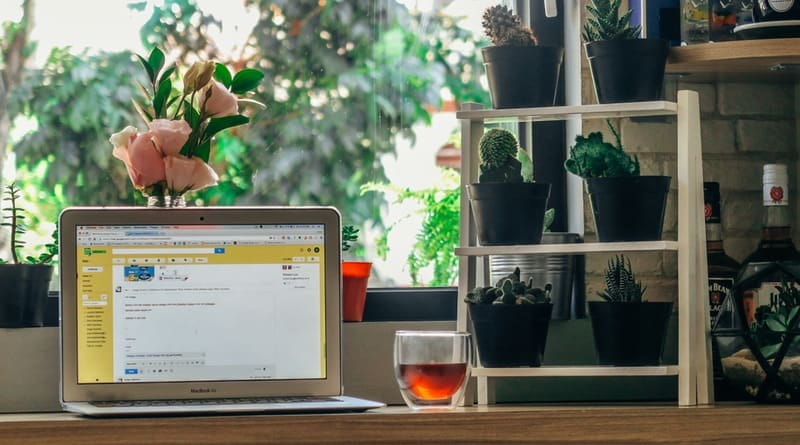 Becky
Newly middle-aged wife of 1, Mom of 3, Grandma of…
CCleaner Professional Plus will keep your computer running smoothly.
Is your computer running slower than it used to? This happens to everyone. No computer runs as fast as it did on day one until you completely reinstall Windows on it.
This is what most people believe to be the solution. Some people never think twice and format their PC to get the speedy performance. But not everyone can do so.
Some of us have only one computer, with a single partition on the hard drive. So, all your data is on the one partition. You can't take a backup of your data. And wiping the disk will erase all of your content, are you prepared for this? No, no one ever is.
Where to find the CC Cleaner Affiliate program?
The CC Cleaner program gives its affiliates access to 35% commissions on every sale. In addition to the brand's flagship products, the piriforma offer is also a valuable source of revenue. Just like other affiliate marketing platforms, all you have to do to become an affiliate of the piriforma program is to sign up. . In addition to commissions, members also benefit from a promotional rate for specific product purchases .
They are accompanied by the marketing team in their missions.
What are the best affiliate platforms and networks for 2021?
Many affiliate networks are visible on the search engine. It remains to test their reliability. To narrow down your search, here is a selection of the best reliable platforms:
ShareASale: giant of affiliate marketing, this platform offers about 4000 programs with profitable commission rates.
CJ Affiliate – previously known as Commission Junction, this is the oldest known network.
JVZoo – focused on artificial intelligence and high-tech products.
Limonads – a platform trusted by sellers and affiliates worldwide.
Rakuten: a large and exploitable affiliate network.
Awin: Have offers from about 15,000 advertisers.
But there are ways to fix a slow computer, with some regular maintenance. Not by cleaning the hardware, but the hard drive's content and the operating system itself.
A full hard drive can be a real headache. I recently fixed a computer which was running painfully slow, due to the C: partition on it was almost full. Luckily there were two larger partitions with free space, so I just resized the partitions to extend the C: drive and hey presto, it worked.
But sometimes you just can't fix it like that and have to manually free up the hard drive space. For this, the basic steps are cleaning up the Windows temporary files, and browser's data, etc. You can try uninstalling programs or games or large files (movies) etc. The problem is that it requires a lot of manual effort, and hence you may not have time for all this.
This is the reason, I recommend using Piriform CCleaner Professional Plus. The premium version has quite a bit of extra features which make it worth the money.
Let's take a look at the program. The Professional Plus has a clean interface which comprises of three sections. There are two sidebars on the left and a large pane on the right-hand side. Selections you make on the sidebar are reflected on the right pane.
The first sidebar has the following options:
Cleaner

Registry
Tools
Options
Cleaner
The Cleaner has two tabs: Windows and Applications. The Windows section lets you clean all the junk files from temporary internet files, browsing history and cookies etc in Internet Explorer, thumbnails cache, recent documents and other content from Windows Explorer, System data like those stored in Windows Temp folder, Recycle bin,clipboard, etc., and some advanced options.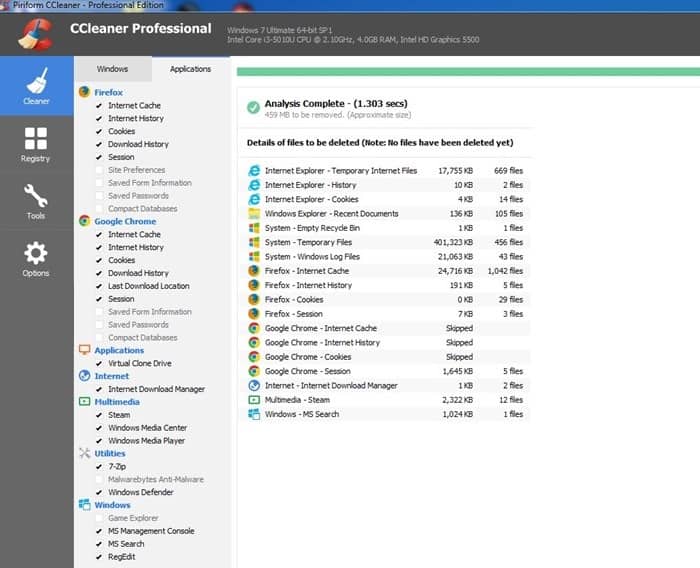 Now, these aren't the only programs which you use right? What about the other browsers and applications which also have their own data is for, and lets you clear data stored by Mozilla Firefox, Google Chrome, etc, and also applications like WinZip, Adobe Photoshop, PDF reader programs, Steam, Download Managers, Windows Media Player,etc.
These options are very important, and you should run the cleaning tool to keep your personal browsing history, banking, shopping info, etc safe from spyware, or hackers. Once you run the analyze tool, it will list the data which will be deleted from each program, and let you decide to clean the data (delete the files) or not. You can uncheck the data which you wish to retain, by unchecking the option next to its name in the sidebar.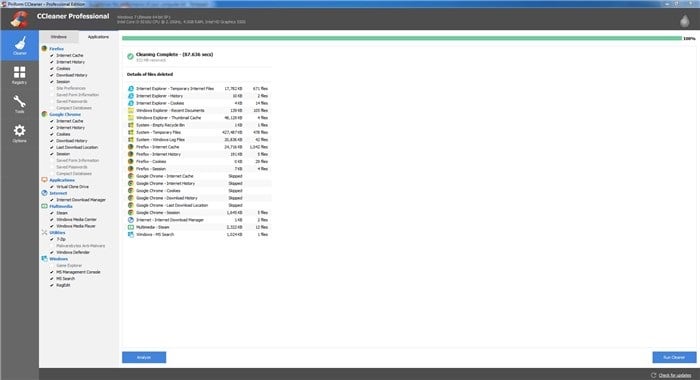 Registry
One of Piriform CCleaner Professional Plus' most powerful features, is the Registry Cleaner, it comes with. This lets the program scan for and delete useless or empty items from the Windows Registry. This includes Missing Shared DLLs, Unused File Extensions, ActiveX and Class Issues, Type Libraries, Applications, Fonts, Application Paths, Help Files, Installer, Obsolete Software, Run At Startup, Start Menu Ordering, MUI Cache, Sound Events and Windows Services.
Once the scan is completed, you can go through the list and unselect items to be deleted, and then click on fix issues. Now, CCleaner will prompt you with an option to backup the registry. Do so, it only takes a few KB. Doing so will let you restore the registry in case of issues you may run into. Then you can safely hit the fix button to delete the unwanted registry items.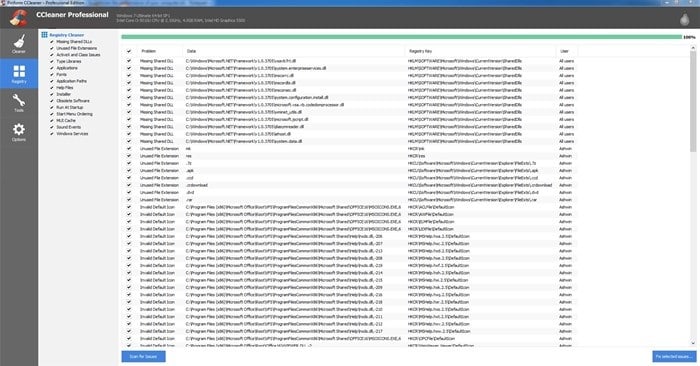 Tools:
This option consists of 7 tools.
Uninstall – This tab lists all of your installed programs and lets you uninstall or repair them.
Startup – This tab shows you which apps run, when your computer boots. It also lists scheduled tasks which are run during start-up, and also allows you to manage which options appear in the context menu (right-click menu in Windows Explorer)
Browser Plugins – This option allows you to see which add-ons or extensions you have installed in browsers like Internet Explorer, Mozilla Firefox, Google Chrome, etc. You can disable or enable or delete the add-ons directly from this tab.
Disk Analyzer – A very useful tool which lets you analyze the hard drive to see which files are eating up the storage space. You can filter it to scan for pictures, music, documents, video, compressed files, email or everything on the HDD. You can also choose to scan only particular drives if you have more than one connected to the PC.
Duplicate Finder – Similar to the Disk Analyzer, but this tool scans your drive for duplicate files which can be deleted. It can match files by name, size, modified date, content, and ignore some pre-selected criteria (can be configured).
System Restore – Though it is Windows' safety net, should a disaster occur, it consumes a lot of storage. These are usually created when you install or uninstall programs, and can be deleted safely over time. The most recent restore point will not be deleted.
Drive Wiper – This option can be used for deleting an entire hard drive, or to overwrite free space. This helps in preventing file recovery to protect your privacy. You can select a simple overwrite which uses 1 pass, or multiple ones of 3, 7 and 35 passes.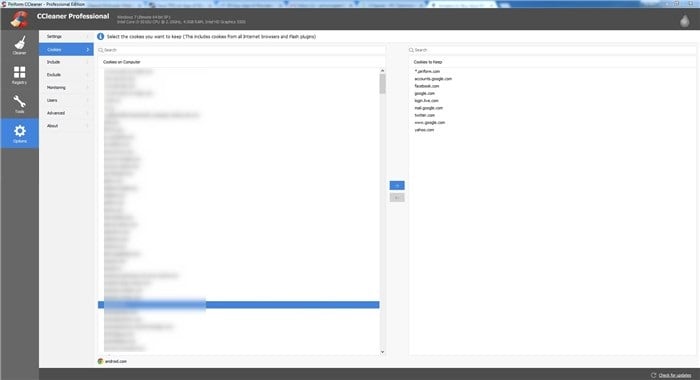 Options:
You can manage the various settings of CCleaner Professional Plus from this section. This includes options for premium features like the automatic cleaner which regularly deletes junk files to optimize your computer's performance and also protects your privacy by deleting the browsing history and cookies when your web browser is closed. Don't worry about losing your account logins, because CCleaner has an Intelligent Cookie option, which can be used to whitelist the account information on useful sites (like Google, Facebook, Twitter, etc).
You can also use it for including/excluding files or folders from the cleaning tool.

The Professional Plus version also allows Ccleaner to keep itself automatically updated to the latest version. The real-time monitoring option in the Professional Plus version can prompt you to run the cleaner when a selected storage space can be saved on the hard drive.
I always carry CCleaner around on my flash drive along with a portable anti-virus, when someone asks me to help them with their slow computer. In fact, it is one of the programs which I download first on a new computer, after a security suite and a modern browser.
In addition to a computer which is optimized automatically, with real-time monitoring, scheduled cleanings, auto updates, you also get access to Piriform's Premium Support with Professional Plus.
You can get Piriform Coupon Codes and CCleaner Professional Plus Coupon Codes at CouponBuffer.com here: http://www.couponbuffer.com/coupons/piriform/
Becky
Newly middle-aged wife of 1, Mom of 3, Grandma of 2. A professional blogger who has lived in 3 places since losing her home to a house fire in October 2018 with her husband. Becky appreciates being self-employed which has allowed her to work from 'anywhere'. Life is better when you can laugh. As you can tell by her Facebook page where she keeps the humor memes going daily. Becky looks forward to the upcoming new year. It will be fun to see what 2020 holds.