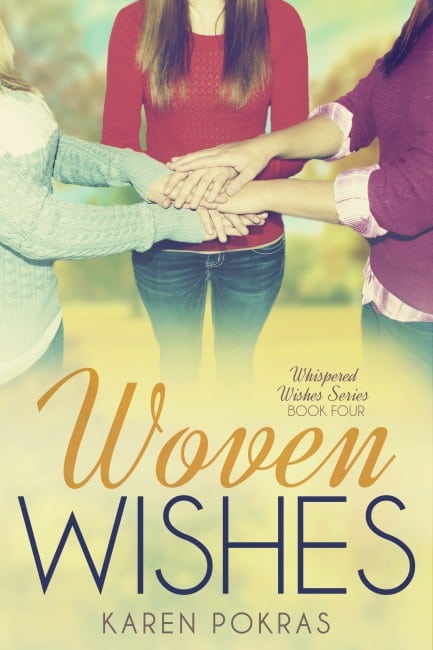 Becky
Wife, mother, grandma, blogger, all wrapped into one person, although…


Disclosure: I received an ARC in order to facilitate my review. All opinions are my own. This post also contains an affiliate link. This means if you purchase this book, I will receive a small commission.**
Woven Wishes By Karen Pokras Book Review
The bond of sisters is usually one that runs deep. I am lucky enough to have that with my sister. We both have had dreams/wishes that have not come true (like the sisters in this story). In saying that we have been blessed to usually move forward in our journey.
Ava, Holly, and Tessa are three sisters who are close. They have had wishes that have come true, while other wishes and or dreams still remain unresolved and out of reach of their grasp. And what about unexpected wishes? The ones nobody ever thought they'd have to hope for—the ones that will leave them unsettled and anxious, wondering what lies ahead.
I did not read the books prior to this story. If I had, I probably could have related better to each character. In the same instance, I felt I knew each of them a bit better at the end of the story.
I do not give spoilers, so you will have to get your copy and come back and tell me what you thought!
Amazon
---
About the Author:
Karen Pokras writes adult contemporary and middle grade fiction under the names Karen Pokras and Karen Pokras Toz. Her books have won several awards including two Readers' Favorite Book Awards, the Grand Prize in the Purple Dragonfly Book Awards, as well as placing first for two Global E-Book Awards for Pre-Teen Literature. For children, her books include the Nate Rocks series, Millicent Marie is Not My Name, and Pie and Other Brilliant Ideas. For adult readers, Karen's books include Chasing Invisible, and her newly released, Whispered Wishes series. A native of Connecticut, Karen now lives outside of Philadelphia with her family. For more information, visit http://www.karenpokras.com and http://www.karentoz.com
Find the author here:
Facebook: http://www.facebook.com/karenptoz
Twitter: @karentoz
Goodreads: https://www.goodreads.com/author/show/5009570.Karen_Pokras_Toz
Instagram: @karenpokras_author
Pinterest: https://www.pinterest.com/karenpokras/
Tumblr: karenpokrasauthor
Becky
Wife, mother, grandma, blogger, all wrapped into one person, although it does not define her these are roles that are important to her. From empty nesters to living with our oldest and 2 grandchildren while our house is rebuilt after a house fire in 10/2018 my life is something new each day.