You're Never Too Old To Go Back To School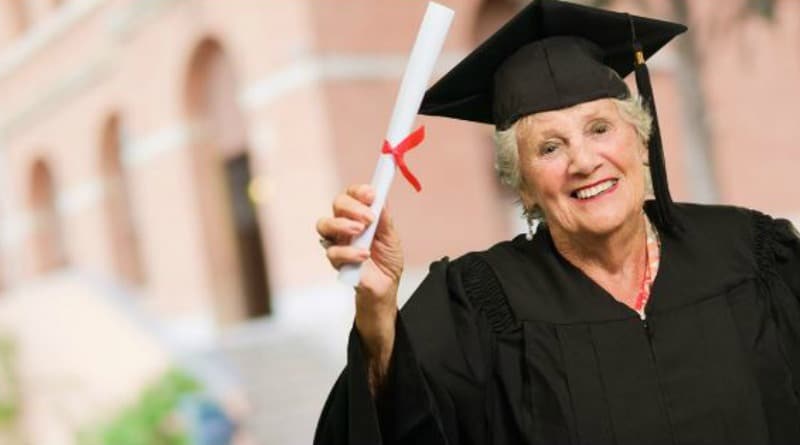 Becky
Newly middle-aged wife of 1, Mom of 3, Grandma of…

Education is something that you can benefit from no matter what your age is. It could offer you the opportunity to chase a new career late in life, or it could be a personal challenge to test your mind. Here are just a few reasons why you shouldn't be scared to return to education.
With age comes wisdom
It's often said that education is wasted on the young. Many young people don't grasp the importance of education there and then because they're too distracted with other life goals. As someone who is older, you may find that you no longer have these distractions in your life and you'll be able to dedicate all your energy to study because it's something that you want to do. In other words, if you were a troublemaker at school or were just unable to concentrate, don't think that you still won't be able to focus on your work now – you could find that you've developed a newfound maturity that makes it easier to knuckle down.
You can work an education around commitments
Nowadays, study options are more flexible than ever before. This could allow you to fit your education around the commitments of adulthood such as a full-time job, looking after a home and raising children. Online courses are the most flexible option – allowing you to study from home in your own time. These courses are available in pretty much every subject. There are even online RN to BSN programs for those that want to get into nursing. Such online courses are popular among mature students.
Alternatively, it could be something to do when you retire
If you've been thinking of pursuing an education as a personal challenge, you could wait until you reach retirement to study. With no job and the kids have likely moved out, you'll find it easier to focus all your energy on your degree. Many people that retire find that this provides a great new goal to strive towards. It could also be great for keeping your mind engaged, which is thought to be important for warding off mental degenerative diseases such as dementia.
There are plenty of funding options for mature students
Mature students can still take out a student loan in many cases. However, if you don't like the idea of having to pay off such a large debt, there are other options out there such as grants. Special support grants are often given out to students over 60. You may also be able to find local grants that can help you if you're raising children. On top of this, there are also employer-sponsored courses out there. Whilst few and far between, these courses are a great way to study for free if you can grab a place – an employer pays for you to take the course with the condition that you must then work for that employer once you've graduated. The companies that offer these schemes tend to be large and prestigious, so it can often be worth entering this agreement, especially if the whole point of you going back to school was to secure a better job.
Becky
Newly middle-aged wife of 1, Mom of 3, Grandma of 2. A professional blogger who has lived in 3 places since losing her home to a house fire in October 2018 with her husband. Becky appreciates being self-employed which has allowed her to work from 'anywhere'. Life is better when you can laugh. As you can tell by her Facebook page where she keeps the humor memes going daily. Becky looks forward to the upcoming new year. It will be fun to see what 2020 holds.