10 Must-See Destinations on Your Trip to Italy and Greece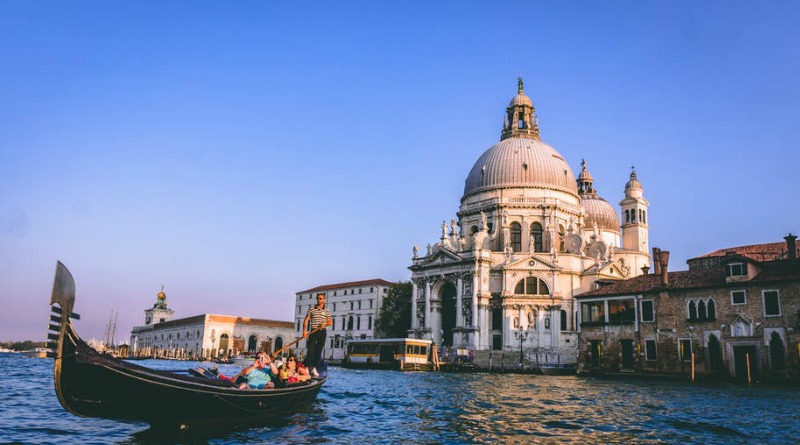 Becky
Newly middle-aged wife of 1, Mom of 3, Grandma of…
European adventures never disappoint.
This enormous continent across the pond is full of everything you could ever ask for.
It's home to incredible natural beauty, culture, architecture, art, diversity, and more history than you can shake a stick at. It's no surprise at all that 670 million people travel to Europe every year.
Of all the enviable holiday destinations on offer, though, a trip to Italy and Greece is one of particular note. These two countries showcase Europe at its finest.
In fact, there's so much to see and do that deciding your itinerary can be a challenge. With limited time and endless options, how on earth do you choose where to go?
We want to help! Read on for 10 essential stops that you're sure to love.
Italy
Let's start with the top spots to stop in Italy.
This boot-shaped country has an awful lot to offer. Narrowing it down to a selection of destinations wasn't easy, but we've given it our best shot!
Here are 5 highlights of Italy to consider visiting on your trip:
1. Venice
Venice has had a hard time of things recently. Recent floods had a catastrophic effect on this unique Italian city.
However, it remains a must-see destination. No-where else in the world compares to this water-logged place. It's romantic, historic, colorful, and downright incomparable to anywhere else.
Be sure to visit St. Mark's Basilica, Doge's Palace, and take a boat down the maze of canals. Venice truly is a must-see spot in Italy.
2. Rome
You can't have a list of essential Italian destinations and forget about Rome.
The heart of the ancient Roman Empire, it's one of the greatest tourist spots in the country, and for good reason. You'd be hard-pressed to find anywhere else with as much ancient history held in plain sight.
Seeing St. Peters Basilica, the Colosseum, the Trevi Fountain, St. Peter's Square, Vatican City are all must-dos while in Rome.
You're never short of something unforgettable to do in Rome. It'll dazzle and delight you at every turn. Add to that the endless array of dining opportunities and modern city attractions, and you'll find it hard to leave.
3. Florence
Love your art and architecture?
Then Florence is the place for you. With famous pieces like Botticelli's 'Birth of Venus', and Michelangelo's 'David', in amongst the plethora of artworks here, you're truly spoiled for choice.
Florence has gardens, palaces, and basilicas in abundance too. It's a truly awe-inspiring city in terms of its beauty, history, and artistic acumen.
Moreover, as the capital of Tuscany, it's in a stunning location as well.
4. Naples
Looking for a gateway destination to help you explore more of Italy?
Naples is the place for you. From here you have easy access to Herculaneum, historic Pompeii, and the stunning Amalfi coast.
Don't treat Naples as a mere stopping off point though. It's well worth exploring.
Few places in the country offer a better slice of pizza than Naples. Throw in the ancient artworks, stunning archaeology, and all the history you'd expect, and you have yourself a winning destination.
5. Verona
Last but not least on our list of Italian destinations is Verona.
This city is the home of Romeo and Juliet, romance and intrigue. In Verona, old and new collide to create a wonderful mishmash of flavors and experiences.
You'll love the history here too. A spectacular Roman amphitheater stands proudly at the heart of the city, providing a wonderful juxtaposition to the trappings of modern life that surround it.
Walking the narrow, cobble-stoned streets lends an atmosphere of age and beauty to the city. You'll feel transported back through time.
Greece
Now let's turn our attention to Greece. Here are 5 essential Greek destinations you won't soon forget.
1. Athens
Athens is to Greece what Rome is to Italy: a city we'd feel remiss to leave out of this list.
This bustling Grecian city was the seat of its ancient civilization. This was the home of Plato, Aristotle, and innumerable other philosophers that left an indelible mark on the world.
Mythology meets modernity here.
The ancient stone Acropolis stands proud and tall above the city, gazing out over its past, present, and future. With friendly locals, pristine parks, and an incomparable atmosphere, Athens shouldn't be missed.
2. Santorini
What do you think of when you conjure images of Greece?
For many, glorious sunshine, cloudless blue skies, beautiful beaches, bleached buildings, and white sands come to mind. Santorini has all of those things and more.
It's quintessential Greece.
Whitewashed buildings wind, curl and climb their way up a dazzling hillside. This is a land of blue and white. Santorini boasts unparalleled beauty and, ultimately, it's the perfect spot for any trip to Greece.
3. Mykonos
Few Greek destinations are as charming as Mykonos.
This idyllic island is a place to relax, explore, and embrace true Greek culture. You'll enjoy the traditional architecture, including the iconic white windmills that draw crowds from all over the world.
Ancient streets, stunning coastline, fantastic food, and endless sunshine all make Mykonos another top stop.
4. Meteora
Many people arrive in Athens and head straight to the Greek islands.
In so doing, they miss out on the incredible attractions in the heart of the country.
Meteora is one of them.
Impressive cliffs rise like natural towers from the ground. At their top, you'll find truly magnificent ancient monasteries to explore. Everything from the location to the ambiance makes this a sight like no other in Greece.
5. Crete
Crete is the largest of the Greek islands. It's also a diverse place, with huge stretches of coastline, towering mountains, tiny villages, and large-scale towns.
It's safe, stunning, and the perfect place to embrace Greek culture.
Enjoy Your Trip to Italy and Greece
Any trip to Italy and Greece will be full of unforgettable experiences. Hopefully, the must-see destinations we've highlighted here will help you decide where to go!
Want more articles like this? Explore some of our other travel articles today.
Becky
Newly middle-aged wife of 1, Mom of 3, Grandma of 2. A professional blogger who has lived in 3 places since losing her home to a house fire in October 2018 with her husband. Becky appreciates being self-employed which has allowed her to work from 'anywhere'. Life is better when you can laugh. As you can tell by her Facebook page where she keeps the humor memes going daily. Becky looks forward to the upcoming new year. It will be fun to see what 2020 holds.