10 Ways to Add Colors to Dining Room Décor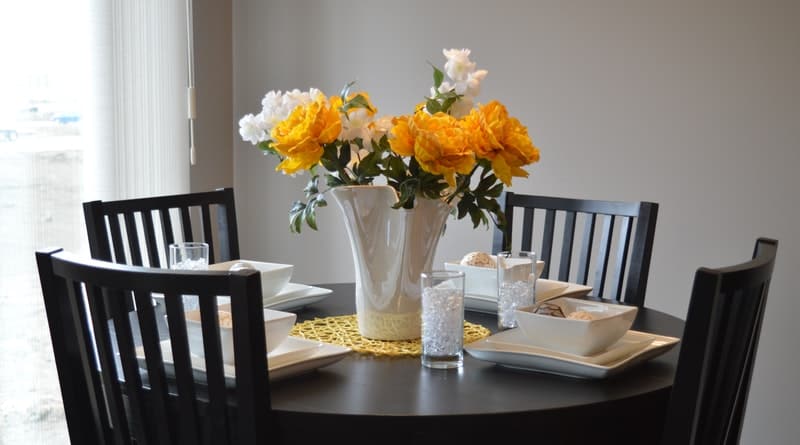 Becky
Newly middle-aged wife of 1, Mom of 3, Grandma of…
The dining room is actually the living room extended.  As meals are shared here, it is the most intimate room in the house.  Making it colorful helps to cheer up the ambiance. But adding colors to a dining room has many challenges. Here are some inspiring ideas to meet that. Have a look!
Paint the walls
Painting the dining room walls is a brilliant way to add color. This creates a great impact on the dining room décor.  As this place is not used continuously, you can be creative and go bold with colors. Choose anything from green, red, blue or any other color that matches with the other décor elements.
Or, you can also go for creating contrasts. They make the dining room strikingly beautiful. Painting the walls with stripes is also a great idea. They make the room bloom with colors.
You should be creative with the ceiling
More than often, people forget the ceiling. But this is the fifth wall and can work as a great overhead canvas. Embellish the ceiling with painted floral, or use molding with intricate designs and paint it up. Covering the ceiling with colorful wallpapers also spruces up the place.
If there are architectural details on the ceiling, highlight those with colors to glam up the décor. You may also hang decorative chandeliers or pendants. This will create a focal point and add colors to the décor.
Invest in a colorful dining table and chairs
The dining table is the star of the dining room. Investing in colorful dining tables help adds color to the décor.  Choose a round or oval-shaped dining table. They will allow intimate sitting. Also, consider the table top. Marble and granite exude elegance. Better have a table with a glass top. It aligns easily with everything.
You can go for a bold color dining table with matching chairs.  Or, you may opt for contrasting color as well. Adding contemporary chairs to the traditional table makes a great décor statement. In case getting a new set is not possible, paint the existing one. This will also create a great impact.
Make it colorful with drapes
Maybe painting is not allowed in your rented apartment. In such cases, the draperies could be the Messiah. Plenty of printed and colorful draperies are available. You can use floral fabrics or the posh velvet or silk drapes base on affordability. Use them generously in the dining room extending beyond the windows to make the dining room pop up with color.
Use reclaimed wood for a feature wall
Decorating with reclaimed wood can add character to the dining room.  Use them for a wall in the dining room. Keep it unfinished and uncoated. Let the other walls coated with paints. This will create a wonderful focal point with its rustic natural charm.  Combine this with string lamps to add to the rustic charm.
Display your wine collection
Your wine collection could be the feature element in the dining room. The bottles come in a variety of bold colors and attractive shapes. Build up storage space with a transparent glass door or you may go for floating shelves as well. Flaunt your wine collection over there.  Arrange a bar cart on the wheels to keep some bottles ready at hand. These will add color to your dining room décor.
A realistic photomural makes the room colorful
Having a realistic photomural in the dining room can make the place more colorful. You can use a beach-inspired mural or any pleasant scenery. They will add interest to the wall. A mural of flowing water is also great to create a Zen vibe. These will make the relaxing and comforting while adding a splash of color to the décor.
Freshen up the chairs
If replacing the chairs is not possible, consider replacing the slipcovers. Have bold-printed slipcovers that match with overall décor of the dining room. This will add a splash of color to the dining room décor.
Also, add colorful cushions to the chairs.  These will make the seating arrangement more comfortable and add life to the dining room.
A carpet makes the place colorful
Maybe the floor of the dining room has cracks and blemishes. Cover it up with a carpet. This is a relatively cheaper and easier option. A carpet is also the best to ground the furniture firmly and delivers a soft warm touch under the feet. Coming in a variety of bold colors and textures, these are great to add color to the dining room décor.
Greeneries can splash with color
Live greens can make people happy. But including them in the dining area is tough for their heavy maintenance demands. They need water, fertilizer, and pesticide to keep them healthy. Moreover, you have to trim them regularly to keep in shape. But the artificial plants and trees have no such requirement. It makes them the ideal alternative.
Manufactured from top quality raw materials, the silk plants and trees simulate the live plants. They are available in almost all possible varieties.  Think of anything from flowers, trees, plants, topiaries, and palms; and it is there. These can also be customized to align any décor theme.
Creating a focal point in the dining room lifts up the ambiance. The artificial boxwood topiary is great for that. Coming in spirals, cones, balls it brings in color to the dining area.  You can also make the area safe by using the fire retardant varieties.
The artificial floral arrangements are perfect for creating a centerpiece. Coming in vibrant colors they can glam up the area. They do not wilt and can be used for years. Attracting no insects, they deliver an insect-free environment.
Conclusion
The ambiance of the dining room is very important to create a nice dining experience.  You may use any or all of the above tips in your dining room. These are simple and affordable. Yet, they are extremely effective to make the dining room bloom up with color.
Becky
Newly middle-aged wife of 1, Mom of 3, Grandma of 2. A professional blogger who has lived in 3 places since losing her home to a house fire in October 2018 with her husband. Becky appreciates being self-employed which has allowed her to work from 'anywhere'. Life is better when you can laugh. As you can tell by her Facebook page where she keeps the humor memes going daily. Becky looks forward to the upcoming new year. It will be fun to see what 2020 holds.