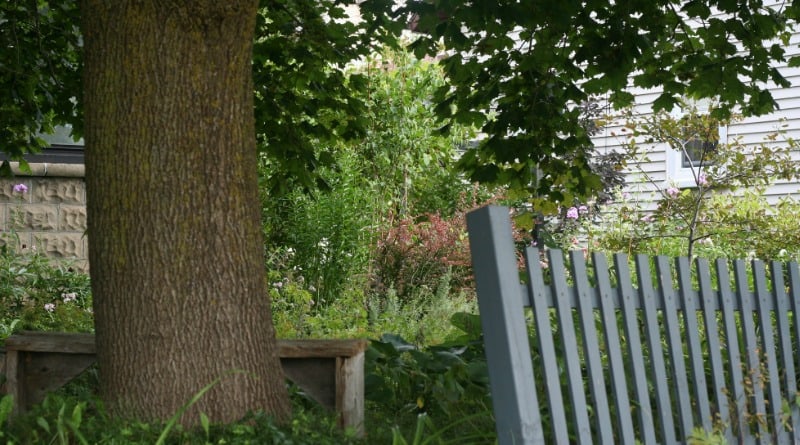 Becky
Wife, mother, grandma, blogger, all wrapped into one person, although…

There are many reasons that your garden can get out of control. Perhaps you just weren't inclined to garden very often, or you had life circumstances that made it difficult for you to get outside. Whatever the reason, you now find yourself contemplating an urban jungle.
Even if you only left your garden unattended for six months, it is quite incredible just how much can happen. Weeds grow, leaves accumulate, and you can face such a huge mess that you don't know where to start.
Well, here's where you should start: at the very beginning.
The First Step: Clearance
You will need to don protective clothing, grab a trash bag, and head into the garden to begin the clearance process. You will be surprised by just how much trash can accumulate in a garden, much of it carried on the wind, in even a short period of time.
Remove anything from your garden that shouldn't be there. Chip packets; leaves; mud; sticks– it's all got to go. If you can't see a use for an item in your finished garden, then get rid of it. Part weeds and overgrown bushes to see if there is anything hiding inside that you need to be rid of, too– you're looking to achieve a total sweep of anything remotely resembling trash.
The Second Step: Control
Now that you have a tidy, trash-free area to work with, you can work on bringing the area under control.
For overgrown weeds, it is often quicker to use a large application of weedkiller than try to individually uproot each stem individually. Apply a generous dose of a strong solution, then simply rake all the dead stems once they have collapsed.

For lawns, you may need to strim the length until it is suitable for cutting. If you don't have a trimmer, then head to

Planopower.com now

to grab one; if you try to use your lawnmower when the grass is too thick, it's likely to trap the blades and damage the machine.

You will likely need to spend some time pruning and trimming trees, back bushes and shrubs. This can take awhile, but it's important to go carefully and to only trim what needs to be lost. Trimming should always be done gradually rather than just chopping what's in front of you. Tackle each bush or shrub individually, carefully removing overgrown areas until it's under control.
The Third Step: Prepare For The New
See Also
With the garden clear of trash, pruned, mown, and relatively neat, you can now begin preparing for the new.
You may want to

feed your soil

if you're planning on growing directly from the soil itself.

You can also begin

planting seedlings indoors

, ready to be planted out in your new ready-to-grow garden when they are old enough.

Of course, you don't

have

to plant or use your garden conventionally, especially if you fear you're going to struggle for maintenance time. Decks and patios are great options to consider if you want to use the space effectively without giving too much time to plant care and maintenance. Measure the space and talk with a landscape gardener for their thoughts on what might work best.
In conclusion
Having gone through these steps, your garden will be coming back under control, and you can focus on creating the garden you truly want as a result.
Becky
Wife, mother, grandma, blogger, all wrapped into one person, although it does not define her these are roles that are important to her. From empty nesters to living with our oldest and 2 grandchildren while our house is rebuilt after a house fire in 10/2018 my life is something new each day.