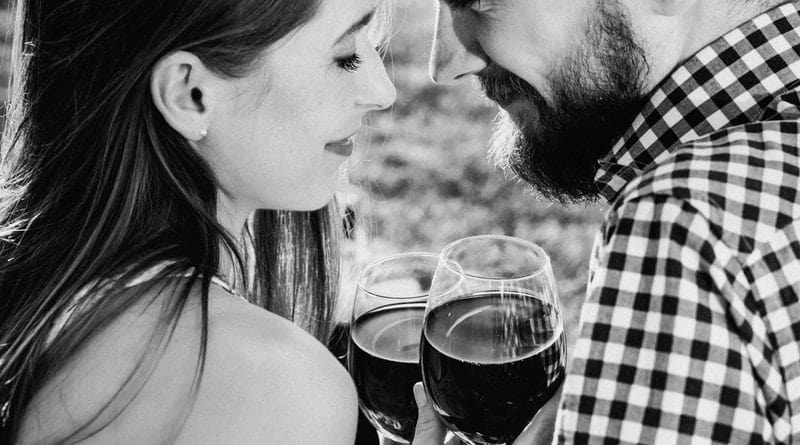 Becky
Wife, mother, grandma, blogger, all wrapped into one person, although…

Wine decanters are essential accessories to the delightful drink which should find their place on each table. For others, they're just elegant wine bottles who can be replaced by the regular product you've bought. However, wine decanters have earned their popularity among connoisseurs and amateurs altogether. The best wine decanters are rated by specialists who study their effect on wine and appreciate their design.
This article outlines why should we use a decanter and what effects it has on your favorite drink. Moreover, you will discover the best wine decanters by ranking, design and much more.
The Importance of Wine Decanting
There are many glass or transparent crystal, which come in all shapes. They have in common a flattened bottom and a long neck which helps to aerate the wine. Usually, they have a capacity of around 750 ml (25.4 oz).
Glass decanters are cheaper. However, crystal decanters are more effective against wine odor. The best wine decanter enriches the flavor of a young or aged drink and can clear the sediments while it lets the wines breathe. This is extremely useful for aged wines like from sokolin, which might have lost a touch of their flavor.
White wines and young varieties don't need decanting. However, you can leave the wine in a decanter for up to 30 minutes. The process might take up to three hours for aged wines.
The Best Wine Decanters Available in 2018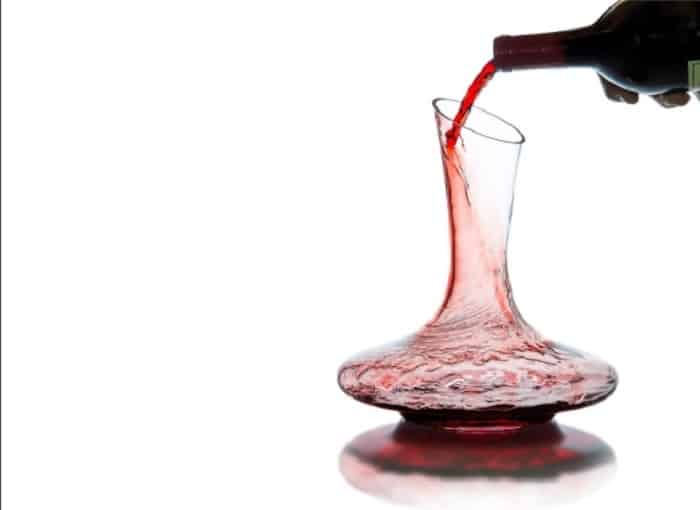 Premium: Le Chateau Wine Decanter
The best wine decanter is the one that earns its five-star rating thanks to customer satisfaction. Around 660 Amazon customers have reviewed this wine decanter positively. It also has the Amazon Choice title.
The decanter can hold up to 1,8 liters (60.8 oz.) and it's made of 100% crystal through hand blowing. This decanter follows the criteria of premium decanting and has a wide base which allows optimal aeration regardless of the wine bottle size. The crystal decanter amplifies the aroma and taste of your wine and is even recommended for merlot, cabernet, port, and pinot noir. You will impress your guests with an elegant product which might come with subtle tiny bubbles within the glass, for increased effects.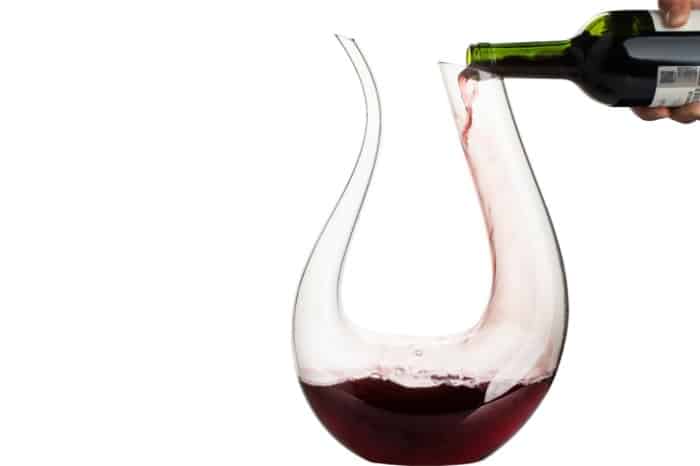 U-Shaped: WBSEos Wine Decanter
This accessible wine decanter begins our list due to its impressive U-shape. It is a lead-free crystal glass decanter which holds up to 1,5 liters (50.7 oz) of wine. It is at the widest point of wine decanters capacities and prevents spills and drips thanks to its curved and slanted spout.
The 11-inches-tall decanter allows around 50-square inches of air to get into contact with a 750 ml drink. Also, the decanter looks impressive on the table, even though this doesn't add up to its functionality.
Handmade: Dublin Triangular Crystal Decanter
Did you ever think about decorating your dinner table with an artisan-made triangular crystal wine decanter? This handcraft decanter has an elegant and modern design accompanied by a spectacular faucet. You will need to hand wash this product with a cleaning brush to keep it clean and clear.
The best wine decanter for small bottles has a full capacity of 800 ml (27 oz). It also features thin lips to make liquid pouring easy and avoid any wine waste. Manufacturers dare customers by offering them lifetime warranties.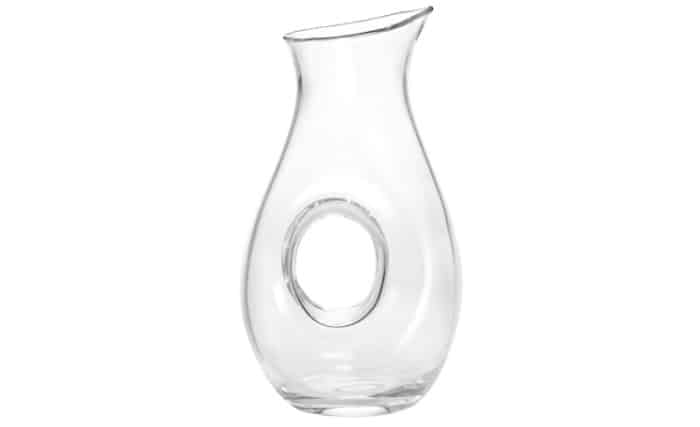 Portable: Bormioli Rocco Premium Carafe
If you enjoy both wine drinking and traveling, you might need a decanter which is portable and easy to hold. This hand-made decanter has an ergonomic handle which allows you to easily hold it with one hand. Also, it has a 1,5 liters (50.7 oz) capacity.
This premium product is dishwasher safe, even though it's made of lead-free crystal glass. The glass is made of sand, soda, and calcium. It may seem fragile. However, this is a wine decanter you will love to carry in your luggage and use whenever you have the chance.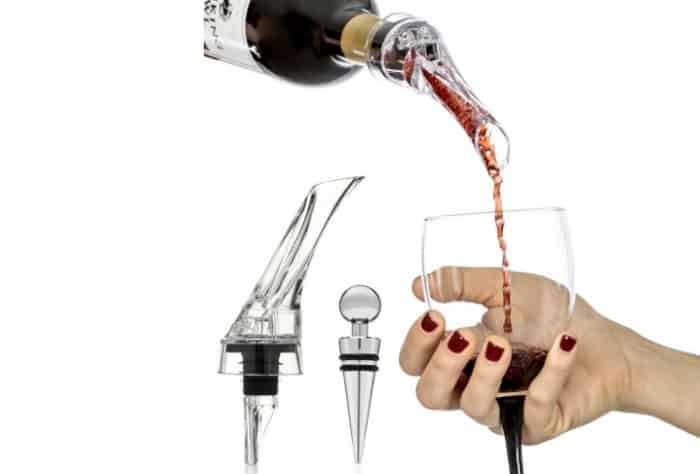 Kit: VinoMaster Red Wine Set
The wine connoisseurs deserve a kit which they can use or offer as a kit. The VinoMaster kit contains a wine aerator which also works as a decanter for your bottle of wine and an elegant spout that you can use as bar accessory.
According to manufacturers, it has instant effects on the taste and flavor of the wine. It's also easy to use – you need to open the bottle and attach the VinoMaster aerator-decanter. This two-pieces set looks elegant even if you plan to organize a family event or just a regular dinner. The spout is also equipped with rubber rings to ensure limited oxygen for preservation.
To the Wine
The best wine decanters will enrich the bouquet of flavors that both young and aged wines have. You don't need to be a wine enthusiast to enjoy the full symphony of your favorite drink. The above wine decanters are suitable for elegant and regular dinners and can be used in your home or when you're a guest.
Once you've purchased your favorite wine decanter, make sure that you maintain it as advised by the manufacturers. Then, you can enjoy its long-lasting effects on your dinner!
Becky
Wife, mother, grandma, blogger, all wrapped into one person, although it does not define her these are roles that are important to her. From empty nesters to living with our oldest and 2 grandchildren while our house is rebuilt after a house fire in 10/2018 my life is something new each day.